FIVE POINTS JAZZ FESTIVAL
2020 FIVE POINTS JAZZ FESTIVAL WILL TAKE PLACE SATURDAY, MAY 16, 11 a.m. - 10 p.m..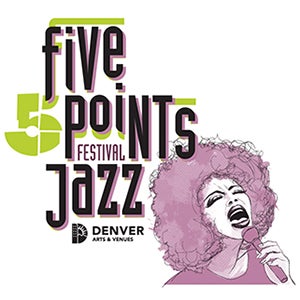 This free festival takes place the third Saturday of May every year and celebrates the history of Denver's Five Points neighborhood.
Once known as the Harlem of the West, Five Points was home to several jazz clubs which played host to many of jazz music's legends such as Miles Davis, Thelonious Monk and many more!
---
Get Involved
Interested in volunteering? Learn more here!
Interested in a vendor booth or food truck space? Learn more here!
Interested in sponsoring the Five Points Jazz Festival or another Arts & Venues event, program or facility? Please email [email protected].
---
Check out photos and videos from past festivals
2019 Five Points Jazz Festival Photos by Lucia De Giovanni
2017 Festival Photos - Photographer: Steve Hostetler
2016 Festival Photos - Photographer: Trevor Davis
2015 Festival Photos - Photographer: Trevor Davis