Current Projects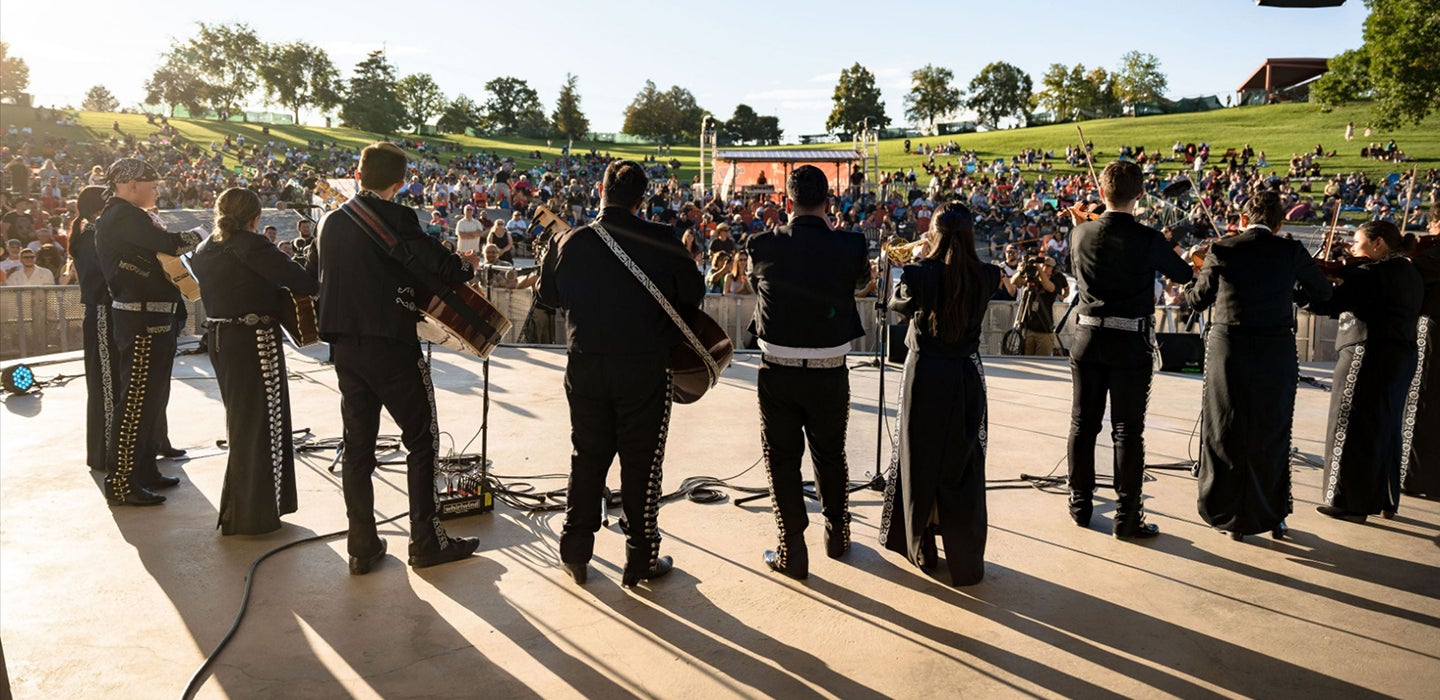 Denver Music Advancement Fund
CURRENT FUNDED PROJECTS
Programs subsidized by the Denver Music Advancement Fund use music as a tool to impact mental health and wellness, education, youth engagement, social justice, literature, film, dance, theater, visual arts, technology, climate action, global connectivity and other social innovations.
2022-2023 Funding Projects
In its fifth year, DMAF provided $785,000 in funding to 64 initiatives.
Program: 2MX2 Goes to School Tour
Grant: $10,000
Description: 2MX2's goal is to produce inspiring concerts at eight Denver Schools or community centers through the Summer of 2023. Targeting predominantly bilingual-speaking schools and communities, the band will provide all the necessary sound requirements, then they will perform and share their songs with their audiences in both English and Spanish. Through live performance, 2MX2 shares personal stories, including messages of overcoming cultural, psychological and physical bullying and cultural shame, and the importance of mental health. The band also shares stories of their journeys to the US as Mexican immigrants, how immigration laws impact families, and the personal and cultural importance of retaining Spanish as their native language.
ALLIANCE FOR MUSIC EDUCATION EQUITY
Program: AMEE Music Festival & Resource Fair/ AMEE Music Week
Grant: $10,000
Description: The free community AMEE Music Festival & Resource Fair engages – engages the public and Denver Public School music teachers, with a focus on under-resourced communities. The fair will highlight Denver's music organizations and provide a place where families, teachers and schools can find opportunities that fit their desires and needs.
Program: SUCH Soul Sessions
Grant: $10,000
Description: Soul Sessions is a music and community-first collaboration between Denver-based independent Soul/R&B musicians and independent Soul/R&B artists in other parts of the country. This project will enrich musically underserved/underrepresented communities by diversifying the types of acts they have access to, enabling them to discover and support talented local musicians, and helping make Denver a touring attraction for Soul/R&B. This quarterly event will amplify the work of local musicians within the community while fostering new connections between them and other musicians around the country. Too often, communities of color lack access to music and live performances. Through Soul Sessions, those experiences will be more readily available for the community.
Program: ArtistiCO MusiCO
Grant: $10,000
Program: Beach Court After-School Arts Program
Grant: $5,000
Description: Beach Court After-School Music Program gives nearly 120 low-income students in Northwest Denver the opportunity to become musicians, artist, actors, DJs and dancers. Nearly 90% of participants in the program receive free and/or reduced lunch and most receive scholarships to participate in classes. Most classes are taught by professionals from organizations such as the Denver Young Artists Orchestra, Denver Children's Choir, Colorado Honor Band, Fiesta Colorado Dance, as well as individual local artists, to ensure that students have the same artistic learning opportunities that higher-income students have. The students in the program are very proud to be musicians and artists and many continue making music year after year, even after leaving the program. ArtistiCO Dance Gallery in Denver is the home of the LatinX Folk Arts, where students learn about their cultural roots through dance and its relationship to music. Mexican Folklore Dance is a traditional dance form accompanied by Mexican cultural music. The music in this curriculum has influences from Spanish, African and Mexican artforms. ArtistiCO will work with partners from the community to teach students about the authentic traditions of Mexico through different instruments, music and dance.
Program: Beach Court After-School Arts Program
Grant: $5,000
Description: Beach Court After-School Music Program gives nearly 120 low-income students in Northwest Denver the opportunity to become musicians, artist, actors, DJs and dancers. Nearly 90% of participants in the program receive free and/or reduced lunch and most receive scholarships to participate in classes. Most classes are taught by professionals from organizations such as the Denver Young Artists Orchestra, Denver Children's Choir, Colorado Honor Band, Fiesta Colorado Dance, as well as individual local artists, to ensure that students have the same artistic learning opportunities that higher-income students have. The students in the program are very proud to be musicians and artists and many continue making music year after year, even after leaving the program.
Program: Beats by Girlz Denver
Grant: $10,000
Description: The BBG Denver program creates opportunities for girls and gender-expansive youth to participate in writing, producing and engineering tech-driven, culturally responsive music such as hip-hop, EDM, rock and indie-pop. This program will offer two sessions at two locations, Youth on Record and The BirdSeed Collective. These will include a session on DJing using Serato and Abelton LIVE and a session on poetry to song utilizing Push's and other controllers. The goal is to educate participants while documenting the music production creation and providing individuals with a safe space to explore artistic creation. The sessions will teach hard and soft technology skills and project planning. Through these workshops, students will learn that the process of creation is just as important as what is being created. A story arc of the individual student/session will be created using the framework of Theatre of the Oppressed, "giving the means of production to the people." Images, videos, sounds and songs will be created for sessions for 60-120 second video content pieces for social media, YouTube, and Soundcloud will be used to document the class and student creations for archival purposes to document female and BIPOC engineers' experiences.
Program: Globeville Community Summer Concert Series "Exposure to New Music and Places"
Grant: $20,000
Description: BirdSeed Collective will continue their 2022 community endeavor with four free 2023 summer concerts and two free concerts at Alto Gallery to draw the Globeville community to the newest walkable large community space (Arkins Promenade) located at the RiNo ArtPark. Opportunities like these are typically not available to Globeville families, residents, volunteers and musicians. The events are free, and include food, resources, community opportunities, books, and a chance for young people to perform.
Program: Live in Denver
Grant: $10,000
Description: Blues Behind Bars - Live in Denver is a program that will bring concerts to Denver Women's Correctional Facility, and one or two prominent venues in Denver. The public concert(s) will be captured on video for further distribution in correctional facilities in Colorado, Nebraska and Arizona. Video distribution in correctional facilities meets a critical need for programming due to crisis-level understaffing resulting in suspension or curtailing volunteer programming in all correctional facilities. The incarcerated are an under-served population that has been more severely impacted by COVID than many in the community. Most of the material for these concerts was created in Blues songwriting workshops with inmates. The impact of this music inside the correctional facility is multi-faceted. It confirms that the stories of the incarcerated are important, that they are not forgotten. The program also inspires and shares hope. In the community, the concert will bring the audience into the experience behind bars and impart an awareness of the social challenges faced by this hidden, underserved population.
Program: The Instrument Garden Workshop
Grant: $10,000
Description: The Instrument Garden Workshop is at the center of the toolbelt for Boredomfighters impact. It features a mobile music studio setup stocked with traditional instruments alongside modern music production tools like synthesizers, beatpads, keyboards, etc. The workshop walks youth through the process of making beats, recording melodies, writing vocals and sharing their music with the world. It has now been deployed in more than 50 schools and organizations throughout the front range as a tool for music empowerment in the modern era. The program is now regularly operating at Stedman Elementary in Park Hill monthly.
Program: Off the Cuff
Grant: $10,000
Description: Off the Cuff is an event series showcasing dance and music through improv games and audience participation to connect the community through art. The goals of Off the Cuff are to create access and understanding of live dance and music. Oftentimes, concerts are inaccessible to low-income communities due to price and environment. Off the Cuff offers free admission at casual/intimate venues, giving unique access to the arts that is not normally offered in more formal theaters. The program provides fair payment for performing artists, creating an environment based on equity, diversity and inclusion for both performers and audience members. Off the Cuff creates an environment of play and creative experimentation, resulting in a space that builds meaningful relationships in the Denver community.
BRYANT WEBSTER DUAL LANGUAGE SCHOOL
Program: Bryant Webster Music Program – El Mariachi Juvenil de BW and The Denver Children's Choir in school programs
Grant: $10,000
Description: El Mariachi Juvenil de Bryant-Webster will serve more than 50 third through eighth-grade students participating in vocal and instrumental music. All students learn musicianship, technique and performance skills from professionally trained musicians and mariachi experts. Students perform at various events throughout the city and with distinguished music ensembles, including Denver Children's Choir In-School Choral Programs. Students will receive instruction from a professionally trained conductor and accompanist. They will be introduced to sight-singing, taught to sing with a healthy vocal technique, and exposed to various musical terms and choral literature. Students will be provided choral music and curriculum materials. They will perform for the school and collaborate in choral performances with singers in their neighborhood and from around Denver.
BUCU WEST & UNIT E PRODUCTIONS
Program: Fur and Chile Records
Grant: $10,000
Description: Through a partnership between BUCU West and Unit E Productions, a new music and entertainment company will be established whose focus is on accelerating local musicians to national prominence, creating a thriving artist middle class, and leveraging creative output to improve social good. This new entity, titled Fur and Chile Records, will focus on producing albums, music videos, concerts, regional tours, marketing strategies, and other elements related to the development of career musical acts. Through this program, the organizations will take action in a way that supports musicians' long-term financial stability, offering profit-sharing, fair wages, and actual wealth-building for musicians and those in supporting roles. Additionally, Fur and Chile Records will empower musicians to use their art and public platform for social good.
Program: Castro Students Access Their Musical Community
Grant: $10,000
Description: Building on the success of the Denver Music Advancement Fund grant received for 2021, Castro Elementary School will expand their music program to involve even more students, families and community members. Students will participate in community choir programming as well as learning from and creating positive relationships with local musicians through an artist in residence program. The positive impact of last year's collaboration with Vocal Coalition Youth Choirs (VOCO) and local band, 2MX2, was moving and inspiring; students rehearsed and performed with 2MX2, calling it "the most fun challenge of [their] lives"! They oozed enthusiasm and showed improved musicianship and, more importantly, astounding self-confidence and leadership.
CENTER FOR CRITICAL & CULTURAL THEORY
Program: Exploring the Compositional Works of Ron Miles
Grant: $15,000
Description: This program will offer audiences and musicians an in-depth look at the compositional work of the late Ron Miles. Part lecture and part performance, each performance will involve a talk with a music educator through which the sections, harmony, melody, and compositional structure of one or two of Ron Miles' songs will be broken down. The program will host a discussion of the cultural context of titles such as "I am a Man," a reference to Glenn Ligon's 1988 piece in the National Gallery of Art and the Black Freedom struggle in the mid-twentieth century. The talking section of the events will be followed by a live performance of the song or songs and then a performance of a set of original material by the performers.
Program: City Park Jazz
Grant: $10,000
Description: The goal of City Park Jazz is to offer free concerts for the City Park community in Denver. The group hosts 10 free jazz concerts each summer featuring a diverse selection of the best local performers — approximately 10,000 children and adults attend each performance. Funding from the Denver Music Advancement Fund will go towards additional ASL interpreters as a step forward in expanding accessibility and embracing an expanding diversity, equity and inclusion initiative that the organization will continue to grow in the coming seasons.
CLEO PARKER ROBINSON DANCE
Program: Axe! Instrument Making Workshops
Grant: $10,000
Description: Cleo Parker Robinson Dance (CPRD) and UCA Capoeira are collaborating on a project to share Afro-Brazilian music and instrument making with anyone interested in learning how. These workshops are tailored to everybody, and participants will leave the workshop with their own Berimbau as well as a few Capoeira songs to practice on their new single-string, African-based, instrument. These workshops will be led by Mestre Calango, a Brazilian native and capoeira master teacher who has been creating and selling his own capoeira instruments for 20 years.
Program: NEO MUSIC STORIES
Grant: $10,000
Description: NEO Music is a cultural fusion project built from American hip hop, Argentine tango, Brazilian zouk, Cuban salsa, Dominican bachata and Blues, developing and incorporating a new musical genre and dance style. The goal of this project is to build a new network of musicians/artists from existing communities and to unite to make elements of various music and dance styles more accessible. This music-centric project will principally be performance-based with music-only events, music and dance performances, music and improvisational/social dance, and music education programming.
COLORADO CHILDREN'S CHORALE
Program: 2022-2023 Education Program
Grant: $10,000
Description: The Chorale's Education Program helps balance the inequity in arts access by enhancing music programs for teachers and students in communities seeking support. School Partnerships are multi-year collaborations between CCC artistic staff and six to eight schools reaching approximately 400 students weekly. Partnerships are free and customized to address individual music teachers' needs.
Program: IMPACT at Gilliam: Therapeutic and Inclusive Music Education for Youth
Grant: $20,000
Description: IMPACT stands for: Inclusive; Modern; Prosocial; Accessible; Culturally Responsive; Therapeutic. The project will deliver CMB's IMPACT Music Program to students at Gilliam Youth Services Center throughout the 2022-2023 academic year. Gilliam is a co-ed juvenile detention center for children ages 10-17 and is also a Denver Public Schools (DPS) site, and the program will serve approximately 20 students at a time, and 100 overall. Gilliam students are approximately 90% BILPOC (Black, Indigenous, Latinx, Person of Color). Because they are already involved with the juvenile justice system, they are considered extremely high risk for additional adverse life outcomes. Music is a life-changing power and has the capacity to inspire and transform. IMPACT is designed to be implemented in partnership with schools and service organizations, with a goal of increasing equitable access to inclusive music education.
CU DENVER LYNX CAMP: MUSIC INDUSTRY PROGRAM
Program: LYNX Camp DMAF Scholarships
Grant: $10,000
Description: Funding will enable more need-based scholarships to the LYNX Camp Music Industry Program, enabling more students from low-income backgrounds to attend the camp. With this funding, many students would be able to have this amazing music industry camp experience for free or nearly free, potentially changing the lives of these students and helping propel them into the music industry. This funding will also allow for the organization to provide an improved camp experience for everyone.
Program: Dazzle Saturday Music Matinee for Families
Grant: $10,000
Description: The Dazzle Saturday Music Matinees for Families, designed to entertain and engage youth and adults with performances and interactive music programs, will be offered weekly. The goal of this program is to provide families with opportunities to share in the fun of making music by listening to and watching performances and participating in easy group activities such as sing-alongs, and through introductions to various musical instruments in participatory demonstrations.
Program: Neighborhood Choir Program
Grant: $20,000
Description: Annually, the DCC's Neighborhood Choir Program serves between 200 and 225 children, ages 7-18, through 16 different choir ensemble programs around the Denver metro area. Three levels of extracurricular choirs are available at three neighborhood locations. Additionally, seven in-school choir programs at five schools in the Denver Public School district are offered. These seven in-school programs include four choirs during school hours and three choirs before school to better accommodate low-income middle school participants, who get dropped off early for free breakfast. Partnership locations were chosen for their high rates of diversity and children on the free and reduced lunch program. Many singers would not have access to a formal music education without DCC's community choir programming.
DENVER DOCUMENTARY SOCIETY
Program: Film Score Collaboration
Grant: $10,000
Description: Denver Documentary Society is producing its second feature length social justice documentary film. Scheduled for release in 2023, "We STL Strong: But the Trauma is Real, Yo" is a story of the death of Mike Brown, Jr., who was killed on Aug 9, 2014, by Ferguson, MO police officer Darren Wilson. The program consists of DDS producing the music needed for the project and hosting a screening in Denver. DDS will compensate local musicians in Denver and St. Louis to license and record a minimum of four songs. The songs will fuse gospel, rap and powerful backing bands for each collaboration. The capstone of the program will be to host a Denver premier screening of "We STL Strong".
Program: Community Collaborative Music Series
Grant: $20,000
Description: Through a collaborative community music series, Denver Public Library would like to welcome the community to its newest location, Bob Ragland Branch Library, which opened in February 2022. Featuring local artists and supported by community partnerships, this series will highlight the unique library and arts collaborative at this branch, where DPL, RedLine Studio Spaces, BirdSeed Collective/Alto Gallery and Focus Points Family Center have partnered to enhance community experiences through arts and education. The goal of this program is to foster connections across the local neighborhoods of Five Points, Globeville, Elyria-Swansea, Cole and the RiNo District through music, capturing the rich cultural heritage of Denver's historic hub of African Diaspora, Asian American and Latinx music. DPL will host 10 music showcases and four to six multidisciplinary artist collaborations, elevating local artists and musicians who live and work in the community. The music events, which aim to serve 100-250 attendees per event, will be held at the Bob Ragland Branch, the Plaza at ArtPark and possibly at nearby locations, such as Argo Park or Globeville Recreation Center. Through engagement and outreach, DPL will work to create inclusive, welcoming family-friendly events that draw residents from local neighborhoods, strengthening connections and celebrating the cultural heritage of the community.
DENVER YOUNG ARTISTS ORCHESTRA
Program: Latin and Hispanic-Influences Music for Orchestra
Grant: $10,000
Description: DYAO is committed to diversity through programming. The DYAO focus in 2022-2023 is Latin/Hispanic influence in orchestral repertoire. DYAO's ensembles will perform José Pablo Moncayo's (Mexico) "Huapango," Arturo Márquez's (Mexico) "Conga del Fuego Nuevo," Gabriela Lena Frank's (America) "Elegia Andes," drawing from her Peruvian heritage, Leonard Bernstein's (America) "West Side Story Suite," and Juventino Rosa's "Over the Waves." These selections showcase the rhythmical dance from Latin/Hispanic cultures as well as musical instruments not typically found in traditional symphonic literature. Exposing musicians and audiences to "classical" music influenced by non-European cultures breaks down the stereotype that all symphonic music was written by white, Germanic composers hundreds of years ago; rather, it is an evolving, contemporary, multicultural art form utilizing traditions from the past and blending them with melodies and rhythms from around the world. ArtistiCO Dance will choreograph Moncayo's "Huapango" as well as sections of Stravinsky's "Firebird Suite" for the opening concert. Additionally, DYAO is partnering with the Mexican Cultural Center for lobby outreach at concerts. Pre-concert talks and bilingual program notes will be offered. Through this program, the DYAO will build new community partnerships and encourage Latinx/Hispanic youth to explore music and benefit from learning an instrument.
Program: Music Without Barriers
Grant: $20,000
Description: El Sistema Colorado primarily serves low-income families and students of color from pre-k to grade 12 by providing free music education at their music center in Curtis Park. The majority of families we serve live in Denver's lowest income communities, which include: Globeville, Elyria-Swansea, Cole, Clayton, Curtis Park and Five Points. 76% of the young musicians who are served by El Sistema identify as persons of color and nearly 70% qualify for free or reduced-price lunch. El Sistema Colorado's primary program is a daily immersive after-school string orchestra where students attend rehearsals twice per week. Camps are offered during the summer months and weekly private lessons are offered throughout the entire year. Primary programmatic goals include: 80% daily attendance and 80% improvement in musicianship and leadership skills, which are determined by annual benchmark evaluations. The orchestra is a place for whole-child development, where children of all ages can develop grit, leadership and decision-making skills that are needed to succeed in all aspects of life. Students develop these skills in an environment of belonging where creative self-expression is highly encouraged. Students learn all things related to music, including technique, history and theory, with a strong focus on developing social-emotional skills.
Program: Creating Accessible Instruments and Exploring Immersive Sound Making
Grant: $20,000
Description: This program is a collaboration with teens/young adults with disabilities and at-risk middle and high school students, through which they handcraft their own instruments while exploring immersive and experimental music and sounds. In working with people with neurodiversity (Autism spectrum, sensory processing, intellectual and developmental differences, and Down Syndrome) and physical disabilities, Emily will engage students in the exploration of how sounds tell non-narrative stories, how they can self-soothe through "sound bathing" and how to nurture their socio-emotional development through drumming circles. Participants will also create a few of their own instruments to keep, such as thunder and ocean drums, rain sticks and shakers/rattlers from mixed materials. Working with teens who are at-risk and within the school environment, the program will engage students through immersive sound making with a diverse array of cultural instruments and in handcrafting their own stretched frame drums and carving Native American-style flutes from Western red cedar.They will learn how to play these instruments through innovative methods including "call and response," "rhythm and heartbeat," "sound bathing," drumming circles and advanced flute embellishment techniques.
EDUCATION THROUGH MUSIC COLORADO, INC.
Program: Partner Schools Music Programs
Grant: $20,000
Description: Partnering with under-resourced schools without music programming, ETM-Colorado uses evidence-informed strategies to address the difficulties of implementing and sustaining a comprehensive school music program. Prior to working with ETM-Colorado, none of the seven partner schools had music education programs. The program has grown rapidly, from serving two schools and 600 students in the 2019-20 school year to seven schools and 2,000 students in the 2021-22 school year. Through increased recruitment efforts, Education Through Music-Colorado will partner with two additional schools per year over the next three years, reaching approximately 700 more students annually.
FREE MUSIC FOR FREE PEOPLE
Program: the denver underground: Latinx Edition
Grant: $10,000
Description: The denver underground (TDU) is FM4FP's magazine project, which will reinvigorate the online publication paradigm by operating around collective releases, with tangible, attend-able outcomes. In efforts to strengthen the art-centered journalism community, the organization's priority lies in uplifting the marginalized artistic voices that contribute so much to the city. Through all the tragedies and trials of the pandemic, people had to endure apart from one another—the contagious creativity that grows from a deep-rooted community was wounded. Through those trying stages, the denver underground steadily and safely curated local artists' stories through different art mediums and constructed the first issue: Black Artists Matter. The denver underground is creating a printed historical archive and celebration of Denver's vibrant artistic communities, a declaration that these communities are deeply important and that they deserve to be accessible for years to come. TDU's second edition will be Otherhood: Queer Conversations, and the third will be the Latinx Edition.
Program: The Fifth Element
Grant: $10,000
Description: The spirit of hip-hop has always been young people using music to bring awareness to the issues within their communities and to create opportunity despite these issues. The goal of The Fifth Element (TFE) is to keep this spirit thriving through a focus on young people, cultivating the sense of community and belonging by providing food and non-alcoholic beverages and inspiring the youth to use their talents to tell their stories and their communities' stories through live performances. Drag performances will be included to combat the homophobia, transphobia and misogyny still present within Hip-Hop culture. By providing workshops in songwriting, scratching, dancing and street art, the audience will also be given the tools to move forward with their inspiration. The program will also include a key-note conversation about what Hip-Hop looked like in the past and what it will look like in the future, used as an artform of transformation and resistance against sociological, economic and ecological issues present in our communities. These conversations will always center on young people as knowledge-holders. The final goal of TFE is to celebrate a young person who is using their music to uphold the spirit of Hip-Hop through a financial grant and the headlining performance of the event.
GIRLS ATHLETIC LEADERSHIP SCHOOLS DENVER
Program: GALS Denver VOCO Chapter Project
Grant: $10,000
Description: Girls Athletic Leadership School (GALS) Denver's mission is to empower students to succeed academically, lead confidently, live boldly and thrive physically. GALS Denver is an independent 501c3 contracted with Denver Public Schools to run two public charter schools: a middle and high school for girls+. Currently, the schools serve 344 students, with a model focused on positive social, emotional and leadership development, and overall student wellness. GALS is committed to intentionally addressing inequities in education through a focus on equity, inclusion and diversity, and culturally relevant practices. Through this project, GALS Denver's goal is to provide a modern choir experience for students in grades 6-12 through a partnership with Vocal Coalition Youth Choirs (VOCO), giving youth a chance to sing/rap with some of Colorado's best musicians. The project will help grow the GALS VOCO chapter from serving 15 students to 40 students in 2023 and beyond. The impact of this partnership is multifold: to offer unique music education that aligns well with GALS methodology and to help students use their voices to find their identity and lead our communities towards change and inclusion. Being inspired through these performance experiences challenges the students to find their potential and is one of many ways GALS offers students a pathway to empowerment through music, voice, leadership and social-emotional wellness.
HALLETT FUNDAMENTAL ACADEMY
Program: Musicians in the Making
Grant: $10,000
Description: Hallett Academy is a school where learning and community beautifully coexist. Therefore, when it came time to establish a music program, it didn't take long for students to gain comfort in creation and performance. As Hallett Fundamental Academy continues to look forward in building their music program, their goals are to give students a musical experience that they can use to express themselves and work together within their communities. A welcoming music environment includes accessibility, student autonomy and the inclusion of celebrating each musician's values and beliefs. This program will provide high-quality resources for the school community. In 2019, the music program did not have a full-time teacher, but through the leadership of the principal and other administrators, the school has been able to incorporate the arts at a higher level. These resources help reset the trajectory of children's lives, putting instruments and access to music in the hands of children that may not otherwise get it.
Program: Musicians in the Making
Grant: $10,000
Description: Innervision works to strengthen the talents and skills of local podcasters from diverse backgrounds. The organization seeks to assist physically and financially disadvantaged musicians and podcasters as they pursue their dreams and become role models of perseverance and success for others to follow. The Innervision community consists of blind individuals in/around Denver County. 70% of this population are low-income and have little to no vocational skills.
Program: Inside the Story: A Surprise for Rabbit / Dentro del Cuento: Una Sorpresa para Coneja
Grant: $5,000
Description: Tiny Tots are immersive, interactive concerts for kids seven and under. Through this program, kids learn about orchestral music while interacting with 30-40 performers. This fall, Inside the Orchestra (IO) will debut their first "Inside the Story" project. Inside the Story: A Surprise for Rabbit is an immersive orchestra and story experience designed to delight and engage children through music, art and literacy.
Program: Musik Soul Child Academy
Grant: $10,000
Description: Through Musik Soul Child Academy, Ktone Cares Foundation's goal is to introduce musical instruments to children from disenfranchised communities, exposing them to the musical arts and promoting mental health awareness. The cortex develops more rapidly when children learn to play an instrument, because they learn to better focus their attention and control their emotions, which decreases childhood anxiety. Music, in general, helps bring balance and harmony to one's life. Children who learn to play an instrument have an outlet for creativity and emotions. The organization's goal is to introduce music as a coping skill to help identify emotions. The children will be a part of "Guitar Talk," through which they will learn about their emotions by participating in a form of group therapy led by a mental health professional and a musical instructor. Through the power of group work, the children will be allowed to share their experience as well as learn from their peers. During the second half of the session, the children will learn how to play their emotions through the guitar.
LATINO CULTURAL ARTS CENTER
Program: Mariachi Festival
Grant: $20,000
Description: Viva Southwest Mariachi Festival is fast becoming a regional powerhouse in education and entertainment. Over the years, the model has evolved to accommodate varying sizes of participants depending on future pandemic waves, and the organization began incorporating high quality and engaging videography. This hybrid model of in-person and online Mariachi content has infinite potential for creating a career development pipeline for musicians of all levels and across borders. Funds will support the expansion of the Viva Southwest Mariachi Festival to offer high quality instruction and content throughout the calendar year across Colorado, as well as the showcase event.
Program: AUTHENTICITY IS KEY
Grant: $10,000
Description: Local musician Lolita will conduct a three-day residency at five different K-12 Denver Schools. During these residencies, Lolita will present her original music then take students through the process of how she creates a song in the studio by creating a song with the class. Her production team will facilitate the youth through a creative process of their own. Lolita and members of her band will bring along their mobile recording studio so they can create lyrics with the class by using a series of techniques that they've learned in their experience of producing records, and then build a track from scratch or pick from already produced pop, hip-hop, EDM or R&B music styles. This program will bring the transformative benefits of music to inner-city youth with an emphasis on underserved and BIPOC+ youth. The Authenticity is Key program will inspire youth in Denver Schools to embody their authenticity and practice creativity and innovation on a daily basis. Not only will the students dive into the lyric writing and music creation process, but they will also learn mental health exercises that were inspired by Lolita's personal experiences and live performances.
Program: The Duke Ellington Nutcracker
Grant: $5,000
Description: LuneAseas, in partnership with Adelska, Larea Edwards and Nile Russell, is creating an immersive Christmas experience based on Duke Ellington's arrangement of The Nutcracker. Using The Nutcracker as the event's foundation, the group will portray historical characters from Five Points' history, activating the performance with BIPOC directors, cast, musicians and producers. These partnerships will ensure the history of the area will be amplified and the little-known work of a jazz great will be brought to the forefront as a new type of Christmas and Nutcracker experience for general audiences.
Program: Missed Connection – An Un-Opera Adventure for Lovers
Grant: $10,000
Description: Missed Connection is an immersive, puzzle-hunt 'un-opera' that actively engages audiences in the search for love. Missed Connection will empower audiences as agents in participatory performance, engage them in opera-based storytelling, and invite them to explore love and relationships outside the bounds of heteronormativity to challenge deeply rooted ideologies and remind them of our shared humanity and capacity for love. Audiences will meet 'the Seeker' who, following a chance meeting that ended in a missed connection, is trying to find 'the Lover.' They enlist audiences in their search, providing clues through song and a map. Audiences use these tools to explore an outdoor playing area where they will witness performances by six or more potential Lovers. Through these interactions, the audience will gather clues and make a collective decision about who the Lover is, creating the foundation for the final scene; no two performances will be alike.
Program: First Friday Five Points Jazz Hop
Grant: $20,000
Description: Each month, the Five Points Community celebrates the legacy of jazz music in the neighborhood through a series of concerts along the Welton Street corridor hosted by Mile High Festivals. Performance times will stagger, allowing attendees to "hop" from one venue to the next. Bands will play two 45-minute sets, with a 15 to 30 minute intermission.
MOBILE STUDIO INCORPORATED
Program: Mobile Studio Music Workshops
Grant: $10,000
Description: Mobile Studio Music Workshops is an after-school program offering a unique opportunity for teens across Denver to learn how to write and record their music in a positive, professional setting without leaving their community. Using state-of-the-art audio technology, Oren Bregman, Mobile Studio's Executive Director, brings the studio to the students and leads them in the journey of amplifying their voice through music while becoming their best selves in the process. In winter and spring 2022, Mobile Studio began in-school programming at pathway schools in Denver Public Schools. The organization conducted 11 workshops and two events at the pilot site of Contemporary Learning Academy, while also conducting events at Denver Justice and Emily Griffith High School. In the 2022-2023 school year, the organization will return to these schools as well as expand the technology, security and artistic representation of their studio. By utilizing hip-hop music instruction to foster leadership, critical thinking, equity and creative expression for up to 12 students per workshop, the program provides students with a relatable platform to discuss issues facing their community and an avenue to make their voices heard, enhancing personal and artistic growth.
Program: Summer Arts & Culture Camp
Grant: $20,000
Description: Summer Arts & Culture Camp is Museo's flagship educational program. Each year, the camp serves 65-100 mostly Latinx young people, ages 4-11. This three-week, arts-integrated program includes daily dance, theater, music and visual arts classes, as well as science, social studies and language arts classes that explore and celebrate the art and culture of a different Latin American nation each year. The Summer Arts & Culture Camp has become an essential program for the community, providing under-served students with the opportunity to develop their individual creativity and artistic expression while also supporting their emotional, social and behavioral well-being, expanding their knowledge of the Latin American world, and mitigating summer learning loss.
Program: Sober Sessions: Interactive Musical Experiences in Safe, Sober Spaces
Grant: $10,000
Description: Sober Sessions is a series of musical experiences to build a judgment-free, sober community for folks who find difficulties participating in an industry that's dominated by, and heavily rooted in, alcohol and substance abuse. Music Minds Matter will provide a diverse swath of musicians and artists to participate with sober community members and, after free performances, continue the conversation with a panel discussion of the important role music plays in one's recovery, mental health and physical health. Substance abuse knows no socioeconomic status, nor does it concern itself with gender identification, race or other identity qualifications. Everyone is affected, and these events are all-inclusive. In past events, the post-show panel discussion opens with the artists engaging the audience, in order to break the fourth wall and create community between the performers and audience members alike.
Program: Youth Ensembles
Grant: $20,000
Description: New Cottage Arts Youth Ensembles meet weekly to practice individual instrument skills while working together to create dynamic final performances. The target youth audience are under-served, under-resourced students of color ages 11-18 living in Denver's southwest/north neighborhoods. Jazz /Classical Chamber groups include piano duo, string trios and jazz ensembles studying music written by women and BIPOC composers. Rock Band combines youth of similar ages to explore pro-social music-making in a fun and supportive environment, while developing creative and group musicianship skills. Electronic Music Composers explores the creation of digital soundscape through modern music and beat-making technology to help young people tell stories and express emotion through digital music. Students create original compositions using digital beats and sound recordings (recorded poems, wildlife, or city sounds, sounds from home, etc.), and will upload final versions online to share with the world.
RADICAL ARTS ACADEMY OF DENVER (RAAD)
Program: Approaches to Professional Development and Coaching for Denver Music Educators
Grant: $10,000
Description: There is an absence of community responsive arts-based learning (ABL) opportunities in schools for students in Denver, especially in the far northeast area where populations have experienced historical racial and economic-based traumas. Although RAAD's north star is to lead and launch a K-8 school in Denver, to truly disrupt the oppressive systems that occur in education, a broader effort that extends beyond K-12 public schools to include the larger educational sector. Thus, the Initiative for the Activation of Radical Arts approaches to Professional Development and Instructional Coaching for Denver Music Educators Organizations, was created to address current gaps for music educators and organizations to access professional learning and development opportunities designed specifically by instructional leaders with music and arts backgrounds and for the 21st century music classroom.
ROCKY MOUNTAIN PUBLIC MEDIA
Program: THE DROP Radio Station Community Engagement
Grant: $15,000
Description: To improve community participation in public media, cultural events and civic activities, THE DROP will build on 2022-2023 community events including their Block Party and Social Justice Festival. THE DROP strives to bring the community together in solidarity and celebration through a concert that leverages music as a vehicle for social change. The program's primary audience includes metro Denver residents ages 18-64, with a median age of 34, and is reflective of metro Denver demographics, where 30% of residents identify as Hispanic/Latino and 9% identify as Black/African American.
Program: High Profile: A Course in Artist Development
Grant: $20,000
Description: High Profile is a music-centric incubator for indie artists based in Denver. A six-month program, participants will attend one class per month with one additional mentorship capsule with an industry subject matter expert. Artists will receive a "crash course" in understanding the music industry and the workings of Denver's and surrounding cities' music ecosystems. The series will culminate in a "High Profile" convention with panel discussions, speakers and a sponsor activation. Priority will be given to participants from marginalized communities including LGTBQIA+, BIPOC and trans demographics, while centering on those from diverse backgrounds including income, education-level, and those with a disability.
SHINING IN THE SHADOWS, INC.
Program: Shining in the Shadows
Grant: $20,000
Description: Shining in the Shadows is a 501(c)(3) non-profit organization initiated by incarcerated musicians and devoted supporters of the incarcerated community. The organization's mission is to innovate music production for incarcerated people, inspiring change by working together to restore positive community relations through music written, produced and performed by incarcerated musicians. Creative art programs will be developed for and are the driving forces of transformative change in the Colorado Department of Corrections (CDOC), making Colorado prisons safer, and subsequently making Colorado safer; when inmates return to society with specific skills and training they acquired in prison, they have a better chance at gaining employment and continuing a career path that supports a better quality of life. Shining in the Shadows will develop program committees across CDOC with group leaders who share in these values, mission and vision.
Program: The Guillotine and Beatlab
Grant: $10,000
Description: The Guillotine is a hip-hop showcase that highlights local artists by booking them for a 20-minute set, allowing them to gain exposure and revenue through offering a guarantee, enabling artists to receive 100% of their own presale tickets and sell merchandise. Artists who have been showcased come from all across the front range, with an emphasis on prioritizing BIPOC emcees ranging in gender, sexual orientation and education level. The Beatlab is an immersive workshop that brings emcees, songwriters, singers and poets together to be paired with a selected producer to create music in a one-hour session. This workshop curates collaboration within the community and focuses the attention on producers who are often left out monetarily of the current state of hip-hop.
Program: Estrellas de Venezuela (Venezuelan Stars)
Grant: $10,000
Description: The Venezuelan Stars Concert will consist of an annual event, open to the public, initially presenting an ensemble of five Venezuelan musicians and academics, all Grammy nominees. The musicians will perform on the double bass, cuatro, piano, flute and violin, interpreting a Latin American repertoire that will demonstrate the beauty of Latin American music. This program is intended to inspire young Hispanics who are or may be interested in the music.
Program: Soundscape Music Residency Program
Grant: $10,000
Description: Soundscape Collective will continue to build off past success to scale its Music Residency Program's community impact in a new iteration for 2022-2023, hosting two Music Residency Programs at two different Colorado locations. For each residency, one Colorado-based musician/producer along with two Denver-based musicians will be invited to participate in a five-day, onsite residency program that strengthens the dialogue between urban and rural communities while providing the participants with an additional source of income. While onsite, the Resident Musician/Producer will collaborate with the selected Resident Musicians to create and record a unique body of work that addresses social injustice. Through this project, the organization's aim is to create a collaborative environment that inspires and activates musicians from diverse backgrounds and genres who are in various stages of their career. At the program's conclusion, residents will share work created during their immersive experience through a storyteller-style performance(s) in Denver engaging a broad audience of the music and creative community, patrons of the arts, and music lovers alike. Additionally, the program will be filmed to create a short video that gives audiences, as well as prospective residents and partners, an inspiring glimpse inside this unique, collaborative and creative residency experience.
Program: Orbit: Sphere in the Community
Grant: $10,000
Description: Through Sphere Ensemble's Orbit: Sphere in the Community program, the group forms partnerships with local nonprofits to provide services to some of the most marginalized, vulnerable members of our community. This program brings Sphere directly into partner organizations' spaces for free live music performances, maximizing the target audience's access to the group. Sphere Ensemble performs the same repertoire as in their concert programs and invites dialogue on topics related to the music and relevant to program participants, staff and volunteers. The goal for each event is to be a source of joy, peace, inspiration and catharsis with the knowledge that even a brief period of musical release can have a positive impact on people's lives. Through this program, Sphere Ensemble will give two or more performances at each partner site over the course of the season. These return visits allow the group to develop authentic relationships with Orbit participants and broaden understanding and empathy. Sphere's Orbit events create a wider sense of community, inspire connection and generate a safe and nurturing space for audience members to express themselves as they are moved by the performances.
SUN VALLEY KITCHEN + COMMUNITY CENTER
Program: Sun Valley Rising Viaduct Night Market: Culturally Diverse Music and Song
Grant: $10,000
Description: The Sun Valley Rising Viaduct Night Market emerged as a Sun Valley community concept for an international market destination under the West Colfax viaduct and was developed as a collaboration with Denver Streets Partnership and the Westside Stadium Community Coalition. The market celebrates the culture, art and food of West Denver, including Sun Valley, and features culturally immersive presentations including music, dance, art installations and family-friendly games. The market presents cuisines from around the world and a variety of artisan vendors, providing local artists and entrepreneurs who may not be established business owners an opportunity to exhibit their crafts. Sun Valley Kitchen + Community Center is the lead agency presenting the 2023 Night Market and is responsible for coordinating all aspects of the event. Through their Youth Employment + Professional Development Program, young people will help manage the Night Market. This professional development opportunity trains youth in the overall management of a community event, including selecting entertainment, artisans and food vendors, marketing and promotion, and technical support. This event supports the goal of providing opportunities for youth to engage and connect through active employment, instilling protective factors through a positive social environment, and offering opportunities for community engagement and connection.
SWALLOW HILL MUSIC ASSOCIATION
Program: Little Swallows Early Childhood Music in Denver Schools
Grant: $20,000
Description: The Little Swallows program provides underwritten 30-minute, weekly music lessons in preschool classrooms, introducing three- and four-year-olds to the world of music making. Lesson plans include songs, creative movement, rhymes, percussion instruments and other fun activities. Swallow Hill instructors teach toward the four Colorado Academic Standards for preschool music: expression, creation, theory and aesthetic valuation. Little Swallows programming is provided for preschools in the Metro Denver area serving under-resourced students. On average, 85% of the students served qualify for free or reduced-price lunch and 90% are students of color.
THE COLORADO SYMPHONY ASSOCIATION
Program: Denver Youth Music Performance Education Initiative
Grant: $5,000
Description: The Colorado Symphony's (CSA) Music Performance Education Initiative will serve more than 2,100 Denver middle and high school students and community members through open rehearsal experiences with masterclasses and Q/A sessions featuring world-renowned musicians. 40% of these attendees will be provided free or low-cost tickets. This initiative will also deepen the CSA's relationship with Denver Young Artists Orchestra (DYAO) by providing 150 middle and high school musicians soloist performance opportunities, music coaching and mentorship fostered by CSA orchestra members. This initiative will offer a total of 16 open rehearsals, masterclasses and DYAO sectional rehearsals with CSA members, and six DYAO concerts between September 2022 and May 2023. Masterclass and talkbacks will feature world-renowned artists Paul Huang (violinist), Sterling Elliot (cellist), Ji Su (vocalist), RZA of the WuTang Clan (CSA Imagination Artist) and Nathaniel Rateliff (CSA Imagination Artist).
Program: Making Friends
Grant: $10,000
Description: Making Friends is a series of intimate shows centered on highlighting local BIPOC artists who are seeking to create more space and opportunity in the music industry for themselves and others alike. The goal of this program is to host six shows throughout Denver, highlighting and contracting with approximately 20 BIPOC artists (rappers, singers, musicians, DJs), establishing a network of support for BIPOC artists and forward-thinking music consumers, and providing artist content for electronic profile kits and marketing.
Program: Encounters with…
Grant: $5,000
Description: Funding will go to "encounters with…" and "Re-enter, Remerg, Reform II" (RRRII) a Denver non-profit fighting recidivism by providing resources to those reentering society after incarceration. The first version of "Re-enter, Remerg, Reform" raised awareness and financial support through two sold-out shows that featured music by, and stories of, people formerly or currently incarcerated. RRRII will feature the stories of three formerly incarcerated Remerg clients paired with Playground Ensemble composers to create new compositions, a video premiere featuring stories of those currently incarcerated and visual art by formerly incarcerated artists.
THE ROBERT AND JUDI NEWMAN CENTER FOR THE PERFORMING ARTS AT UNIVERSITY OF DENVER
Program: Musical Explorers
Grant: $10,000
Description: Musical Explorers (ME) is the keystone of the Newman Center (NCPA) education initiatives. ME is a semester-long interactive world music program for second graders developed by Carnegie Hall and produced by NCPA in partnership with Denver Public Schools. Through ME, students learn about three different musical and cultural traditions. The curriculum includes activities and lessons in music theory, rhythm and instrument creation, as well as reading and geography. The program culminates in live performances at NCPA featuring the artists and songs they learned during the program. Denver Public Schools teachers access the curriculum and professional training at no cost.
TRINITY UNITED METHODIST CHURCH
Program: Creatives Day @ Trinity
Grant: $10,000
Description: In support of Denver Public School's Vision (2022) that "Every Child Succeeds," Creatives Day @ Trinity specifically aligns with three main goals: "to celebrate student diversity, to create a culture that supports the whole child, and to close gaps that lead to inequities in access to higher education and a great career." Trinity aims to reclaim the communal responsibility to provide a safe, inclusive environment for students' talents to flourish in song composition, stage presence and performance, and provide instrumentation instruction by regional artists renowned for their expertise and commitment to equity in the arts.
Program: Urban Peak Music Studio
Grant: $15,000
Description: Urban Peak's (UP) music studio provides youth who are experiencing homelessness a space in which to express their creativity, voice and talents through music. The music studio is located at Urban Peak's Drop-in Center at 2100 Stout Street in downtown Denver and consists of two rooms. One side houses instruments: a keyboard, multiple guitars, a drum kit and piano, and the other side is a recording studio equipped with state-of-the-art, professional grade equipment. UP's music studio reaches 200+ youth annually and is open 20 hours per week on Mondays, Tuesdays and Thursdays. With the temporary relocation this fall of UP's overnight shelter to the floor above the music studio, it's expected that the frequency and number of youths using the studio will increase in the coming year. The music studio also involves University of Colorado Denver students who work as paid interns directly with UP youth in the studio.
VICTORY PROJECT-BASED ACADEMICS & COMPETENCY
Program: After-School, 18th Winter, and 18th Summer SOULstice Performing Arts Camp
Grant: $5,000
Description: For more than 17 years, Victory Project-Based Academics & Competency (VPAC) has evolved to meet the needs of the underserved demographic through artistic performances that promote the whole-child and full well-being of youth through the arts. Using arts integration as an enrichment to math and literacy for underserved students who often do not have access to the arts, VPAC utilizes performances to instill mental, emotional and physical health, goal setting, entrepreneurship, financial literacy, conflict-resolution, team building, social justice, advocacy, and many other 21st century life skills that prepare them for college and career readiness. With a standard realistic goal of 15% academic growth in math and literacy, VPAC tracks students' growth with pre-, mid-, and post-assessments that demonstrate the impact of arts integration education. VPAC has met and exceeded this goal every year for the past 17 years. The target audience of this program is underserved, BILPOC, and LGBTQIA+ students. Through this project, students create produced original productions, fully led by the students to display their growth and offer the community a quality performance that is authentic to their experiences.
VOCAL COALITION YOUTH CHOIRS
Program: VOCO Initiative Development
Grant: $20,000
Description: As Vocal Coalition (VOCO) rebounds from COVID and seeks to responsibly increase its impact, the organization is launching four new initiatives, including community engagement and outreach initiatives, through which the group will speak with school administrators and educators in underserved communities who are navigating massive budget cuts and trying to find creative ways to continue offering a quality music education to students. Using feedback they gather from the community, VOCO will craft a strategic plan initiative to helpfully provide modern, empowering and culturally relevant musical experiences to Denver youth in 2023 and beyond, launch a technology development initiative to learn how to offer high-quality concert livestreams beautifully, regularly and sustainably without burdening Denver's youth and families with the substantial cost, and create a branding development initiative that will align social media content with the community's musical and aesthetic values.
WARM COOKIES OF THE REVOLUTION
Program: Boogie Down!
Grant: $10,000
Description: Boogie Down! is a way to engage families with small children in civic life while providing top-notch music and ways to take action in the community. Warm Cookies of the Revolution ran this program multiple times in 2017-18 and it was incredibly successful. The program is quite simple: Put on a great music concert with talented bands on a weekend morning for families with small children. Have food and drinks, childcare and age-appropriate child-friendly activities (including Swallow Hill's instrument petting zoo, face painting, story time, make your own instrument, sing-along and crafts). And share what's happening in our community and the ways parents and families can take action for civic power. It is often challenging and expensive for folks to make it out at night to see shows, and many people would love to share that experience with their kids as well. The organization's goal is to produce three events in different locations to be more geographically accessible. Intended audiences are families with small children. These events will be bilingual and at least one will be multilingual.
Program: Open Mic/Young Creative Ecosystem
Grant: $20,000
Description: Youth on Record (YOR) is developing a Young Creatives Ecosystem (YCE), consisting of YOR's five out-of-school programs (including Open Mic) that strengthen young minds and resiliency through music. Open Mic, now part of the YCE, will be a test kitchen, career advancement pathway and safe place for young people to gain skills and build networks in the following music ecosystem skill sets: performance, production, podcasting, event planning and execution, marketing and street-teaming, food and beverage, audience engagement, and more.