"Upside-Down Magic" virtual Author Talk
Denver Arts & Venues
07/

30/

2020

12:00 PM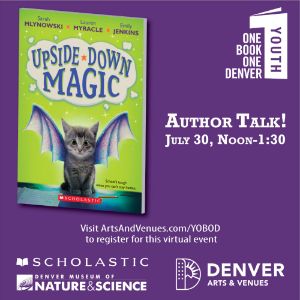 Please join Denver Arts & Venues, Denver Museum of Nature & Science and Scholastic as we host a FREE virtual conversation with the authors of our 2020 Youth One Book, One Denver selection, Sarah Mlynowski, Lauren Myracle and Emily Jenkins.
On July 30, noon-1:30 p.m., Sarah, Lauren and Emily will discuss their book, "Upside-Down Magic," a delightful story which chronicles the misadventures of nine-year-old Nory and her oddball friends, who prove that upside-down magic definitely beats right side up.
Youth will have an opportunity to hear from the authors and learn about their creative process, as well as ask questions. Sarah, Lauren and Emily will also talk about the "Upside-Down Magic" movie coming to Disney Channel July 31.
Additional resources including a FREE downloadable activity book, coloring sheets, educational guides for parents and teachers, and more are available at ArtsandVenues.com/YOBOD.