What is The Next Stage NOW?
In March 2016, Mayor Hancock unveiled The Next Stage Vision Plan for the Denver Performing Arts Complex. The plan aims to re-energize the Arts Complex with new and updated venues, more public space and diverse and accessible programming.
While construction will not begin immediately, The Next Stage NOW programming ignites this exciting transformation in the present, with public performances, programming and placemaking initiatives.
The Next Stage NOW 2018 season is coming to a close, but stay tuned for 2019 event announcements! Follow Denver Performing Arts Complex on Facebook for more information on future events.
Upcoming Events
The Pink Unicorn
And Toto too presents The Pink Unicorn by Los Angeles playwright, Elise Forier Edie, supported by The Next Stage NOW, directed by Susan Lyles, starring Missy Moore.
The Pink Unicorn is an award-winning solo theatre piece, which tells the story of a Christian widow, living in a conservative Texas town, whose life is thrown into turmoil when her teenaged daughter announces she is "gender queer" and starting a chapter of the Gay and Straight Alliance at the local high school.
Location: 1245 Champa Studio
When: November 1-17, 2018, (Thursday-Saturday), 7:30pm curtain
Tickets & Information: www.andtototoo.org
Price: $22-$25 (plus tax)
Cheap date night: November 8, $15 (plus tax)
This Holiday Season with The Next Stage NOW
Holiday BrassFest
Saturday, December 1
12 p.m.
Galleria at the Denver Performing Arts Complex
Kick off the holiday season in grand style with this free public concert put on by the Denver Brass and BrassFest participants.
Calling all brass players, ages 8-98!
Perform with us at our most popular community event! We'll provide you your very own music book and tips to get you in great shape for a live performance.
Performer pre-registration online or call 303-832-4676.
For more information on this event, please visit denverbrass.org.
A Very Vintage Holiday Show
December 5, 7, 12 & 14
6 p.m.
Galleria at the Denver Performing Arts Complex
Celebrate the season with A Very Vintage Holiday Show. Much like Bing Crosby and The Andrews Sisters, the group's exceptional talent blends upbeat vocal harmonies and engaging showmanship with a little bit of comedy and plenty of nostalgic holiday tunes.
Come enjoy some free hot chocolate, cookies and festive entertainment for all ages.
Forty-Fourth Annual Tuba Christmas Concert
Sunday, December 16
12:30 p.m.
Galleria at the Denver Performing Arts Complex
This family friendly performance is free and open to the public.
Want to participate with your tuba or euphonium? Performer details can be found at TubaChristmas.com
Trombone Christmas
Sunday, December 16
4 p.m.
Galleria at the Denver Performing Arts Complex
Come and hear approximately 50 trombones celebrating Christmas and the holiday season with a FREE live performance.
This concert is presented to promote and encourage fellowship and musicianship amongst slide trombone players but meant to be enjoyed by anyone and everyone. For more information visit RockyMountainBrassWorks.org.
Coming back in 2019
Sterling Vineyards Galleria Bar
Join us for cocktails, quick bites and live acoustic music at our Sterling Vineyards Galleria Bar under the iconic ceiling of the Denver Performing Arts Complex. This pop-up bar will return for select Thursday, Friday and Saturday evenings in Summer 2019. The live entertainment is free with beverages available to purchase.
Performer Schedule:
Announcement coming in Spring 2019.
Sunset Cinema
Thank you to everyone who joined us for the 2018 season, Sunset Cinema will return in June 2019.
We are always adding fun, free or low-cost events, please continue to check back here for updates to the schedule.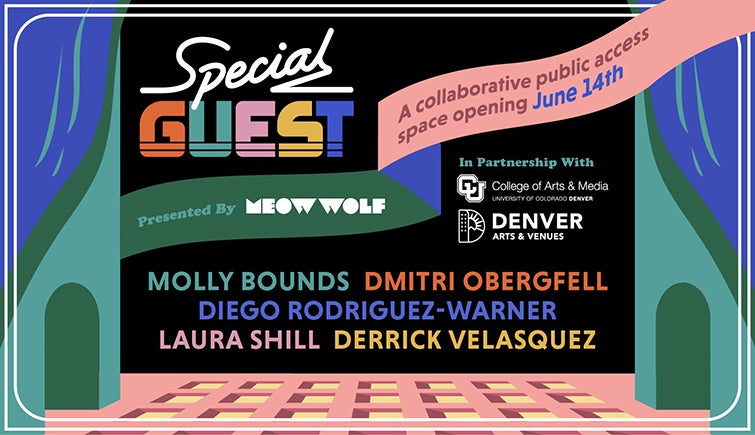 The Next Stage Gallery
Special Guest, curated by Meow Wolf, in collaboration with Denver Arts & Venues and University of Colorado Denver. Free and open to the public.
Hours:
Tuesday - Friday, 4:30 - 7:30pm
Saturday - Sunday, 12:30 - 7:30pm
For more information about this and future exhibits, visit www.nextstagecu.org.

For additional questions or information, please contact Peter Dearth, Operations Coordinator, by email or at 720-865-4303.