McNichols Civic Center Building Summer Exhibitions and Event Continue: Exhibits and events highlight diversity, accessibility and members of the abled/disabled community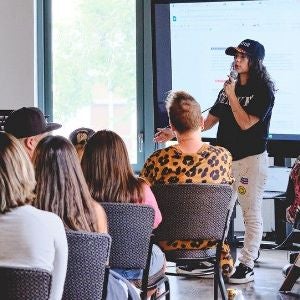 Denver Arts & Venues is pleased to announce new summer exhibitions and events at the McNichols Civic Center Building, including the fifth event in the Cultural Runway Series: FashionAbility, and a day-long workshop series connected thematically to both the runway show and the Vibrant Accessibility exhibition on the second floor.
"We are excited to present our fifth Cultural Runway and Vendor Fair, but this time, we are expanding our weekend to include five related workshops," said Ginger White, executive director of Denver Arts & Venues. "The entire weekend really highlights the intersections of culture, art and accessibility, with inclusive and adaptable fashion on the catwalk, and workshops, classes and discussions by and about members of various disability communities, including neuro-divergent, blind and low-vision, and Deaf and hard of hearing."
Summer McNichols Building Exhibitions:
Polished: The "Candy Coated" Works of Sonny Valdez (McNichols Building, First Floor), July 7-Aug. 27. This series of metal works by Moses "Sonny" Valdez are rich in color and have a glow about them. Visitors will appreciate this automotive technique in a new form.
Vibrant Accessibility (McNichols Building, Boettcher Cultural Pavilion, Second Floor), June 8-Aug. 27. "Vibrant Accessibility" features artists Chloé Duplessis, Melanie Walker and John Bramblitt. Each artist is blind or has low vision, and creates accessible artwork, especially for low vision and blind audiences.
Tales in Textiles: Mid-Century Style (McNichols Building, Third Floor), June 8-Aug. 27. This exhibition includes a wide variety of Mid-Century artists and textile designers.
Exhibition Related Events:
Denver Arts & Venues Cultural Runway Series: FashionAbility - July 29, 7 p.m. A fashion show highlighting clothing designed with ability and disability in mind, and showcasing the designs of Lexie Bader and Rachael Levine, as well as adaptable fashion from No Limbits paired with a curated military-inspired collection. The runway show will be emceed by Andrew Regan who works with the Rise School of Denver and The Wayfaring Band, and is a Special Olympics competitor. Tickets are available at AXS.com: $10-$50. Sign language interpretation will be provided.
Denver Arts & Venues Impact Day: FashionAbility - July 30, 9:30 am.-4:40 p.m. In conjunction with the FashionAbility Runway Show, Denver Arts & Venues presents an Impact Day, celebrating art, culture, fashion, accessibility and inclusivity with a silk-dyeing workshop, a collage art session, a discussion on accessible travel, a dance class designed to be accessible to hearing, hard of hearing and Deaf participants, and a fashion design and marketing workshop. Tickets are available for each of the five workshops, or as a full-day package. Tickets: $15 individual workshops, $65 all-day package. Sign language interpretation will be provided for the dance class and the fashion design and marketing workshop. Sign language interpretation will be available upon request for all other workshops. Tickets go on sale Friday, July 7 at 10 a.m. at AXS.com.
FashionAbility Vendor Fair - July 29 and 30, 10 a.m.-4 p.m. Support local artists and organizations at the FashionAbility Market, where 20+ artists, fashion designers and artisans will be selling their artworks and merchandise. In addition to the marketplace, the vendor fair will feature several organizations working with and for members of our community with disabilities. FREE and open to the public.
"Tales in Textiles" Closing Exhibit Tour, Curator Discussion and Fabric Sale - Aug. 26, 1 p.m. In the vein of sustainable fashion design, selvage and remnant fabrics highlighted in the exhibition will be available for purchase at the event which will also include a tour and discussion led by the curator. FREE, please RSVP.
Fifth Annual La Raza Park Day and Cruise - Aug. 27, 1-5 p.m. – One of the biggest Low Rider events of the season! Enjoy music, food, vendors, Lucha Libre wrestlers, low riders, breakdancing, Aztec dancers, and get involved with community decision-making.
The McNichols Building exhibitions are free and open to the public daily from 8 a.m.-5 p.m. For Spanish or other language interpretation Services: DAVLanguageAccess@denvergov.org, for sign language interpretation or CART services: deafhhservices@denvergov.org, for other accommodations: disabilityaccess@denvergov.org. Please contact us at least three business days in advance for these services.