Denver Arts & Venues Requests Qualifications for a new Public Art Project at Denver County Jail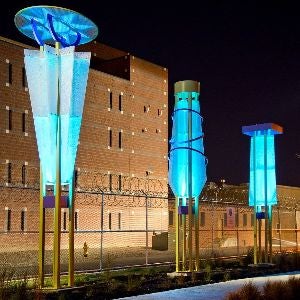 Denver Arts & Venues is now accepting qualifications for a new Public Art Project for the Denver County Jail visitors' room.
Denver County Jail – Visitors' Room: Budget - $14,000, Open to Colorado Artists and Artist Teams
The Denver County Jail, located in northeast Denver, is one of two facilities that are part of the Denver County Jail System. The Smith Road facility currently houses incarcerated people serving short sentences in Denver County. Renovations to the facility have occurred over several decades. More recently, the Denver County Jail capital improvements have focused on visitation spaces where family, friends and other loved ones of incarcerated people meet to connect with one another. Since 2005, visitations at Denver County Jail between incarcerated residents and their families have taken place through in-facility video conferencing rather than face-to-face. Denver County Jail is one of two facilities in the U.S. making the transition back to in-person visitations. The Denver Public Art selection panel is seeking artists who are skilled in group facilitation and comfortable working with Denver County Jail staff and incarcerated residents, especially artists who have worked or taught inside jails or prisons in the past or were formerly incarcerated themselves. Artwork should be created in response to feedback given by the Denver County Jail communities and should transform the contact visitation space from a 'surveillance zone' to a 'healing zone.' Artists are encouraged to consider biophilic design strategies that support mental health through color, pattern and subject matter. (Biophilic design is the practice of connecting people and nature within our built environments and communities.)
Interested artists may submit qualifications at https://artist.callforentry.org/festivals_unique_info.php?ID=11506 through Monday, April 10, 11:59 p.m. MST. Denver Public Art is also hosting a virtual pre-application meeting on Wednesday, March 29 at 5:30 p.m. for interested applicants. The meeting will cover project backgrounds and goals, and the application process for this Request for Qualifications. Attendees will also get information on CallForEntry.org through which artists may apply. This event will be hosted on Zoom. Interested applicants are asked to register on Eventbrite to get information on how to join prior to the event.
More information on these and other Denver Public Art calls is available at www.DenverPublicArt.org/For-Artists/#opportunities.