Denver Arts & Venues Now Accepting Applications for Five Points Jazz Festival Vendors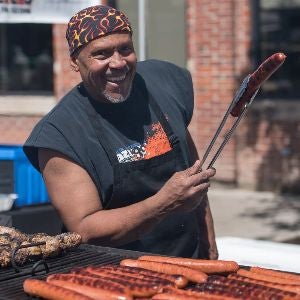 Denver Arts & Venues is pleased to announce that applications are now open for Five Points Jazz Festival vendors.
On Saturday, June 10, 2023, 100,000 people will gather along Welton Street for the anticipated return of the Five Points Jazz Festival. Those attending will experience a safe, sustainable, family fun event. At the forefront will be jazz music and the many hard-working and talented local jazz musicians featured on outdoor and indoor stages.
Applications are being accepted for food trucks, food tents, nonprofit booths, corporate booths and artisans.
Vendor spaces range from $125 for an artisan tent, with a special Art Drop, Art Shop discount, up to $750 for food trucks and $800 for corporate spaces. Interested organizations and artisans can visit www.ArtsandVenues.com/5PJF where they can find additional information and a link to apply. Applications will be accepted through April 15.
"We are excited to offer a special discount for Five Points Jazz Festival artisan booths this year, for those who have participated in Denver Art Drop Day," said Ginger White, Denver Arts & Venues executive director. "We have encouraged artists to hide free art around town each September since 2017, and this is just a small way for us to say thank you and highlight the tremendous work that these artists create."
The 2023 festival will be zero-waste, a sustainability initiative started in 2019.
This year's Five Points Jazz Festival will take place June 10, noon-midnight, with vendors on site until 8 p.m. when outdoor programming ends.