Arts & Venues Opens Applications for $100K in Grants to Support Community-led Outdoor Projects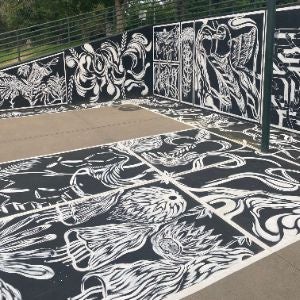 Denver Arts & Venues is pleased to announce the continuation of the P.S. You Are Here program (launched in 2014), with a total of $100,000 in funding for grants up to $10,000 each for collaborative, community-led outdoor projects in Denver's public spaces.
"Since we launched Denver's Cultural Plan nearly 10 years ago, Denver Arts & Venues has made it a goal to advance initiatives that bring art into the daily lives of those who live, work and play in Denver," said Ginger White Brunetti, Denver Arts & Venues executive director. "We launched P.S. You Are Here to do just that, to fund projects that bring temporary art and community collaborations to different neighborhoods. From sidewalks to alleys to parks to crosswalks to fences, we have seen nine years of projects incorporating not only visual art, but also poetry, podcasts, urban farming, marketplaces, sound art and more."
Denver Arts & Venues is accepting grant proposals now through Sunday, Oct. 23.
P.S. You Are Here applicants can be neighborhood-based groups, Registered Neighborhood Organizations, Business Improvement Districts, art or creative districts, place-based organizations, individuals residing or working in the neighborhood in which the project will take place, or individuals working with one or more of the aforementioned. Denver Arts & Venues encourages proposals that meet one or more of the following goals:
• To enrich the lives of all Denver residents and visitors by integrating arts, culture and creativity into daily life
• To foster community collaboration and encourage partnerships among artists, performers, businesses, organizations and non-profit and for-profit agencies
• To promote our vibrant and diverse communities as destinations to live, work and play
• To inspire creative and innovative thinking
• To showcase locally cultivated talent
• To demonstrate cultural diversity, social equity, inclusion and accessibility through the engagement of arts, culture and creativity in neighborhoods
• To nurture and honor community identity and heritage
• To create a sense of place, purpose and belonging
• To animate and invigorate public spaces
• To celebrate community assets
• To create public spaces that promote health, happiness and well-being
Interested applicants are invited to attend a virtual information session on Monday, Oct. 3, 6-7 p.m. Please register for the information session at https://www.eventbrite.com/e/ps-you-are-here-info-session-tickets-422688451537.
Funded projects must take place in 2022-2024 calendar years. For full guidelines, criteria and application instructions, please visit www.ArtsandVenues.com/PSYAH.