Grants & Cultural Investments
Denver Arts & Venues is pleased to announce that in its seventh year, PSYAH provided $120,000 in funding to the following grantees: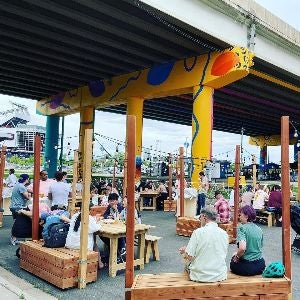 Bicycle Colorado DBA Denver Streets Partnership
Project: Colfax Viaduct Activation
Site: Colfax Viaduct Bridge
Grant: $10,000
Description: Located just to the south of Empower Field, Sun Valley is Denver's hidden gem. It is one of the most diverse neighborhoods in Denver, with over 30 languages spoken from five different continents. It is home to local chefs and entrepreneurs from around the world, and most recently it has become home to Denver's Meow Wolf, Raices brewery, and Denver's Latino Cultural Arts Center.
The Denver Streets Partnership (DSP) partnered with the West Colfax Business Improvement District (WCBID), the Latino Cultural Arts Center (LCAC) and the Westside Stadium Community Coalition (WSCC) to plan and carry out a series of community-managed, international marketplaces featuring local entrepreneurs and businesses, paired with culturally appropriate placemaking and public art. The once drab space under the Colfax viaduct now features a mural installation which serves as a backdrop for these community marketplaces.
RedLine Contemporary Art Center
Project: Living Land Acknowledgments
Sites: Five Points
Grant: $10,000
Description: Conceived and directed by Kristina Maldonado Bad Hand, a Sicangu Lakota and Cherokee artist, Living Land Acknowledgements responds to the need to acknowledge stolen Indigenous land and honor Indigenous people through art and community gardens, while meeting the needs of local BIPOC communities for healthy food options. P.S. You Are Here funds will support the centerpiece of the garden, a collaborative community-responsive artwork that actively acknowledges the Indigenous ancestral land of Five Points in an ongoing conversation to fortify residents' sense of belonging, agency, and place-keeping. Co-designed by Five Points residents and a local artist selected through an open call, the topiary sculpture will feature Indigenous plants that thrive in Colorado's arid climate to reconnect gardeners to native plants and to promote environmental sustainability. Community engagement activities such as Indigenous food cooking classes and medicinal herbal applications will bring neighbors together, particularly youth, to learn from the garden. Through the harvesting of fresh foods and its preparation for collective, communal feasts, the garden will be a placekeeper to cultivate community cohesion.
Rocky Mountain School of Expeditionary Learning
Project: Better Together CoLab
Site: Cook Park Urban Garden
Grant: $7,500
Description: RMSEL houses a fledgling S.T.E.A.M.-based maker space designed to put real world learning into the hands of K-12 students. The "Genius Lab" leverages the Next Generation Science Standards (NGSS) to engage students in engineering and design processes. Adjacent to the RMSEL building is the Cook Park community garden. Through the P.S. You Are Here grant and 250 volunteer hours, students created honeycomb shaped boxes to be used as a "little free library" and a seed library. Other hive boxes include free "better together" buttons and chalk to be used by passersby as they write wishes on nearby dandelion sculptures. "Banksy style" bees have been painted along the sidewalk to draw neighbors to a new community space. Installed in the strip in front of the Cook Park Garden are a smattering of colorful pavers, created by students, as well as eight giant dandelion heads and 10 welded flowers. The dandelions are intended to help neighbors express their wishes for the future of the neighborhood and garden, while the sunflowers memorialize the 35-year history of the garden.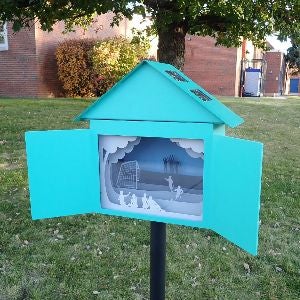 Becky Wareing Steele
Project: ¿Qué significa para ti la comunidad? (What does community mean to you?)
Site: Friendship Alley near Munroe Elementary School
Grant: $10,000
Description: In celebration of the primarily Latinx, this project was a series of diorama-based installations enclosed in Retablo (Latin folk art) inspired cabinets. Each cabinet contained a scene inspired by Munroe Elementary students' responses to the prompt: ¿Qué significa para ti la comunidad? (What does community mean to you?). Through workshops, students learned about public art and storytelling and had the opportunity to create their own Retablo-inspired scene, which influenced the final installation. The final installation consisted of a series of scenes enclosed in stainless steel cabinets with plexiglass viewing windows and solar lights. Cabinet exteriors will be painted with a pattern that relates to the scenes within.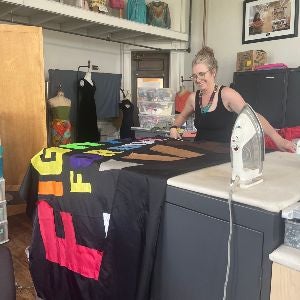 Art Students League of Denver
Project: The Flagpole Project, 350 years of Denver
Sites: Denver Public Library branches, city parks, and North, South, East and West public high schools
Grant: $10,000
Description: To mark ASLD's 35th anniversary, the Flagpole Project will be a collection of flags inspired by 350 years of Denver and Colorado history. ASLD, in collaboration with artist Holly Kai-Hurd, Denver Public Library Special Collections Team and History Colorado, will recommend and select artists, historians and community members to form teams that will identify facts, events and sites which contemplate Denver's history. The teams will interpret the historical content into the visual language of symbols to generate a series of flags. The project draws upon the iconic symbology of the flag, which has a complex legacy as a tool to foster collective identity by eliciting emotional, spiritual, national and political sentiments and values. By highlighting Denver's history through the imagery of the flag, we can co-create a shared collective Denver story that strengthens our community's sense of place and vision for our future. The flagpole will be a starting point to spark conversations and guide accompanying events that deepen the public's engagement with Denver's history.
Montbello Organizing Committee
Project: Montbello Memory Mapping
Sites: City Parks and canals in Montbello neighborhood
Grant: $10,000
Description: The Montbello Memory Mapping project will capture stories from long-term Montbello residents about the history of the community and their experiences in a newly annexed neighborhood. The stories will be captured in the form of podcast recordings through the technical support of the Confluence Center at McGlone Academy and will live both online in an interactive map of the Montbello community and also physically around the neighborhood in the form of art pieces displaying QR codes. The hope is to graduate the art pieces to exist formally as components of the Montbello FreshLo Walkable Loop wayfinding system, which is currently in the planning stage.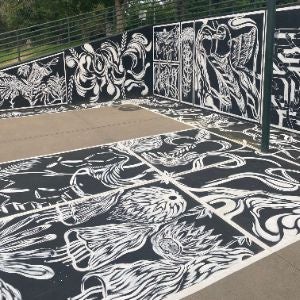 Markus Puskar
Project: Denver's Mural Coloring Book
Site: Sunken Gardens Park
Grant: $7,500
Description: Artist Markus Puskar has unveiled his Coloring Book Mural at the Sunken Gardens basketball court (9th Avenue between Speer Boulevard and Elati Street). On Aug. 4, families, neighbors, Denver residents and visitors of all ages were invited to join their community to color-in a black and white mural using chalk, contributing colors to an array of shapes and forms and enlivening the Sunken Gardens basketball court even further. The fleeting nature of chalk allows people to lose the inhibitions they might have had by placing more permanent marks on a mural, creating an open and whimsical atmosphere for all the participants. When the chalk is washed off either naturally or by hand, it will be time to organize another "coloring book" event. The result is a dazzling array of color that represents the community that completed it.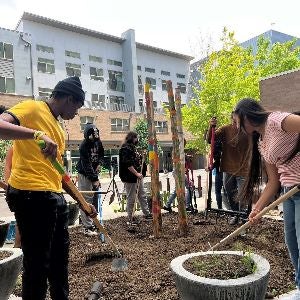 Arts Street at Youth Employment Academy
Project: Edible Artscapes Youth Initiative
Sites: Denver Housing Authority, Arts Street studio
Grant: $7,500
Description: Arts Street and lead artist, Katy Casper, worked with 22 youth artists, ages 14-20, over the past 6 weeks, to learn the principles of permaculture design and create a regenerative urban farming installation with integrated artistic elements in Denver's La Alma neighborhood. This installation is in front of Denver Housing Authority's Tapiz residential public housing. Youth met with residents from the community for input on planting and design.
Through their experience, youth learned techniques for planting and maintaining garden space, for creating public art and produced easy to share information about the process to educate the community. This installation will provide produce for the community, educate about permaculture and urban farming and beautify the neighborhood.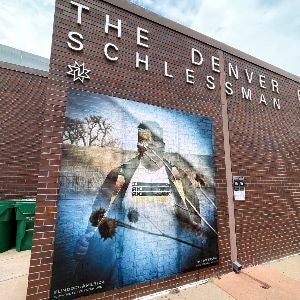 Edica Pacha
Project: UndocuAmerica
Sites: To be determined
Grant: $7,500
Description: UndocuAmerica was a series of wheatpaste murals installed at six locations in Boulder and six locations in Denver, created over the course of nine months. The artist, Edica Pacha, worked with Motus Theatre to photograph nine participants, who also worked with Motus to share their stories with the community through a series of monologues now available as podcasts at www.motustheater.org/motusmonologuespodcast.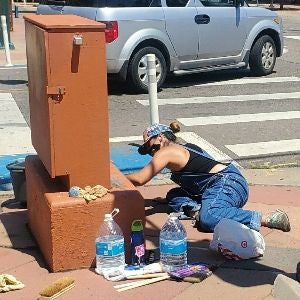 Denver's Arts District on Santa Fe
Project: Powered by Heritage: Utility and Planter Box Art Representing Chicano and Indigenous History
Site: Arts District on Santa Fe
Grant: $10,000
Description: Powered by Heritage is a community art project designed to celebrate the rich history and cultural heritage of Denver's Art District on Santa Fe and the La Alma Lincoln Park neighborhood through new artworks along Santa Fe Drive between 7th and 12th avenues. The Art District on Santa Fe worked closely with a community advisory committee made up of key community stakeholders, including artists, business owners, longtime residents, cultural representatives, and others to design this project. The group ultimately recruited six Latinx, Chicanx, and Indigenous artists (Anthony Maes, Cal Duran, Molly Gallegos, Diego Florez, Jay Jaramillo and Cindy Loya) to create murals and designs that tell the stories of residents past and present, highlighting the people and communities that define this neighborhood—especially when so many are at risk of displacement. Artists Anthony Maes, Diego Florez, Cal Duran, Cindy Loya, Jay Michael Jaramillo, and Molly Gallegos celebrated the reveal of their pieces at August First Friday, greeting visitors on site from to share more about their work and inspirations.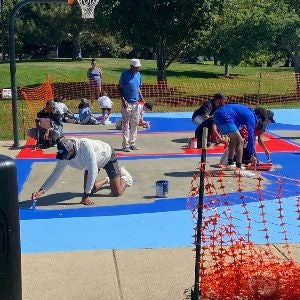 The Trust for Public Land
Project: 303 ArtWay Community Art
Site: Northeast Park Hill neighborhood
Grant: $10,000
Description: The 303 ArtWay is four-mile pedestrian and bike loop connecting the 40th and Colorado Station to Holly Square in the Northeast Park Hill neighborhood. In order to increase connectivity and mobility throughout the community, the trail highlights the visionaries, artists and community activists who have brought so much life to this diverse neighborhood. The 303 ArtWay team, consisting of The Trust for Public Land, Urban Land Conservancy and Radian Inc., worked with PlatteForum to host creative visioning workshops with neighborhood youth and recruit local artists and community members to create multiple public art installations along the 303 ArtWay. This culturally relevant, community-driven basketball court mural celebrates neighborhood heritage and increases a sense of place and community pride.
Monarch Montessori
Project: Montbello Inspires
Site: Montbello walkable loop and bike path
Grant: $10,000
Description: Monarch Montessori will commission and install 3D art along the busy Peoria Street between 49th and 47th avenues. The 3D art project will include stand-alone metal letters, roughly four-feet tall, that spell out an inspirational phrase in both English and Spanish chosen by students, neighbors, staff and parents.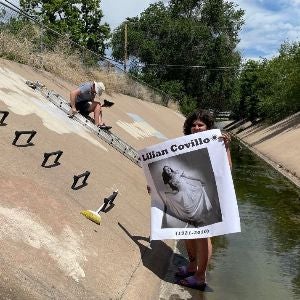 Genevieve Waller
Project: Stars and Precious Gems: Celebrating the LGBTQIA+ History of the University of Denver
Site: Harvard Gulch
Grant: $5,000
Description: Genevieve Waller is a local artist and a staff person in the Josef Korbel School of International Studies at the University of Denver. She received the P.S. You Are Here grant to create a temporary public art project titled "Stars and Precious Gems: Celebrating the LGBTQ+ History of the University of Denver." It consists of a series of printed panels about the LGBTQ+ history of DU, as well as images of stars and hand-painted gems, that are wheat-pasted on the concrete walls of the waterway that runs from DeBoer Park to Downing Street along the Harvard Gulch Trail just south of the DU campus June 2022 (LGBTQ+ Pride Month) through Oct. 2022 (LGBTQ+ History Month).
She was inspired to propose this project after learning about three accomplished DU alumni who were/are part of the LGBTQ+ community: Wendell Sayers, who worked as an attorney in the Colorado Attorney General's office; Elver Barker, an activist and visual artist who was part of the gay rights movement in Denver starting in the 1950s; and Duane Michals, the famous photographic artist who is still living.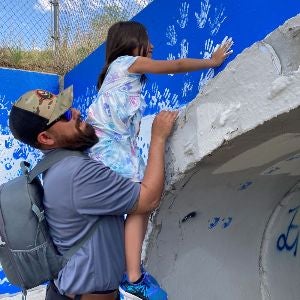 Rafael Herrera
Project: Ruby Hill Mural Project
Site: Sanderson Gulch Trail
Grant: $5,000
Description: This mural is a very simple welcome sign for those in the the Ruby Hill neighborhood. The mural resembles a Colorado flag with a backdrop made up of handprints of members of the community, and the phrase "Welcome to and Bienvenidos a Ruby Hill" in bright neon lettering. The entrance of the tunnel is the letter C as it is represented on the Colorado State flag. Artist Rafael worked with the principal and the second grade teacher at Godsman Elementary, who brought the second grade students to the site to place their handprints on the gulch wall along with neighbors in the area.