Grants & Cultural Investments
2021-2022 Denver Music Advancement Fund Grantees
Denver Arts & Venues is pleased to announce the grantees for the 2021-2022 DMAF grant cycle.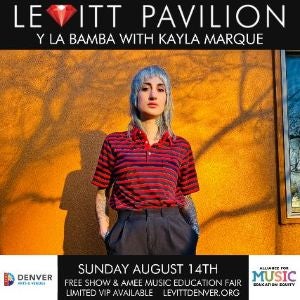 Alliance for Music Education Equity (AMEE)
Project: AMEE Music Resource Fair 2022
Grant: $10,000
Description: The AMEE Music Resource Fair will target the general public with a focus on under-resourced communities, as well as Denver Public School music teachers. This will be a free community event. The fair will highlight Denver's music organizations and provide a place where families, teachers and schools can find opportunities that suit their desires and needs, including cultural partnerships with music teachers within DPS. Different music organizations will be provided booths so that they can promote their programs and speak to community members, teachers, parents and students about their offerings. An additional booth will be provided to Denver Public Health and Environment to promote COVID safety and provide vaccine information by passing out flyers, talking about different programs offered within the organization and highlighting opportunities for different students based on their interests. This will be an opportunity for families to directly interact with music education programs from all around our city in one location. AMEE will hire a local Denver BIPOC band to headline for two sets and AMEE members will also provide some additional performances at the venue (e.g. Colorado Symphony, Colorado Children's Chorale, Augustana Arts and El Sistema Colorado, among others).
American Indian Academy of Denver (AIAD)
Project: AIAD AV Program or Audio Production Elective at AIAD
Grant: $10,000
Description: American Indian Academy of Denver is a STEAM school and many students have shown interest in Audio Production. This grant will help AIAD purchase hardware and software so that an audio production elective class will be offered in the 2021-22 school year and beyond.
Animal Farm Music, LLC.
Project: Farmer Dave and Friends
Grant: $10,000
Description: Farmer Dave and Friends is a children's series that explores themes of social-emotional learning, community, self-expression and the environment through songs and skits. Currently available on PBS12 and pbs.org as 2-5 minute videos, the show blends original music, educational comedy, puppets, special guests and interactive videos. Created and hosted by award-winning children's musician David Ladon of the band Animal Farm, the series includes a range of guests including local musicians, educators, and residents from a range of social and cultural backgrounds. It even features segments for children, by children. Young people from across the country share videos on what they're most passionate about- from animals to the solar system, to being a great older sibling.
Art Song Colorado
Project: Voices of the African Diaspora
Grant: $7,500
Description: This project encourages people to explore the breadth and journey of music from the African Diaspora. From the early music of Chevalier St. George to the modern sounds of Jessie Montgomery, participants will experience the variety of orchestral colors and vocal storytelling by your own Chamber Orchestra of the Springs and Art Song Colorado. Audiences will join nationally renowned soloists and Maestro Thomas Wilson as they reveal the complexity and styles of H. Leslie Adams, George Walker, Zenobia Powell Perry, Florence Price and Andre Myer. Starting Stephanie Ann Ball, Imara Miles and Marcus King. This event will take place in-person at Metro State University on the Auraria Campus.
Beach Court After-School Arts Program
Project: Beach Court After-School Arts Program
Grant: $5,000
Description: The Beach Court After-School Arts Program gives nearly 120 students in need in Northwest Denver the opportunity to participate in quality arts programs including band, violin, guitar, dance, theater, visual arts, DJ and choir. Instructors from groups such as Denver Children's Choir, Colorado Honor Band, Fiesta Colorado Dance and Denver Young Artist Orchestra work with students in the program to give them musical and artistic opportunities that are not readily available in their neighborhood. Funding will be used to make sure all students with big dreams have the chance to become musicians, artists, actors or dancers!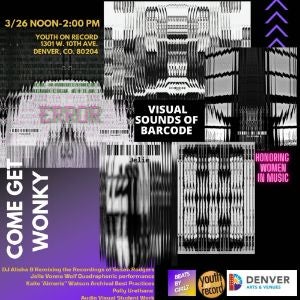 Beats By Girlz Denver
Project: Beats By Girlz (BBG) Denver Workshop
Grant: $10,000
Description: The BBG Denver program creates opportunities for girls and gender-expansive youth to participate in writing, producing and engineering tech-driven culturally responsive music such as hip-hop, EDM, rock and indie-pop. BBG Denver and learners will set-up equipment on site for each lesson with controllers and audio gear. Roli Noise App will also be utilized to teach drumming techniques that can be exported to Ableton Live sets. Students will utilize Launchpads and Launch Keys with Ableton Live to create music. Beats By Girlz global has a developed curriculum for Ableton Live and other electronic music creation workshops using software like Reason and Soundtrap. Students will be taught to jam individually and as a group in order to create structured tracks. Students will create Remix Tape Sculptures from tapes, records, CD's, VHS and other old forms of physical form media. A story arch of the individual student/session will be created using the framework of Theatre of the Oppressed, "giving the means of production to the people." Images, videos, sounds and songs will be created for each session for 60-120 second video content pieces for social media. Soundcloud will be used to document the class creations and student creations for archival purposes to document creations.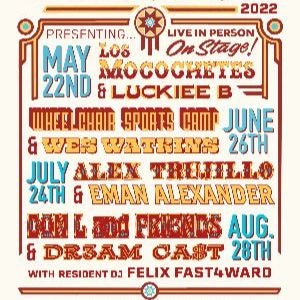 Birdseed Collective
Project: Globeville Community Music Education and Live Concert Series
Grant: $10,000
Description: Youth and families will work alongside music professionals to showcase a Globeville Community Concert Series held at the Globeville Center once every quarter. The educational piece will teach participants how to plan, provide technical support, market and host four concerts within the year. Classes will be held once a week led by an educator who both performs in a band, and also teaches music and art. All of the concerts will celebrate the community's culture.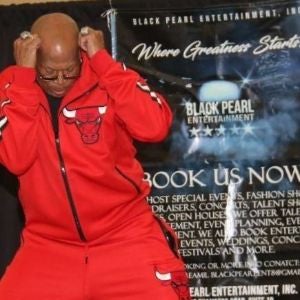 Black Pearl Entertainment, Inc.
Project: The Essence of Music
Grant: $10,000
Description: The Essence of Music program educates participants on song writing, music composition, how to define chorus lines and hooks, music notation, rhythm, structure, how to read sheet music, and how to understand pitch and sound. Participants will also explore music structure and how to put feelings into a song or poem. By working together, participants will learn teamwork and how to receive constructive criticism and feedback. This program will combine music and fashion in order to reach a broader audience.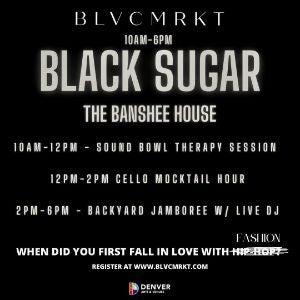 BLVCMRKT
Project: Build Your Own Sanctuary
Grant: $10,000
Description: BLVCMRKT will host four immersive retail events over the course of one year. 'Build Your Own Sanctuary' will be the first of the four, taking place in the heart of Five Points and drawing on this location's historical and cultural significance. This will create an environment that will foster and grow networking, connecting local creatives and a platform where artists will be compensated accordingly. Denver currently lacks a space for the BIPOC community where conversations around healing and support for that healing are at the forefront of the event's agenda. Through cultural commonalities, this will create a 'safe space' for the BIPOC community through the mediums of art and music. The event will include two local artists, two local DJs, a local live guitar performance, two local poets and a videographer/photographer to capture the magic. This will not only give creatives a platform to highlight their talents, but also a starting point to create a communion of people to build up the BIPOC community together.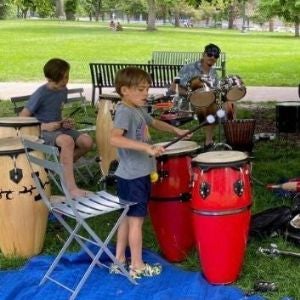 Carl Sorensen
Project: Denver Drum Circles/Denver Drum Day
Grant: $7,500
Description: The project will facilitate drum circles in Denver, including an opportunity for a day-long event with guest artists, group activities, vendors, etc.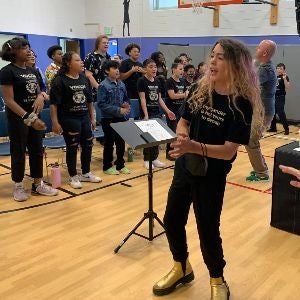 Castro Elementary School/Denver Public Schools
Project: 2MX2 inspires Castro Students
Grant: $5,000
Description: Vocal Coalition Youth Choirs (VOCO) helps Denver youth get the training they need through culturally relevant music so they can find their voice while honoring their sense of who they are. Castro Elementary has not had a vocal music program and, in the past, has had limited music education opportunities. VOCO is a modern alternative to "traditional" choirs, instead presenting music in any genre, with the artists who wrote the songs. This project will bring Denver bilingual hip-hop band, 2MX2, to Castro to perform with and support students in their growth as musicians.
City Strings Guitar
Project: Connection Through Music
Grant: $10,000
Description: City Strings Guitar will provide small group ukulele/songwriting and guitar/songwriting classes to youth, grades Kindergarten (ukulele) through high school (guitar and ukulele). Through these lessons, students will learn the basic chords on the ukulele and guitar. Students will be encouraged to explore self-expression and creativity by composing original songs in small groups and/or individually. At the end of each session, all programs will have the opportunity for a community performance.
Cleo Parker Robinson Dance
Project: Project Self Discovery
Grant: $10,000
Description: Cleo Parker Robinson Dance (CPRD) is a cultural ambassador, infusing vitality, innovation and education into every community they touch. For more than five decades, CPRD has developed into an internationally esteemed organization that operates beyond the traditional performing arts model. The CPRD Theatre is on the National Register of Historic Places and has a newly renovated 1,400 square-foot lobby area with curated art and photography exhibitions. The theatre is an inclusive facility for all audiences; that includes 240 Seats Plus 6 Mobility Accessible Seats. This venue offers a film, panel discussion, music performance, dance, or theatrical performance venue, which enables programs to be enjoyed by all patrons. Our tech booth and theatre infrastructure support a variety of performances and presentations. CPRD offers an elite quality of dance/theater productions that require elite-level sound equipment as experienced in notable historical performance venues around the world.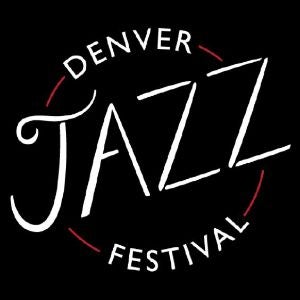 CMDance
Project: Follow the Drum - Uniting in Diversity
Grant: $10,000
Description: Follow the Drum is a music project that will be expressed through live music performances, starting with Lindy Diversion in February 2022 for Black History Month and running through Denver Jazz Festival in mid-September. Follow the Drum, a concept integral to the African Diaspora, explores a broad range of musical genres that are rooted in communities of color, such as Jazz, Blues, African and Latin. Follow the Drum is a musical metaverse that will be interactive, immersive and collaborative with live music performance at its core. As each genre is celebrated and showcased in its own right, these same styles will also become part of fusion experiments that result in a union of art forms coming together in the new post-COVID reality. Renowned artists, both local and from the national/international stage, will be guest artists at community events. Additionally, CMDance will reinvigorate their Guest Artist program, bringing these same exceptional musicians into local classrooms to teach and inspire the young people of our community.
Colorado Children's Chorale
Project: Education Program
Grant: $10,000
Description: In 1994, the Chorale established the Education Program to improve the quality of, and access to, music and performance education for children in Denver metro area schools that lacked funding or resources, reaching more than 5,000 children yearly. The Chorale's Education Program has received an Education Outreach Award from Chorus America; its three facets include: School Partnerships – collaborations between Artistic Staff and schools customized to address individual music teachers' needs, Community Choirs – safe, welcoming places for children to connect, gain confidence, and learn teamwork alongside performance training, School Workshops and Shows – workshops for school children with a Chorale Performance Choir and an interactive show.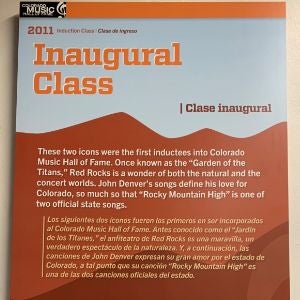 Colorado Music Hall of Fame
Project: Colorado Music Hall of Fame Museum Refresh with Bilingual Exhibits
Grant: $7,500
Description: Colorado Music Hall of Fame fabricated new, English/Spanish bilingual exhibits for its museum at the Trading Post at Red Rocks Amphitheatre. Establishing a more unified layout for the central room of the Trading Post, the museum project refreshed the new Hall of Fame exhibits with the City of Denver's shared retail space. Older exhibits were rotated out in order to add induction classes and highlight the Hall's 10 years as a music-celebrating nonprofit. Featured exhibits showcase Jazz Masters & Beyond and Going Back to Colorado.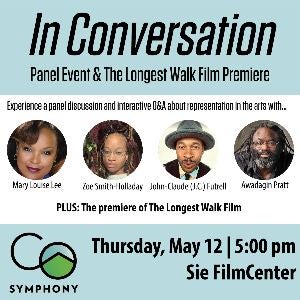 Colorado Symphony
Project: In Conversation...
Grant: $10,000
Description: "In Conversation…" seeks to elevate and engage BIPOC artists, such as pianist Awadagin Pratt and composer Omar Thomas, with a panel discussion in Boettcher Concert Hall. Panelists will discuss their careers, perspectives, and experiences as artists in the 21st century. The event will end with an interactive Q&A. This inaugural panel serves as the pilot for a series of panel discussions that focus on DEIA issues at the intersection of symphonic music, community education, and outreach. Prior to the panel, attendees will be given access to the Colorado Symphony's (CSA) Lift Every Voice (LEV) virtual concert, which includes diverse repertoire and artist collaborators that allow the audience to see themselves in the concert experience. Omar Thomas's piece, "Of Our New Day Begun" is a featured piece of the concert.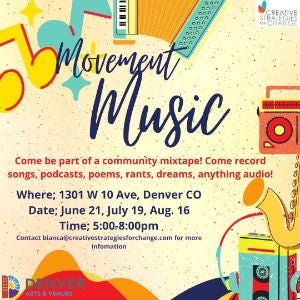 Creative Strategies for Change
Project: Movement Music: The Reconnect
Grant: $10,000
Description: Movement Music continues the work funded by the Denver Music Advancement Fund in 2019 with the CSC mobile studio and music-based programs (partially interrupted when COVID hit). In this second phase, the program will reach more participants of all ages and identities to engage in music composition and recording in a space that embodies social justice, individual and collective healing of trauma, and social-emotional learning. This project will include enhanced music curriculum and a music-based podcast, which will be distributed to reach even more community members. CSC will host monthly open mic/studio time, bringing the local community together to create music. These events will also involve participants in past and current ongoing ACT (Art for Change and Transformation) youth workshops, as well as local schools and partner organizations, creating mixed recordings that transcend musical disciplines.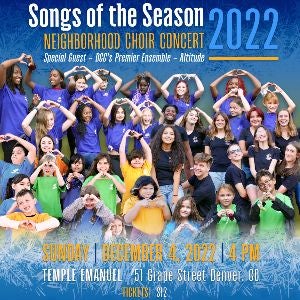 Denver Children's Choir
Project: Neighborhood Choir Program
Grant: $10,000
Description: The Denver Children's Choir Neighborhood Choir Program provides musicianship education and performance opportunities for metro Denver children, ages 7-18. Participants learn musicianship skills such as sight reading, vocal technique and holding a harmony line. Each semester culminates in an all-choir concert. The DCC is proud to make multiculturalism a main focus of the repertoire and performance collaborations by featuring a wide variety of cultural perspectives while exploring a broad range of musical genres.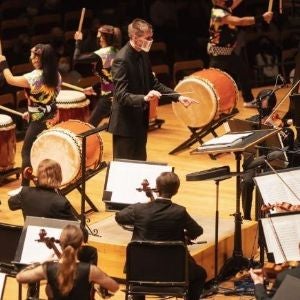 Denver Young Artists Orchestra Association
Project: DYAO/Japanese Arts Network Collaboration
Grant: $7,500
Description: The Denver Young Artists Orchestra (DYAO) will engage the Japanese Arts Network (JA-NE) and develop a program, accompanying workshop and lobby installation which educates about and explores the Japanese American experience. The Conservatory Orchestra from DYAO and Taiko Ensemble will rehearse and perform two works: Luigi Morleo's On Western Terror 8 for Taiko Ensemble, Percussion, and Orchestra and Sing Sing Sing with a new arrangement of Gary Tsujimoto's taiko song Gendai Ni Ikiru (Living in the Present). The programming selection of these two songs is both historically relevant and timely. The selection provides a unique juxtaposition between a piece which is a critique of the legacy of colonialism and tragedies of Western imperialism such as the Hiroshima bombing and a joyful piece that was often played by "camp bands'' within Japanese WWII incarceration sites in order to lift spirits as a display of resilience. Workshops and a lobby installation developed by JA-NE will provide additional context for the participating young musicians and patrons attending the performance. DYAO will also partner with the Mile High Japanese American Citizens League to do a performance at their annual Day of Remembrance program, remembering Executive Order 9066, the day before the concert.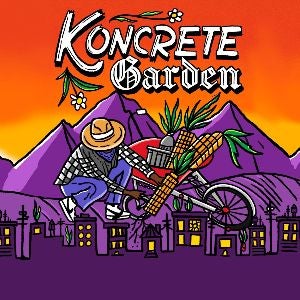 DJ CAVEM
Project: Earth Day with DJ CAVEM
Grant: $10,000
Description: This event will highlight how inner city urban BIPOC communities are often left out of sustainability and environmental conversations. On Earth Day, DJ CAVEM and Friends will present a performance and promote environmental culinary climate action to engage the community on waste diversion and art for social change. Participants will be encouraged to sign up for composting and recycling programs and promote sustainability.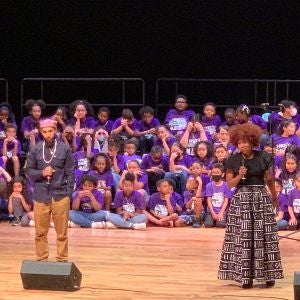 Education Through Music - Colorado
Project: ETM-Colorado's Music Education Program
Grant: $10,000
Description: ETM serves 2,000 elementary school students (Early Childhood Education through eighth grade) in the 2021/22 academic year. ETM-Colorado forms long-term partnerships with schools that are located in historically low-income communities and lack sufficient resources for school-wide music education. Every child in partner schools receives general music in school following a skills-based, comprehensive and sequential curriculum for each grade level, so that they have a strong foundation. Once that is in place, ETM builds ensembles that are tailored to the interests/skills of the teacher and the student body. Examples of these tailored ensembles include modern rock band, orchestra, choir, ukulele ensemble, etc. Students receive instruction at least once per week. ETM provides instruments - including ukuleles, drums, guitars, keyboards, xylophones and more, which are lent to students and remain with the school.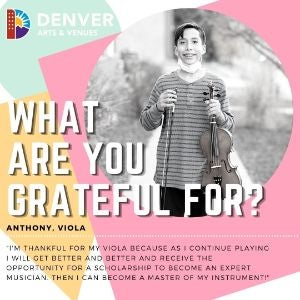 El Sistema Colorado
Project: Music Without Barriers
Grant: $10,000
Description: El Sistema Colorado serves students from pre-k through grade 12 from some of Denver's under-resourced communities, including: Globeville, Elyria-Swansea, Cole, Clayton, Curtis Park and Five Points. With few enrichment activities available to under-resourced children, ESC has seen a surge in demand for their program throughout the COVID-19 pandemic. El Sistema Colorado's primary program is a free, immersive after-school string orchestra program. Students are provided a free violin, viola, cello or double bass, and they are expected to attend classes twice per week. Group classes are divided by instrument into sectionals and students rehearse with the larger ensemble. In addition to their group classes, many students receive additional training throughout the week in private lessons. ESC takes a holistic approach to classical music education with a strong focus on developing musical excellence and leadership. Young musicians learn all things related to music, including technique, theory, and the history and the culture of music.
Feel the Beat Corp
Project: FTB Mobile Program, Bringing the Beat through Bone-Conduction Dance Floor and Accessible Programming
Grant: $10,000
Description: The purpose of the FTB Mobile Program is to offer accessible dance and movement opportunities throughout the Denver Metro Area, creating a space for inclusive classes to marginalized youth and individuals with a wide range of developmental, intellectual and physical disabilities. FTB's mobile workshops will engage dancers in pop-up workshops, field trips, and on-site classes in low-income communities, suburban areas and schools. Diverse FTB programming includes All Abilities Dance Classes, Deaf Yoga, Early Intervention Family Music & Movement, Adaptive Dance & Fitness, Integrative Teacher Trainings and FTB Sensory Mobile Floor Programming.
FreeMusicForFreePeople (FM4FP)
Project: the denver underground: Latinx Edition
Grant: $10,000
Description: "the denver underground" is FM4FP's magazine project seeking to reinvigorate the online publication paradigm by operating around collective releases, with tangible, attend-able outcomes. With the oversaturation of online issues, there is often a level of missing engagement that keeps the true value of art-centered journalism from taking effect: fostering new collaboration and strengthening community. By printing a physical magazine, FM4FP sought to create a historical archive of what the communities have looked like and continue to look like through this time.
Gift of Jazz
Project: Individual Instrumental Music Instruction for Denver Public School Students
Grant: $10,000
Description: The Gift of Jazz has designed a program that enriches the lives of young music students through private music instruction. Private instruction is one of the paramount building blocks needed to help a student achieve the musical competency that can lead to a lifetime of musical engagement and enjoyment. Gift of Jazz's Individual Instrumental Music Instruction program employs local professional musicians to provide individual or small group lessons in coordination with DPS band directors. The program will take place on-site at schools during regularly scheduled band class, identifying and specifically targeting schools and students from under-served communities who may not be able to otherwise afford private musical instrument instruction. The program supports both the community of Denver-area artists who are in need of additional financial opportunities, and also promising young students who will greatly benefit from being provided the highly enriching experience of creating music both for themselves and for the community at large.
Innervision
Project: Post-Pandemic Productions for the blind and disabled community
Grant: $10,000
Description: KINV-DB Innervision FM is a radio station that is ninety-five percent run by teens and young adults of the blind and disabled community. Innervision will provide innovative training and a firsthand approach to the workings of a radio station from the bottom up. Trainees will learn FCC rules, on air talent, studio production, copy writing, spot scheduling, marketing, sales, web development, management and ownership, and, as part of their training, will receive a biweekly stipend. Innervision hopes to assist in closing the unemployment gap for those in the blind and disabled communities, which was further exacerbated by the COVID pandemic.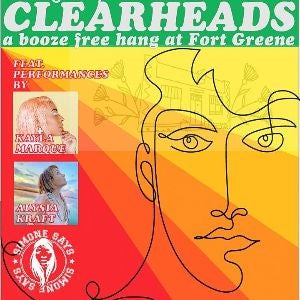 Jen Korte
Project: Clearheads: A Booze Free Hang at Fort Greene
Grant: $10,000
Description: "Clearheads: A Booze Free Hang" is a monthly event that supports healthy living by offering a music and art experience without alcohol. It is hosted at Fort Greene, a woman-owned and operated business that remains struggling after the COVID shutdown. Every month, the event will feature local coffee, kombucha and N/A spirit brands, plus a featured one-hour musical performance. Without alcohol, this event will be all ages, providing access to art and music for more underserved families or people 18-21.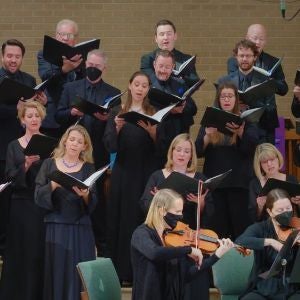 Kantorei
Project: Exile Lamentations
Grant: $7,500
Description: "Exile Lamentations" is a collaborative project of Kantorei and Guatemalan choir Vocalis. At the core of this collaboration is El Ultimo Hilo (The Last Thread), a commissioned work for choir, string quartet and marimba, the national instrument of Guatemala. This cross-cultural work, featuring poetry by Ki'che' Mayan writer Humberto Ak'abal and music by award-winning American composer Jake Runestad, is based on one of Ak'abal's poems. This collaboration is one step in an ongoing cultural exchange project between Kantorei and Vocalis. This larger project aims to acknowledge and explore our countries' shared history to connect and educate our respective communities. The world/U.S. premiere of El Ultimo Hilo took place on March 5-6, 2022 and the Guatemalan premiere, performed by Kantorei and Vocalis, took place June 14-17, 2022.
Ktone Cares Foundation
Project: Muzik Soul Child
Grant: $10,000
Description: The "Muzik Soul Child Program" is a 4-6 week program that teaches 10 children in grades 6-9 how to play a musical instrument incorporating "MUSIC Therapy." The first session of the program will teach guitar with professional guitar instructors teaching kids the instrument 2-3 times a week until the course is complete. Upon completion of the course, the kids will receive a Ktone Cares Foundation completion certificate as well as their very own guitar to start their musical journey. KCF believes in mental health awareness. The program will incorporate the learning of instruments in a therapeutic environment, promoting mental health awareness and music education.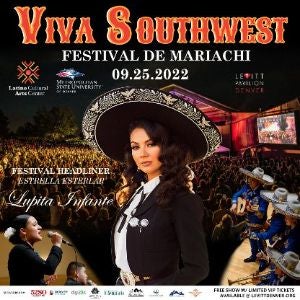 Latino Cultural Arts Center
Project: Viva Southwest Mariachi Festival
Grant: $10,000
Description: Viva Southwest is a Mariachi conference and showcase that empowers youth, families, educators and community members across the region. It has been hosted by the MSU Music Department for six years. Students learn multiple pieces of Mariachi from master instructors and performers and envision a career in music. They practice their instruments and learn music theory, Mariachi history and culture. The sold-out showcase draws audiences of over 600 people, including parents, grandparents, artists and community members to the King Center. Hosting multiple generations on the Auraria Campus is central to the mission of the LCAC and its partners. Viva Southwest is a regional source of pride, creating opportunities for students, professionals and artisan vendors to showcase their work.
Leon Gallery
Project: Testing, Testing, 1 - 2 - 3
Grant: $10,000
Description: In collaboration with Night Lights Denver, Leon Gallery will continue the curation of artworks displayed on the Clock Tower on 16th Street Mall, illuminating the downtown area in order to promote community and safety for all visitors. This project will be expanded to include an auditory, musical aspect, striving for the same effect of inclusion for all people who come across it. Aligning with Night Lights Denver's goal to be the "people's projector," this project will combine the work of visual artists and musicians, bringing both sections of the arts together in a unique way. The artists will create a composed piece created just for this space, which sits at a crossroads of commerce, culture and community, creating an experience that cannot be felt anywhere else in our city or state.
Michelle Ghun
Project: Rose the Fierce
Grant: $10,000
Description: "Rose the Fierce" is a musical production based on the life and memoir of Hwa Ja Chung. Hwa Ja was born into privilege in North Korea, survived the occupation of her homeland by the Japanese, the invasion by Chinese Communists and the partition of Korea, defecting from North Korea and eventually immigrating to the United States to raise five children on her own. Her story includes immigration, assimilation, violence, war, perseverance, and the ever-evolving ideation of the "American Dream."
Mobile Studio Incorporated
Project: Mobile Studio Music Workshops
Grant: $7,500
Description: Mobile Studio Music Workshops is an ongoing after-school program that offers a unique opportunity for students to learn how to write and record their music in a positive, professional setting within their community. Using state-of-the-art audio technology, Oren Bregman—Mobile Studio's Executive Director—brings the studio to the students and leads them in the journey of amplifying their voice through music while becoming their best selves in the process. While Mobile Studio has operated in multiple states, Denver programming will focus on Denver Public Schools, beginning at Contemporary Learning Academy and then branching out to Northeast Denver, Far Northeast Denver, and beyond. Within these workshops, Mobile Studio utilizes Hip-Hop music instruction to foster leadership, critical thinking, equity, and creative expression for up to 12 students per workshop. Through this artistic collaboration, students have a relatable platform to discuss issues facing their community and an avenue to make their voices heard as a means of personal and artistic growth.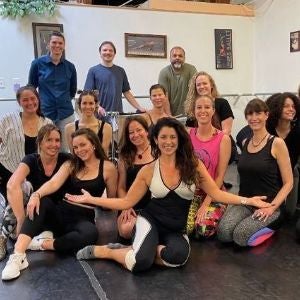 Moyo Nguvu Cultural Arts Center, Inc.
Project: Each One Teach One – Ngoma: Art of the Drum
Grant: $10,000
Description: The Each One Teach One: Ngoma: Art of the Drum project promotes and strengthens community through music. The drum is a universal instrument found in every culture throughout the world. By sharing African and Afro-Latino musical traditions in the context of a community, this project will encourage residents to celebrate their common history and culture, enhancing individual and community identity. The Ngoma project is designed to build cultural capacity within the Black community while creating bridges of understanding between the other members of the global majority. Master teachers come from various parts of the world including: Puerto Rico, Cuba, Brazil and the United States and most are bilingual.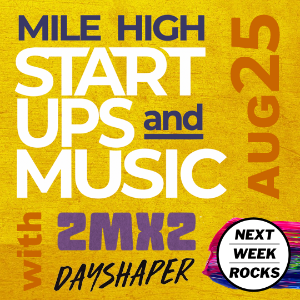 Next Week Rocks, LLC
Project: Mile High Startups & Music
Grant: $7,500
Description: This series includes several monthly networking events for the tech startup community similar to "Shark Tank." Each monthly event includes an hour-long music set open to the public.
Parlando School of Musical Arts
Project: Accessible Music Education Outreach for Underfunded Denver Schools
Grant: $10,000
Description: This program supports on-site supplemental music instruction for disadvantaged populations throughout Denver via Parlando's School Outreach Program: MORE for Colorado (Music Outreach providing Resources and Education). Parlando will provide music instructors to schools for an average of 2-3 hours/day, three days/week, for the entire 2022-23 academic year.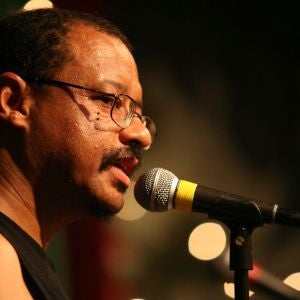 Phillip Di Pietro
Project: Art Compost & the Word Mechanics: A Musical Podcast Jam with Seth & Friends
Grant: $10,000
Description: A recurring podcast was created under the guidance of writer-poet-musician-producer SETH, utilizing the collective experience of Art Compost & the Word Mechanics, with live performances, mixing poetry and spoken word with improvisational music. More than 50 musicians have been part of the Art Compost family with weekly appearances at the Mercury Café, called the "Jam Before the Slam," an all-inclusive event inviting poets, singers and musicians from the audience to join musicians on stage. Through this podcast, poetry becomes more entertaining and thus more accessible to general audiences, using inspiration, verve, voice and power to excite, illuminate and entertain podcast and broadcast audiences alike.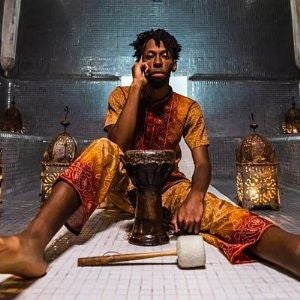 Renaissance Mind LLC
Project: Year of Hope
Grant: $10,000
Description: "Year of Hope" will be an expansion of the story of Congo that has been in the works, focusing not only on Congo, but also on 17 African nations declaring independence in 1960. It will be presented as a podcast in partnership with WBUR as well as a live production at Denver Performing Arts Complex.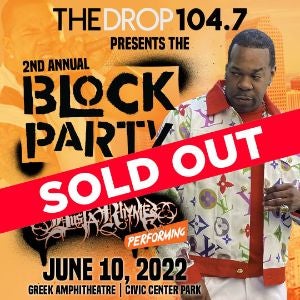 Rocky Mountain Public Media
Project: THE DROP Radio Station
Grant: $10,000
Description: THE DROP strives to use its platform to uplift QTBIPOC (Queer, Trans, Black, Indigenous, People of Color) voices and increase racial equity in the media industry, behind-the-scenes or on the stage and airwaves. In 2021-2022, THE DROP will leverage its growing reach and influence to: host live performances and events that showcase the talent of Colorado and connect metro Denver's communities through the music that reflects their tastes, interests and identities, provide education and opportunities for emerging artists to hone their craft and gain practical business tools and strategies to promote their music. THE DROP will also support the next generation of media leaders through training and professional development with staff, interns and volunteers.
SETH/Art Compost & the Word Mechanics
Project: A Black Odyssey: The Audio Book
Grant: $7,500
Description: The end product will be an Audio Book of poetry performed to music. The text will be "A Black Odyssey," the poetic memoir of performance poet SETH which uses Homer's ancient epic as the scaffold for his own experience as a Black poet in contemporary America. Each of the collection's 16 chapters represents a different island or encounter of Odysseus on his journey home. A different musical texture will be created per chapter, requiring different combinations of musicians for each chapter. In addition to the Art Compost family of musicians, other musicians will be recruited into the project. Not only will the entire audio book prove an expressive body of work, but individual chapters might be marketed/promoted separately in their own right.
Shining in The Shadows, Inc.
Project: Shining in The Shadows
Grant: $10,000
Description: The Shining in the Shadows (SITS) program will provide resources, education and a digital platform for incarcerated musicians across the Colorado Department of Corrections. Through a digital platform including a webpage and podcast designed to stream themed segments annually, this project will feature nine incarcerated musicians performing music or spoken word poetry. These compositions will be interview-based and provoke deep thought, inspire change and influence positive life choices. Featured at the end of each segment will be a change agent in the community who shines in the shadows of society through work related to current or post-incarceration assistance. Each segment will be finalized with an organized community event highlighting how the community benefits from the mission of SITS.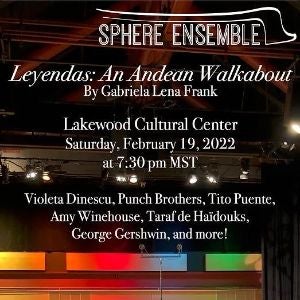 Sphere Ensemble
Project: Orbit: Sphere in the Community
Grant: $10,000
Description: Sphere Ensemble's 2021-2022 Orbit program will feature free concerts and educational workshops for outreach partners. These outreach partners serve community members with limited or no access to live string performances. Concert programs include music from a diverse repertoire, including classical music masterpieces and custom arrangements for the 13-member string ensemble of popular songs, from artists including The Beatles, Prince, Lady Gaga, Funkadelic, Parliament, Daft Punk, Billie Eilish, Dolly Parton and many others. Currently, Sphere is partnering with Gilliam Youth Services Center, a juvenile detention center and Denver Public Schools site. They are also partnering with El Sistema Colorado, a Denver-based nonprofit that provides an immersive youth music education program aiming to transcend socioeconomic barriers, serving students grades K-12 from some of Denver's lowest income communities.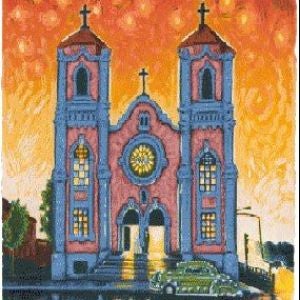 Su Teatro
Project: Westside Oratorio
Grant: $10,000
Description: In partnership with Metropolitan State University of Denver and the Displaced Aurarians, Su Teatro presents Westside Oratorio, to commemorate and honor the neighborhood displaced when Auraria Higher Education Center was built in 1972. The Westside Oratorio by Anthony J. Garcia (Su Teatro) and Daniel Valdez (El Teatro Campesino) is a musical interpretation of the stories of seven generations who lived where the Auraria Campus is today, starting with Native Peoples, spanning the 1800s Gold Rush, the Mexican Revolution, World War II and the Chicano Movement. The event will take place in December 2022 at the King Center on the Auraria campus and at Su Teatro and will be broadcast live on KUVO in honor of Su Teatro's 50th Anniversary. This project organizes artists, musicians, current and former residents of the Westside, and students and faculty from AHEC, and will explore the displacement, and the potential for healing through panels and story circles with former residents, Casa Mayan Heritage Center and Historic Denver. Explore this beautiful, sweeping and poignant epic that boldly brings to life the stories of seven generations of Mexican-Americans who made the West Denver neighborhood of Auraria their home.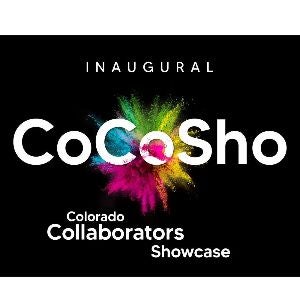 The Playground Ensemble
Project: Colorado Collaborators Showcase (CoCoSho)
Grant: $7,500
Description: As part of CoCoSho, The Playground Ensemble presented "Reenter, Remerg, Reform." Two concerts, one in Denver and one in Longmont, featured the music and stories of incarcerated peoples including: Rzewski's "Coming Together" which includes text by a man killed by guards in the Attica prison riots, a new commission by composer Stacy Fahrion featuring recorded phone calls with incarcerated individuals and the poem "Buried Alive" which was written by currently and formerly incarcerated people, a new commission by recently paroled musician Claud Kasiah which is presented in four sections, each mirroring a year of his incarceration, additional works performed by clients of The Reentry Initiative, Remerg, and screenings of videos created in collaboration with the Denver Sheriff's Department, highlighting post-release resources. A repeat performance was presented at MSU Denver with choreography by Nu-World Contemporary Danse Theatre. This performance also featured trans composer Silen Wellington, whose work "Hollow: A Banishing Ritual" for electronics, spoken word, string quartet and electric guitar explores the paradox of being both de- and hyper-sexualized as a transgender person; and visual artist Alex Branch. Check out the performance videos.
Unit E Productions
Project: Musicos De Westwood
Grant: $10,000
Description: This project is a continuation of work started in 2019 through a DMAF grant. Unit E will provide professional development to bands emerging from Denver's Latino/Hispanic community and expand their program supporting emerging minority-led bands.
Urban Peak
Project: Urban Peak Music Studio
Grant: $10,000
Description: This project addresses the psycho-emotional challenges facing homeless young people by providing a drop-in music studio for youth to engage in music creation and/or recording. Phase 1 and 2 of this project involved renovating and equipping the music studio space at Urban Peak's Drop-In Center at 2100 Stout Street in downtown Denver. Phase 3 will involve hiring a studio manager and beginning to actively use the studio with Urban Peak youth. Faculty from CU Denver's College of Arts & Media (CAM) are inviting CAM students to apply for a paid internship opportunity at the music studio. CAM students will engage with youth in recording and producing original songs and provide instruction in composition and instrument skills. Urban Peak staff will support the interns in interacting with homeless youth.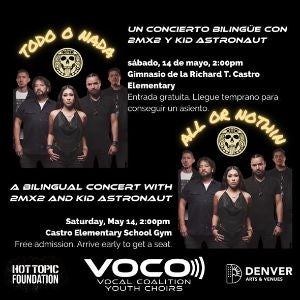 VOCO Youth Choirs
Project: I Can Be ME
Grant: $10,000
Description: Not only do all kids who love to sing and rap deserve spaces where their identity is honored, but those spaces should also be fun, safe and easy to access. VOCO's "I Can Be ME" program expands access to award-winning, culturally relevant choirs, employing local musicians to help carry out this large and significant expansion.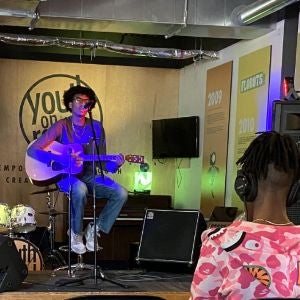 Youth on Record
Project: Open Mic Pilot Program
Grant: $10,000
Description: Youth on Record (YOR) is developing an Open Mic program at its Youth Media Studio, designed to create an inclusive space for artistic expression for youth and local musicians, for the communities and families within their networks, and for Colorado's broader creative ecosystem. While YOR has several programs that support the creative growth of youth, such as its Fellowship, FEMpowered, Open Lab and the annual Block Party (to name a few), these programs are directed to specific youth populations. In contrast, Open Mic offers a free forum space for young people to share their work with their families, communities and peers. This model provides a casual, accessible space for youth and local artists to build connections, introduces young people to YOR and engages the community in youth's work. The creative industries have experienced a mass shuttering of "Do it Yourself" (DIY) arts and youth-facing spaces, and YOR's Open Mic will fill this void by providing a safe environment for human connection and creative expression.