Stars and Precious Gems: Celebrating the LGBTQ+ History of the University of Denver
Denver Arts & Venues
06/

21/

2022

4:00 PM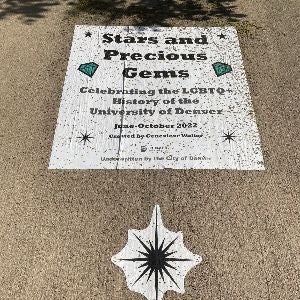 Genevieve Waller is a local artist and a staff person in the Josef Korbel School of International Studies at the University of Denver. She received the P.S. You Are Here grant to create a temporary public art project titled "Stars and Precious Gems: Celebrating the LGBTQ+ History of the University of Denver." It consists of a series of printed panels about the LGBTQ+ history of DU, as well as images of stars and hand-painted gems, that are wheat-pasted on the concrete walls of the waterway that runs from DeBoer Park to Downing Street along the Harvard Gulch Trail just south of the DU campus.

The panels are on display between Race Street and Gilpin Street.

She was inspired to propose this project after learning about three accomplished DU alumni who were/are part of the LGBTQ+ community: Wendell Sayers, who worked as an attorney in the Colorado Attorney General's office; Elver Barker, an activist and visual artist who was part of the gay rights movement in Denver starting in the 1950s; and Duane Michals, the famous photographic artist who is still living.

The works are on display starting in June 2022 (LGBTQ+ Pride Month) through Oct. 2022 (LGBTQ+ History Month). She will also host a reception on Tuesday, June 21, from 4 to 7pm to celebrate the completed project. With a table set up near Race Street on the Harvard Gulch Trail, she will be handing out zines that include more information about the project and DU's LGBTQ+ history, as well as cupcakes and lemonade for visitors, and she will be available to answer questions.
The artwork and event is supported by Denver Arts & Venues through a P.S. You Are Here grant.
Location