AMEE Music Education Fair featuring Y La Bamba (with Kayla Marque)
Denver Arts & Venues
08/

14/

2022

3:30 PM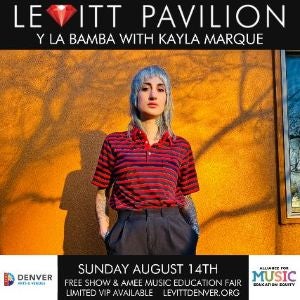 The Alliance for Music Education Equity (AMEE) is the backbone organization of a collective impact effort of music organizations that are passionate about equity, diversity, and inclusivity, and are committed to cooperatively making systemic change in music education across Denver. AMEE offers training, workshops, networking and special events for its members to work towards greater equity and access to music education and music programs in Denver. We imagine a cooperative, solutions-oriented network that is adaptive and responsive to the changing needs of our community so that the power of music is unleashed in new and creative ways. The annual AMEE Festival and Resource Fair will be a way for community members to interact with different music organizations and the programs available to them while enjoying great bands, booths and food. Learn more at allianceformusicedequity.org.
Doors open for the resource fair at 3:30 p.m., bands begin performing at 5 p.m.
Y La Bamba
Y La Bamba has been many things, but at the heart of it is singer-songwriter Luz Elena Mendoza's inquisitive sense of self. Their fifth record, Mujeres, carries on the Portland-based band's affinity for spiritual contemplation, but goes a step further in telling a story with a full emotional spectrum. Coming off Ojos Del Sol, one of NPR's Top 50 Albums of 2016, Mujeres exhibits the scope of Mendoza's artistic voice like never before. "Soy como soy," Mendoza says, and that declaration is the bold— even political— statement that positions Mujeres to be Y La Bamba's most unbridled offering yet.
Mujeres was recorded by Luz Elena Mendoza and Ryan Oxford at Color Therapy Studios and Besitos Fritos Studios in Portland, Oregon. Mixed by Jeff Bond, with Grace Bugbee on bass, John Niekrasz on drums, Margaret Wher Gibson on keys, and Ed Rodriguez and Ryan Oxford on electric guitar.
This event is supported by Denver Arts & Venues through a Denver Music Advancement Fund grant.
Location