Kintsugi: The Art of Healing, Finding Beauty in Repair
We all have experiences that we carry with us that may make us feel broken, but we each carry those broken pieces in different ways. Kintsugi teaches us that through the process of repairing the cracks between our broken pieces, we build resilience and strength. Our beauty shines through the cracks that might be perceived as weakness. How do we heal? How do we honor the strength within the imperfect parts of ourselves?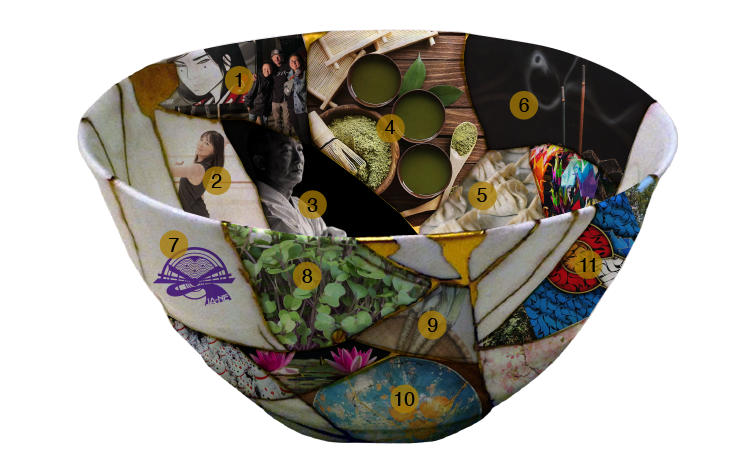 1. Our Community Kintsugi Virtual Quilt
3. Kintsugi Lunch Hour: The Mind, Body and Spirit of Karate
4. Kintsugi Lunch Hour: Matcha + Mindfulness
6. A Mindful Morning ASMR Video
7. Japanese Arts Network
8. Wabi Sabi Market
9. Minoru Farms + Akemi Tsutsui Kunitake Healing Recipes
10. Learn More About the Kintsugi Art Form:
What is Kintsugi? Wikipedia
Kintsugi Japanese Gold Repair of Pottery at Maikoya - video
Gen Saratani Kintsugi Repair - video playlist
Kintsugi Restoration by Gen Saratani - website
Purchase Kintsugi Materials through Etsy
11. Artists Respond to the Concept of Kintsugi
Our Partnership
Japanese Arts Network is proudly partnering with the McNichols Civic Center Building and Denver Arts & Venues on this meaningful program. We are excited to share with the Colorado community opportunities to learn about ways to find peace and healing through the arts while exploring multiple ways of discovering beauty in imperfection. Special thanks also to our collaborators Western Sound Alliance and Minoru Farms. Kintsugi: The Art of Healing, Finding Beauty in Repair is part of Denver Arts & Venues Cultural Partner Program.
Share your story with us
The Japanese art of kintsugi teaches us how to see the beauty through the reinvention of ourselves. This healing process makes us stronger than before and, where we once felt weakened, we now radiate with resilience. We invite you to share how you embody kintsugi in your own life by posting images and/or videos on Instagram and Twitter using the hashtags #IAmNotBroken or #KintsugiDenver, and add your square to our Community Kintsugi Virtual Quilt.