What is The Next Stage NOW?
On March 10, 2016, Mayor Michael Hancock unveiled The Next Stage Vision Plan for the Denver Performing Arts Complex. This plan aims to re-energize the Arts Complex with new and updated venues, more public space and diverse and accessible programming. While construction will not begin immediately, The Next Stage NOW aims to start this exciting transformation with public performances, programming and placemaking initiatives today.
Upcoming Events:
The Way Station & South Star
An And Toto too production
By Denver playwright Rebecca Gorman O'Neill

The Commons on Champa, 3rd floor studio (1245 Champa St)
April 19 - May 5, 2018
Thursday - Saturday, 7:30 p.m.
Tickets & Information: www.andtototoo.org

An evening of one act plays:
The Way Station is the story of three strangers from different places and times, each pulled out of their travels and dropped off at a mysterious way station.

South Star is set seven years in the future, during the second American Civil War. Stel a reluctant hero, finds herself in the company of two people – one a victim, and one a predator. What commences is a figurative game of three-card-Monty; the stakes are Stel's life.
Sunset Cinema
Sunset Cinema returns to The Denver Performing Arts Complex with a season dedicated to the whimsical Wes Anderson. We will be celebrating this iconic director's unique brand of filmmaking with curated movie trivia, themed craft cocktails, a photo experience and costume contest. And, of course, we'll be screening your fan chosen favorite Wes Anderson films at dusk. We aren't asking you to craft your costume as meticulously as a Wes Anderson movie set, but prizes will be given to the best costumes and top trivia teams! Dust off your Remington typewriter and let all of your movie-buff friends know that the price of admission to this Sunset Cinema series is cheaper than the next big superhero flick, in fact, it's free! So get creative with that Richie Tenenbaum outfit and slow-motion walk your way over after you RSVP first. We ask that you bring a chair and come prepared for any weather since these events are rain or shine. Leave your classic rock soundtrack at home, but bring an appetite as movie theater fare will be available for purchase. Trivia provided by Geeks Who Drink and film screenings brought to you by Denver Film Society.
Film Schedule:
June 12 – MOONRISE KINGDOM
July 10 – FANTASTIC MR. FOX
August 14 – THE LIFE AQUATIC WITH STEVE ZISSOU
August 21 – THE ROYAL TENENBAUMS
Details:
The Galleria at the Denver Performing Arts Complex
7 p.m. - 10 p.m.
RSVP - Link coming soon.
Glass Top Bar
Join us before the show for cocktails, quick bites and live acoustic music at our Sterling Vineyards Glass Top Bar under the iconic ceiling of the Denver Performing Arts Complex. This pop-up bar will be open on select Thursday, Friday and Saturday evenings between May 31 – Sept. 29 from 5 – 7 p.m. at the entrance at 14th and Curtis streets.
Performer Schedule:
Branden Sipes - May 31 | June 8, 28 | July 26 | August 2 | September 6, 21, 27
Kelly Triplett - June 1, 7, 15 | July 6, 20 | August 3, 9, 17 | September 7, 13
DIME Denver Student Showcases - Third Thursdays, June - September (June 21 | July 19 | August 16 | September 20)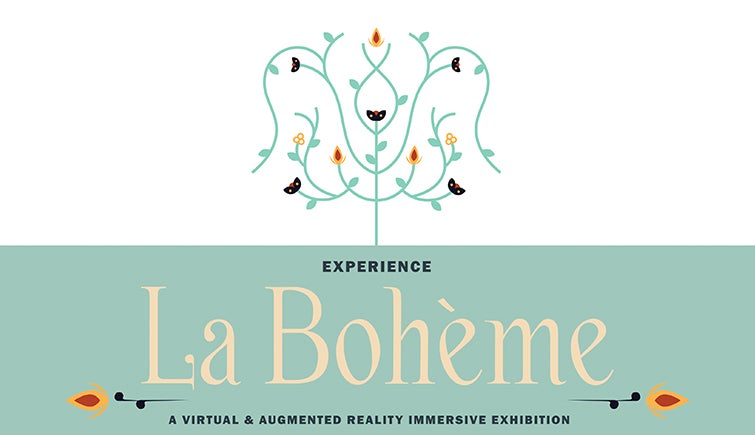 The Next Stage Gallery
EXPERIENCE LA BOHÈME 360° INTERACTIVE OPERA VIRTUAL REALITY EXPERIENCE
Experience La Bohème is a collaborative endeavor with Opera Colorado, Hypercube and the University of Colorado Denver, including students and faculty from the Digital Design and Music Entertainment and Industry Studies programs. The main goal of this immersive experience is to create an engaging and interactive VR experience that can excite younger audiences and expose them to the beauty and history of opera.
The technology used to create this experience includes traditional filming, Augmented Reality (AR) using Aurasma, and 360° VR Capturing Devices including the Nokia Ozo powered by Hypercube, Unity, Vive interface, and Oculus Rift.
Through the use of virtual reality and video narratives, Experience La Bohème displays many aspects of creating a professional opera production. The video narratives included in Experience La Bohème are interviews with the main characters, director and conductor, and an overview of the history of La Bohème and the set design, costumes, wigs and makeup.
Find out more at nextstagecu.org.
Hours:
Tuesdays - Fridays, 4:30 p.m. - 7:30 p.m.
Saturdays & Sundays, 12:30 p.m. - 7:30 p.m.

For additional questions or information, please contact Peter Dearth, Operations Assistant, by email or at 720-865-4303.