What is The Next Stage NOW?
On March 10, 2016, Mayor Michael B. Hancock unveiled The Next Stage Vision Plan for the Denver Performing Arts Complex. This plan aims to re-energize the Arts Complex with new and updated venues, more public space and diverse and accessible programming. While construction will not begin immediately, The Next Stage NOW aims to start this exciting transformation with public performances, programming and placemaking initiatives today.
Upcoming Events:
The Pink Unicorn
And Toto too presents The Pink Unicorn by Los Angeles playwright, Elise Forier Edie, supported by The Next Stage NOW, directed by Susan Lyles, starring Missy Moore.
The Pink Unicorn is an award-winning solo theatre piece, which tells the story of a Christian widow, living in a conservative Texas town, whose life is thrown into turmoil when her teenaged daughter announces she is "gender queer" and starting a chapter of the Gay and Straight Alliance at the local high school.
Location: 1245 Champa Studio
When: November 1-17, 2018, (Thursday-Saturday), 7:30pm curtain
Tickets & Information: www.andtototoo.org
Price: $22-$25 (plus tax)
Cheap date night: April 26, $15 (plus tax)
Sterling Vineyards Galleria Bar
Join us before the show for cocktails, quick bites and live acoustic music at our Sterling Vineyards Galleria Bar under the iconic ceiling of the Denver Performing Arts Complex. This pop-up bar will be open on select Thursday, Friday and Saturday evenings between May 31 – Sept. 29 from 5 – 7 p.m. at the entrance at 14th and Curtis streets. The live entertainment is free with beverages available for purchase.
Performer Schedule:
Branden Sipes - September 27
Bowleg - September 29
Sunset Cinema 2019
Check back for more information on this series.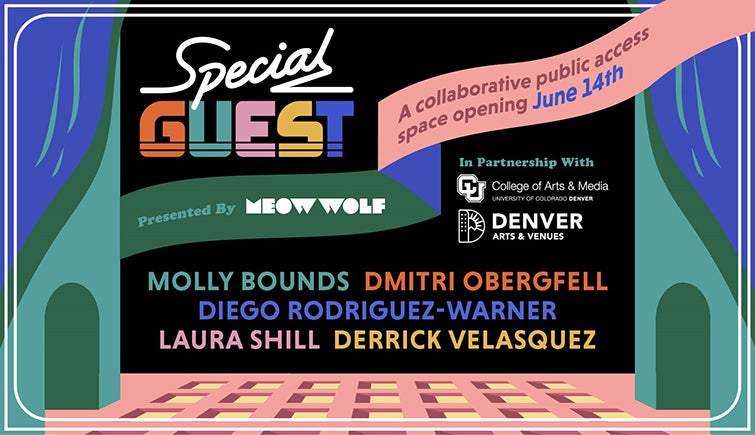 The Next Stage Gallery
Special Guest, curated by Meow Wolf, in collaboration with Denver Arts & Venues and University of Colorado Denver. Free and open to the public.
Hours:
Tuesday - Friday, 4:30 - 7:30pm
Saturday - Sunday, 12:30 - 7:30pm
For more information about this and future exhibits, visit www.nextstagecu.org.

For additional questions or information, please contact Peter Dearth, Operations Coordinator, by email or at 720-865-4303.