KINTSUGI LUNCH HOUR: Feed Your Soul with Dumplings
Denver Arts & Venues
10/

2/

2020

12:00 PM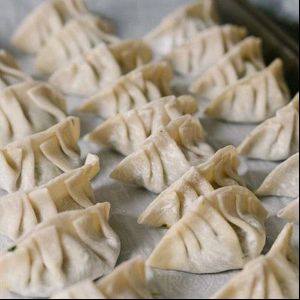 Spend your kintsugi lunch hour with Visual Artist, Akemi Tsutsui-Kunitake making seasonally-inspired soul-nourishing Japanese dumplings! A digital link will be sent to attendees after registration. Suggested $0-10 donation.
About this Event
Visual artist, Akemi Tsutsui-Kunitake, will guide participants through two styles of seasonally-inspired Japanese dumplings, sharing snippets from her upcoming art recipe book along the way. The workshop will include discussions on how to incorporate intention into the cooking process and Japanese ingredients to aid in whole-body wellness.
Akemi will be using local ingredients from Minoru Farm!
TOOLS Required:
Food processor
Knife
Measuring Spoons
Dessert spoon or teaspoon
2 Small Bowls
2 Large Bowls
Pot
Frying pan with lid
Chopsticks
Cutting board
INGREDIENTS Required:
Ice
Water
Neutral flavored frying oil
Gyoza skins
Shunjiku or Tong ho (if shopping at a non-Japanese Asian market) - substitute spinach
Ground meat of your choice
Ginger
Garlic
Sesame oil
Salt
Pepper
Mochiko
Soon tofu or extra soft silken tofu
Sugar
Yomogi - substitute regular mugwort or spinach
Kabocha - substitute canned pumpkin
Honey
Mirin
Anko
This series is sponsored by the Japanese Arts Network and is part of Kintsugi: The Art of Healing, Finding Beauty in Repair, a Denver Arts & Venues Cultural Partner Program.
ABOUT THE ARTIST: Akemi Tsutsui-Kunitake is a yonsei artist, avid home cook and student of Japanese mysticism. Her black and white illustrations tie in Japanese folklore, Western occultism and fairytales. Her work has been featured in publications such as MECZine and Asian Avenue. During a brief time living abroad in Japan, Akemi found comfort in the kitchen and began to spread her culinary wings. Her particular style of cooking is traditionally inspired and layered with intention. She finds that time spent cooking can be nourishing for both the soul and the body. Akemi enjoys exploring Southeast Asian, Japanese and paleo inspired dishes. She is always trying new things in the kitchen much to the enjoyment of her family and friends.
About the Japanese Arts Network: The Japanese Arts Network (JA-NE) is a national resource for artistic collaboration and connection based out of Denver, CO. We provide access to resources and develop programs and platforms that support and strengthen visibility for JaJA (Japanese and Japanese-American) Artists in America who create with 'cultural intention' and are vital to society. We are dedicated to bringing together artists, communities, and stakeholders by celebrating and advancing Japanese arts experiences in America.