Creative Strategies for Change Community Cypher
Denver Arts & Venues
04/

25/

2019

6:30 PM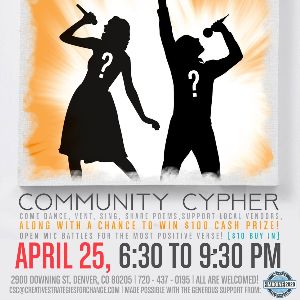 Creative Strategies for Change is proud to present: Community Cypher, an energy packed celebration of intentional art and connection!
This month's cypher includes FREE food and music all night, drinks, a silent auction, vendors, and an open mic battle with a $100 prize!
Contact Bianca Mikahn to vend or enter the battle: [email protected]
Contact Alexis McClain to donate to the silent auction: [email protected]
This is a call for people of any age to join in a space of solidarity and exchange. Part open mic, part party, part workshop. All focused on enjoying safe creative space together. Come dance, vent, sing, share poems, and get involved in the community conversation around why "Place Matters." Or just come vibe and witness the greatness being shared! Made possible by Denver Arts & Venues and CSC Cypher Team!
This event is all ages. A donation of $10-20 is suggested, but none will be turned away, all are welcome!
Funded in part by an IMAGINE 2020 grant.
Location