MAYOR'S AWARDS FOR EXCELLENCE IN ARTS & CULTURE - 2018 WINNERS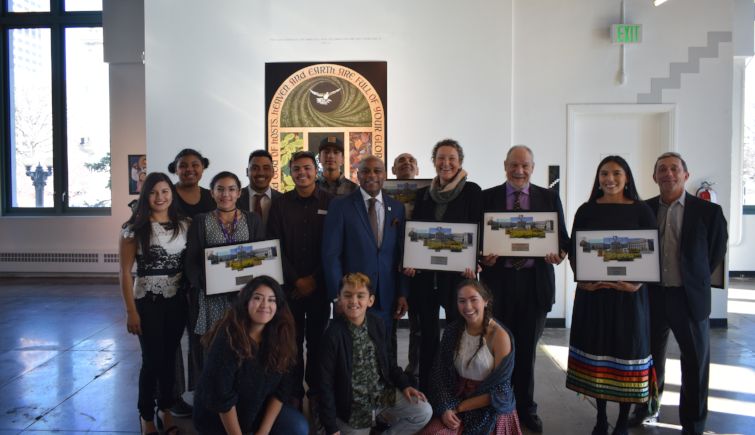 Congratulations to the 2018 Winners and Nominees!
IMAGINE 2020 Award
An individual or organization that exemplifies the vision and goals of Denver's cultural plan through their programs and initiatives. This individual or organization is setting an example for others to aspire to as we IMAGINE 2020.
2018 Award Winner: Colorado Ballet & Keya Trujillo-Clairmont
Through "Moccasins En Pointe," Colorado Ballet partnered with Keya Trujillo-Clairmont, a Lakota dancer and 2016 Denver March Powwow Princess, to develop and perform an original piece. Through a free performance and reception, "Moccasins En Pointe" combined Native American culture, Fancy Shawl's regalia and footwork, a bit of ballet, and the singing and drumming of the Mandaree Singers from Forth Berthold, North Dakota. The program was also presented as part of the 2018 Denver March Powwow and expanded awareness, engagement, inclusiveness and diversity.
Global Award
This award is presented to an individual or organization that has brought Denver's arts and culture to the national or world stage. Nominees for this category have received national or international recognition through collaboration, media coverage, or grant dollars received.
2018 Award Winner: El Teatro volARTE – Youth Theatre
In August 2018, El Teatro VolARTE group (part of Su Teatro Cultural and Performing Arts Center) took the global stage at the largest arts festival in the world, The Edinburgh Festival Fringe through The American High School Theater Festival. They performed one of Tony Garcia's first full-length plays about Denver's Westside, "El Corrido del Barrio." "El Corrido del Barrio" tells the story of the people of the Auraria neighborhood and their displacement during the pregentrification era of Urban Renewal. Representing Chicanos, The Westside and all of Denver, this theatre experience was life-changing for the youth participants.
Innovation Award
This award is presented to the individual or organization that is breaking new ground in the arts and whose contribution to innovation in the arts has been significant in 2018.
2018 Award Winner: Dorothy Tanner
Through her 65-year art career, Dorothy Tanner has taught art to adults and children. Her dedication, with her late husband Mel Tanner (1925-1993) and her current team, brought the ever-evolving Lumonics art form to thousands of people from all ages and backgrounds in several regions of the United States since its inception in 1969. Lumonics consists of original light sculptures, live projection, video, electronics, music and performance, and intends to deeply affect people on physical, emotional and spiritual levels. Through Lumonics, Mrs. Tanner and her associates created an interactive field trip attended by more than 1,000 elementary, high school and graduate students.
Impact Award
This award is presented to an individual or an organization that has made a significant and lasting impact on arts and culture in the City and County of Denver. This category requires that the nominee have at least 10 years of history in the arts in the City and County of Denver.
2018 Award Winner: Flamenco Fantasy Dance Theatre
The Flamenco Fantasy Dance Theatre was created by René Heredia 28 years ago. As the Artistic Director of the Flamenco Fantasy Dance Theatre, as a solo guitarist, and with his Flamenco fusion group, René has produced shows and performed around the world, and has taught hundreds of dance and guitar students. This investment in a truly profound and distinct form of expression has exposed thousands of audience members to an experience they would not otherwise have seen or heard.
Youth Award
This award is presented to a person under 18 that has made a noteworthy difference in the community through the arts or an organization that has significantly impacted the lives of youth in the City and County of Denver through the arts.
2018 Award Winner: Art from Ashes
Art from Ashes youth empowerment programs allow marginalized young people to express their creative genius through poetry and spoken word (Phoenix Rising); visual and tactile art (Drawing on Air); and drama and creative play (Casting Shadows). Youth create in a non-judgmental space with caring adults and community artists. The workshops provide a forum through creative expression for youth to recognize and acknowledge previous negative experiences through storytelling. Participants break through the barriers that isolate young people, and experience health and hope rather than expecting further victimization.