Mayor's Awards for Excellence in Arts & Culture - 2017 Winners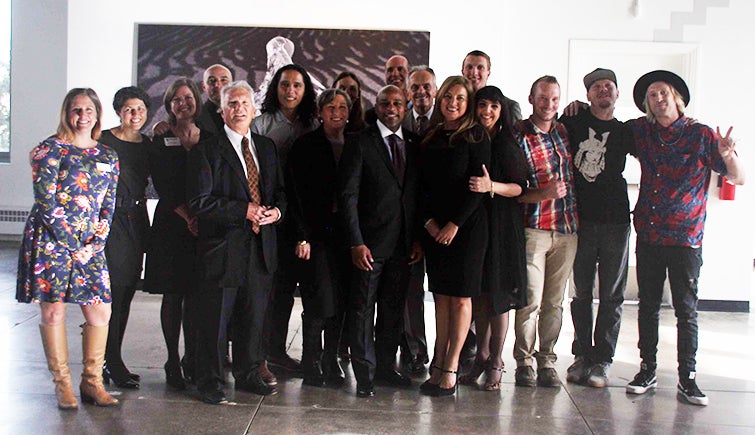 Congratulations to the 2017 Winners and Nominees!
Arts & Culture Youth Award
This award is presented to a person under 18 that has made a noteworthy difference in the community through the arts or an organization that has significantly impacted the lives of youth in the City and County of Denver through the arts.
2017 Award Winner: Denver Public Schools – Shakespeare Festival
Going on its 34th year, the Denver Public Schools Shakespeare Festival is the oldest and largest student Shakespeare festival in the country, and includes thousands of students and teachers from schools across the region. Donning theatrical costumes, more than 5,000 DPS students, grades K-12, from more than 85 schools attend the DPS Shakespeare Festival. This day-long festival is held in downtown Denver and provides the opportunity for students to perform scenes and sonnets from the works of William Shakespeare as well as demonstrate the dance, and vocal and instrumental music of Shakespeare's time.
Arts & Culture Impact Award
This award is presented to an individual or an organization that has made a significant and lasting impact on arts and culture in the City and County of Denver. This category requires that the nominee have at least 10 years of history in the arts in the City and County of Denver.
2017 Award Winner: Mexican Cultural Center
The Mexican Cultural Center was established in 1992. Evolving over the last twenty-five years, the MCC has developed a variety of cultural and educational programs designed to increase awareness and highlight the importance of Mexican culture in the United States, particularly in Colorado. The MCC serves to promote and enhance the perception of Mexican culture and people through travel, cuisine, art, music, handcrafts, cultural events and education. The MCC focuses on being one of Colorado's major transformational agents through educational experiences and programming based on inclusiveness, diversity and collaboration.
Arts & Culture Global Award
This award is presented to an individual or organization that has brought Denver's arts and culture to the national or world stage. Nominees for this category have received national or international recognition through collaboration, media coverage, or grant dollars received.
2017 Award Winner: Clyfford Still Museum
The Clyfford Still Museum brings the world to Denver, and Denver to the world. In September 2016, nine paintings from the Museum's collection traveled to the Royal Academy of Arts in London for a seminal exhibition on Abstract Expressionism.
The exhibition, which was the first comprehensive survey of the movement to be mounted in Europe in more than 50 years, then traveled to the Guggenheim in Bilbao, Spain. Seen by nearly 675,000 people it was hailed by the international press as "The Show of the Year" (Sunday Times, London), and Clyfford Still "...the surprise hero of the exhibition."
Arts & Culture Innovation Award
This award is presented to the individual or organization that is breaking new ground in the arts and whose contribution to innovation in the arts has been significant in 2017.
2017 Award Winner: CRUSH
CRUSH is Colorado's largest independent graffiti and street art project and event. Founded by Denver graffiti artist, Robin Munro, CRUSH has been taking over the streets of the RiNo neighborhood since 2010. With a passion for graffiti and street art, as well as his community, Munro aimed to create an event that showcases the amazing artistic talents he saw not only in Denver, but also across the world. Originally centered around the EXDO Event Center, after three years, the event was relocated to the long alley between 26th and 27th streets and Larimer and Walnut streets, now dubbed "Art Alley."
IMAGINE 2020 Award
An individual or organization that exemplifies the vision and goals of Denver's cultural plan through their programs and initiatives. This individual or organization is setting an example for others to aspire to as we IMAGINE 2020.
2017 Award Winner: Irene Vilar
For more than a decade, Irene Vilar has demonstrated how the arts can be an effective and impactful vehicle for raising social awareness and inspiring action at a local, national and international level. Irene founded Americas for Conservation+Arts to provide a forum for artists, conservation activists and educators to unite for positive, impactful efforts within the community. Since 2013, Irene has been leading the Americas Latino Eco Festival bringing together top Latino environmental activists, attorneys, artists, writers, musicians, policy advocates, filmmakers and others to discuss the most pressing environmental issues, celebrate the achievements of people in the community and engage the next generation in issues of environmental justice around the globe.
Leadership in the Arts Award
This award is given to someone who exemplifies sustained leadership and dedication to advancing arts, culture and creativity across the city.
2017 Award Winner: Floyd Ciruli
Floyd Ciruli has worked with the Scientific and Cultural Facilities District board and staff, area mayors, county commissioners, business organizations, Colorado legislators, the changing media, editorial boards, foundation leaders and many of the beneficiary organizations in SCFD. His work has been directed consistently to maintaining and building a coalition of support during the SCFD's 30-year existence, not just during campaign times. Floyd was a constant presence thinking and preparing for the 2016 reauthorization, guiding volunteer leadership through information helpful in understanding the changing market.
IMAGINE 2020 District Challenge Award – "Community Channels" Art Mural, Stacie Gilmore, District 11
On November 10 and 11, community members and Montbello High School students worked with artist Pat Milbery to create a mural in the canal at 51st Avenue and Crown Blvd.
CONTACT
For additional questions and information please contact Brooke Dilling: Brooke.Dilling@denvergov.org or 720-865-5558
Videos created by Zerosun Creative