PAST FIVE POINTS JAZZ FESTIVALS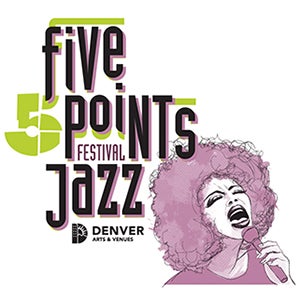 This free event has taken place annually since 2004 in the historic Five Points neighborhood. From its humble first year which featured only three bands, the festival has grown into a day-long event with 100,000 visitors along Welton Street enjoying a culturally diverse experience of music, food, shopping and entertainment. Residents and visitors groove to the sounds of smooth jazz to bop to swing to funk to blues throughout the day. Throughout the years, the festival has showcased local staples such as Hazel Miller, Buckner Funken Jazz, Jakarta, Conjunto Colores, Purnell Steen, JoFoKe aNem and Wil Alston, as well as nationally and internationally known musicians such as Dianne Reeves, Ron Miles and Invisible Bird. It's a fun, uplifting day for friends and families to come together to enjoy a piece of Denver's legacy in jazz music.
Once known as the Harlem of the West, Five Points was home to several jazz clubs which played host to many of jazz music's legends, such as Miles Davis, Thelonious Monk and many more!
Interested in sponsoring the Five Points Jazz Festival or another Arts & Venues event, program or facility? Please email Andrew.Lindley@Denvergov.org.
---
Check out photos and videos from past festivals
2022 Festival Photos - Photographer: Electric Lady Photography
2020 FIVE POINTS JAZZ FESTIVAL WENT VIRTUAL SATURDAY, MAY 16, 6-8 P.M.
During the pandemic, Arts & Venues collaborated with Rocky Mountain PBS and KUVO to present a televised virtual event in 2020 to spread the joy of the festival statewide and keep the legacy of the festival going. Not only did it bring the event into people's homes through radio, television and social media, but it also provided a stage for more storytelling about the neighborhood. This broadcast event garnered two Colorado Broadcasters Association awards and a Heartland Emmy® nomination.
2019 Five Points Jazz Festival Photos by Lucia De Giovanni
2017 Festival Photos - Photographer: Steve Hostetler
2016 Festival Photos - Photographer: Trevor Davis
2015 Festival Photos - Photographer: Trevor Davis