2022 Five Points Jazz Festival Honorees
George Morrison Heritage Stage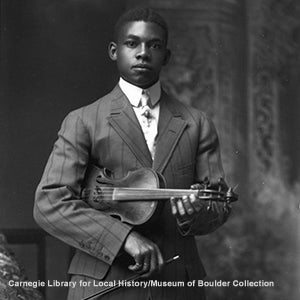 George Morrison
Denver Arts & Venues pays homage to George Morrison by naming the stage at 27th and California streets in his honor. George Morrison, Sr. was born in Fayette, Missouri in 1891, to talented musician parents. As a young child, his family moved to Boulder, Colorado where he studied violin for several years under Professor Harold Reynolds of the University of Colorado. Upon graduating from high school, he married and moved to Denver where he continued studying violin with David Abromwitz and Dr. Horace Tureman, Conductor of the Denver Civic Symphony Orchestra. Declining a scholarship to the New England Conservatory, Morrison instead attended the Columbia Conservatory of Music in Chicago. He later formed a jazz orchestra and toured and recorded under several variations of the name "George Morrison's Jazz Orchestra," including playing a Command Performance for King George and Queen Mary. While not touring, he gave lessons in his Denver home on Gilpin Street to pupils even if they could not afford to pay him. Five Points Jazz Festival performer Purnell Steen said of Morrison, "He was to Denver jazz as Louis Armstrong was to jazz in New Orleans."
---
Denver Arts & Venues rinde homenaje a George Morrison nombrando el escenario en las calles 27 y California en su honor. George Morrison, Sr. nació en Fayette, Missouri en 1891. Sus padres fueron músicos talentosos. Cuando era niño, su familia se mudó a Boulder, Colorado, donde estudió violín durante varios años con el profesor Harold Reynolds de la Universidad de Colorado. Al graduarse de la escuela secundaria, se casó y se mudó a Denver, donde continuó estudiando violín con David Abromwitz y el Dr. Horace Tureman, director de la Orquesta Sinfónica Cívica de Denver. Rechazó una beca para el Conservatorio de Nueva Inglaterra, Morrison asistió al Conservatorio de Música de Columbia en Chicago. Más tarde formó una orquesta de jazz y realizó giras y grabaciones bajo varias variaciones del nombre "George Morrison's Jazz Orchestra", incluida la interpretación de Command Performance para para el Rey Jorge y la Reina María. Mientras no estaba de gira, dio lecciones en su casa de Denver en Gilpin Street a los alumnos, incluso si no podían pagarle. Purnell Steen, artista en el Five Points Jazz Festival, dijo que Morrison "Estuvo en el jazz de Denver como Louis Armstrong en el jazz de Nueva Orleans."
2022 Five Points Jazz Festival Honorees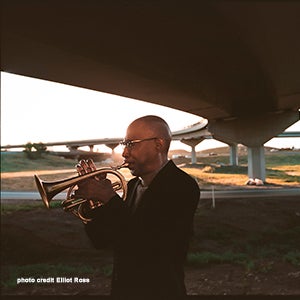 Ron Miles
Ron Miles was born in Indianapolis, IN, on May 9, 1963, eventually moving to Denver in 1974 at the age of 11. He went to East High School before attending the University of Denver, University of Colorado Boulder and the Manhattan School of Music in the 1980s, studying both classical and jazz.
His 35-year recording career spanned a dozen albums for the Prolific, Capri, Gramavision, Sterling Circle and Blue Note labels. Miles' expansive career extended to coordinating the jazz program at Metropolitan State University of Denver. Miles was inducted into the Colorado Music Hall of Fame in 2017, and was nominated for a Grammy in 2018. Miles' last performance was in 2021 at the Village Vanguard in New York City.
Miles passed in March 2022 from complications from polycythemia vera – a rare blood cancer. Miles was a kind, spiritual, hard-working composer, musician, teacher and father who loved his family, his community, and music.
Biography adapted from Ron Miles' Denver Post obituary.
---
Biography adapted from Ron Miles' Denver Post obituary.
Ron Miles nació en Indianápolis, Indiana, el 9 de mayo de 1963 y se mudó a Denver en 1974 a los 11 años. Fue a East High School antes de asistir a la Universidad de Denver, la Universidad de Colorado Boulder y la Escuela de Música de Manhattan. en la década de 1980, estudiando tanto música clásica como jazz.
Su carrera discográfica de 35 años abarcó una docena de álbumes para los sellos Prolific, Capri, Gramavision, Sterling Circle y Blue Note. La amplia carrera de Miles se extendió a la coordinación del programa de jazz en la Universidad Estatal Metropolitana de Denver. Miles fue incluido en el Salón de la Fama de la Música de Colorado en 2017 y fue nominado para un Grammy en 2018. La última actuación de Miles fue en 2021 en Village Vanguard en la ciudad de Nueva York.
Miles falleció en marzo de 2022 por complicaciones de una rara forma de cáncer de sangre. Miles era un compositor, músico, maestro y padre amable, espiritual y trabajador que amaba a su familia, su comunidad y la música.
Biografía adaptada del obituario del Denver Post de Ron Miles.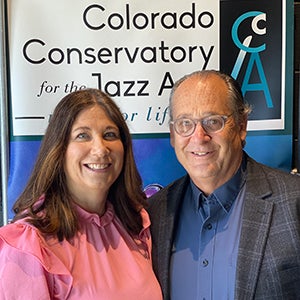 Chris and Paul Romaine
Passionate about creating unique opportunities for youth to study and play jazz together, Chris and Paul Romaine founded the Colorado Conservatory for the Jazz Arts (CCJA) in late 1999.
Paul, a second-generation Denver-based professional musician, award-winning teacher and instructor at MSU Denver and CU Boulder, used his experience and deep community roots to establish CCJA as a place where youth could connect with other professional musicians in meaningful ways.
Chris, a musician, secondary teacher and entrepreneur with degrees in public policy and economics, put her varied experience to work in handling the administrative side of the organization.
Over the last 22 years, Chris and Paul have been blessed to be stewards of CCJA's natural growth and evolution. CCJA programs now include small groups, big bands, summer camps, educational outreach to schools, community performances, guided jam sessions, Near Peer Mentoring, Recording and Music Industry workshops, guest artist clinics, salons, Vocal jazz, SheBop Women's Program, Adult program, and KinderBop for preschoolers. CCJA musicians have performed for over 100,000 people, and its programs serve hundreds of different musicians each year, support the creation of original music, and have positively influenced national and local jazz scenes.
Working so closely isn't for all married couples, but Paul and Chris have made it work, committed to a community that is united through the arts and deeply committed to youth and the jazz art form.
---
Apasionados por crear oportunidades únicas para que los jóvenes estudien y toquen jazz juntos, Chris y Paul Romaine fundaron el Colorado Conservatory for the Jazz Arts (CCJA) a finales de 1999.
Paul, un músico profesional de segunda generación con sede en Denver, maestro e instructor galardonado en MSU Denver y CU Boulder, usó su experiencia y profundas raíces comunitarias para establecer CCJA como un lugar donde los jóvenes pueden conectarse con otros músicos profesionales de manera significativa.
Chris, música, maestra de secundaria y empresaria con títulos en políticas públicas y economía, puso su variada experiencia a trabajar en el manejo del lado administrativo de la organización.
Durante los últimos 22 años, Chris y Paul han tenido la bendición de ser administradores del crecimiento y la evolución natural de CCJA. Los programas de CCJA ahora incluyen grupos pequeños, grandes bandas, campamentos de verano, extensión educativa a las escuelas, actuaciones comunitarias, sesiones de improvisación guiadas, tutoría entre pares cercanos, talleres de la industria de la grabación y la música, clínicas de artistas invitados, salones, jazz vocal, programa de mujeres SheBop, programa para adultos. y KinderBop para preescolares. Los músicos de CCJA se han presentado ante más de 100,000 personas y sus programas sirven a cientos de músicos diferentes cada año, apoyan la creación de música original y han influido positivamente en las escenas de jazz nacionales y locales.
Trabajar tan de cerca no es para todas las parejas casadas, pero Paul y Chris lo han logrado, comprometidos con una comunidad que está unida a través de las artes y profundamente comprometida con la juventud y la forma de arte del jazz.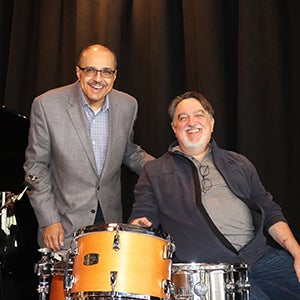 Donald Rossa
Donald Rossa was born in Milwaukee. He took as job as a dishwasher, rose to cook, and then at the age of 21, became his company's youngest general manager and starting opening restaurants. For the next ten years, he continued this trajectory in Denver, working for Jo-Jo's, Grisanti Restaurants and Sfuzzi, where he became vice president. In 1990, he moved to Piatti's as their vice president. In 1999, he left the corporate restaurant world and moved to an independent restaurant, Four Story.
In 2001, he found his sweet spot in the community with Dazzle, building a place for the heart and soul of Colorado's music life. Donald became Dazzle's owner in 2003. Under the leadership of Donald Rossa, Dazzle has presented a full range of performers, from local students to Grammy award-winning stars. "Not only does the music performed on our stages represent this exact moment in time, but it also pays tribute to the jazz greats who have graced our stages and others before. Jazz is a continuation of not only sounds that stem from Black musical roots, but also improvisational representations of our time," he explained. "Without stages like Dazzle's, this music tradition, and others, cannot grow and live on. That's what it's all about."
---
Donald Rossa nació en Milwaukee. Aceptó un trabajo como lavaplatos, ascendió a cocinero y luego, a la edad de 21 años, se convirtió en el gerente general más joven de su empresa y comenzó a abrir restaurantes. Durante los siguientes diez años, continuó su trayectoria en Denver, trabajando para Jo-Jo's, Grisanti Restaurants y Sfuzzi, donde se convirtió en vicepresidente. En 1990, se mudó a Piatti's como vicepresidente. En 1999, dejó el mundo de los restaurantes corporativos y se mudó a un restaurante independiente, Four Story.
En 2001, encontró su punto ideal en la comunidad con Dazzle, construyendo un lugar para el corazón y el alma de la vida musical de Colorado. Donald se convirtió en propietario de Dazzle en 2003. Bajo el liderazgo de Donald Rossa, Dazzle ha presentado una amplia gama de artistas, desde estudiantes locales hasta estrellas ganadoras de los premios Grammy. "La música interpretada en nuestros escenarios no solo representa este momento exacto en el tiempo, sino que también rinde homenaje a los grandes del jazz que han adornado nuestros escenarios y otros antes. El jazz es una continuación no solo de los sonidos que se derivan de las raíces musicales negras, sino también de las representaciones improvisadas de nuestro tiempo", explicó. "Sin escenarios como el de Dazzle, esta tradición musical y otras no pueden crecer y vivir. Eso es todo lo que es."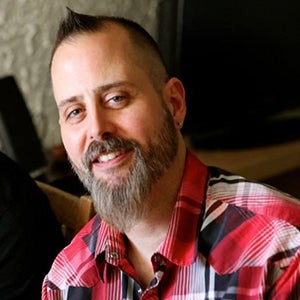 Matt Ruff
Born in El Paso, Texas, Matt Ruff started his career in the restaurant industry at the age of 17. Starting as a dishwasher in an ice cream parlor, Matt quickly discovered his natural talent and love for hospitality and service. In 1988, Matt received a BA in communications, with an emphasis on advertising and public relations, and a minor in creative writing from the University of Texas, El Paso. Armed with his degree, he ran the numbers and quickly realized he could make a good living as a bartender, and it was more fun than other career options.
He moved to Denver in 2003, and within two weeks, Donald Rossa had hired Matt to be the general manager at Dazzle, Denver's iconic jazz supper club. For 19 years, Matt has been in charge of the day-to-day operations of food, beverage and service at Dazzle and makes everyone feel welcome. When Dazzle moved from its location at 9th Avenue and Lincoln Street to the historic Baur's building on Curtis Street in Downtown Denver, Matt became part owner.
Matt explained that he enjoys working at Dazzle because it is not a standard food and beverage venue; it's more about the people and community. "To be surrounded by creativity and having profoundly talented people to work with in all aspects of the business is a blessing."
---
Nacido en El Paso, Texas, Matt Ruff inició su carrera en la industria de los restaurantes a los 17 años. Matt comenzó como lavaplatos en una tienda de cremas heladas (nieves) y rápidamente descubrió su talento natural y su amor por la hospitalidad y el servicio al cliente. En 1988, Matt recibió su licenciatura en comunicaciones, con énfasis en publicidad y relaciones públicas, y una especialización en escritura creativa de la Universidad de Texas, El Paso. Armado con su título, calculó los números y rápidamente se dio cuenta de que podía ganarse bien la vida como cantinero, una ocupación más divertida que otras opciones de carrera.
Matt ee mudó a Denver en 2003 y, en dos semanas, Donald Rossa había contratado a Matt para que fuera el gerente general de Dazzle, el icónico club de cenas de jazz de Denver. Durante 19 años, Matt ha estado a cargo de las operaciones diarias de alimentos, bebidas y servicios en Dazzle, logrando que todos se sientan bienvenidos. Cuando Dazzle se mudó de su ubicación en 9th Avenue y Lincoln Street al edificio histórico de Baur en Curtis Street en el centro de Denver, Matt se convirtió en copropietario.
Matt explicó que le gusta trabajar en Dazzle porque no es un lugar habitual de comidas y bebidas, sino que se enfoca en la gente y en la comunidad. "Estar rodeado de creatividad y tener personas profundamente talentosas con las que trabajar en todos los aspectos del negocio es una bendición".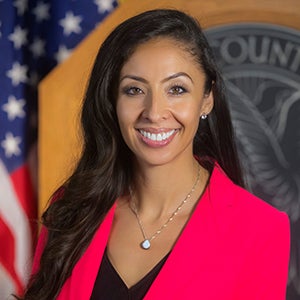 Councilwoman Candi CdeBaca
Councilwoman Candi CdeBaca is a fifth-generation resident of the Eastside, graduating from Manual High School as valedictorian and class president. At 18 years old, she co-founded and was later the Executive Director of Project VOYCE, a youth development and civic engagement organization.
Candi is also the first LGBTQ Latina and first Democratic Socialist to serve on Denver City Council, and her district office is located in Five Points. As a member of Council, she co-sponsored the Eviction Defense Right to Council ordinance, Charter Amendment 2E to bring more balance to the branches of Denver's government, and led the charge for Denver to divest from halfway houses run by private prison companies. She has continued to be a fierce advocate against the criminalization of poverty, environmental racism, and the displacement of Denver's Black and Brown communities.
---
La concejala Candi CdeBaca es una residente de quinta generación del Eastside de Denver. Se graduó de la Escuela Secundaria Manual como la estudiante con las más altas calificaciones y fue presidenta de su clase. A los 18 años, cofundó y luego fue directora ejecutiva de Project VOYCE, una organización de desarrollo juvenil y compromiso cívico.
Candi también es la primera latina LGBTQ y la primera socialista demócrata en servir en el Concejo Municipal de Denver, y su oficina de distrito está ubicada en Five Points. Como miembro del Concejo, copatrocinó la ordenanza del Derecho de Defensa contra Desalojos al Concejo Municipal, Enmienda 2E de la Carta Constitucional para brindar más equilibrio a las ramas del gobierno de Denver, y lideró el cargo para que Denver se desinvirtiera de las casas de transición administradas por compañías de prisiones privadas. Ha seguido siendo una feroz defensora de la criminalización de la pobreza, el racismo ambiental y el desplazamiento de las comunidades afroamericana y latina de Denver.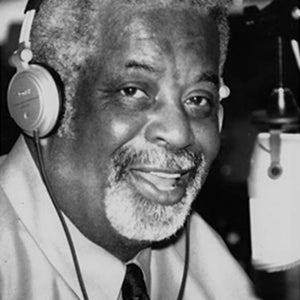 Jim "Dr. Daddio" Walker
Jim "Daddio" Walker was the force who brought rhythm and blues and soul music to Denver's radio scene in the 1960s. Walker grew up in Gibsland, Louisiana. Though he earned a Bachelor of Arts degree in sociology at Southern University in Baton Rouge and a certification in education at Grambling University, his dream was to own and operate a radio station. In the late 1960s, he moved to Denver's Park Hill neighborhood with his family, later becoming operations manager at KDKO radio station.
In 1989, Walker bought KDKO and became the first and only Black Man to own a radio station in Colorado's history. Once he took over KDKO, he worked to ensure that the lineup appealed to all ethnic communities, and included DJs from a diverse group representing white, black and Latin cultures. Through his radio work, Walker promoted unity in the community and broadcasts with a positive voice.
---
Jim "Daddio" Walker fue la fuerza que trajo el ritmo y el blues y la música soul a la escena de la radio de Denver en la década de 1960. Walker creció en Gibsland, Luisiana. Aunque obtuvo una licenciatura en sociología en la Universidad del Sur en Baton Rouge y una certificación en educación en la Universidad de Grambling, su sueño era poseer y operar una estación de radio. A fines de la década de 1960, se mudó al vecindario Park Hill de Denver con su familia y luego se convirtió en gerente de operaciones de la estación de radio KDKO.
En 1989, Walker compró KDKO y se convirtió en el primer y único hombre negro en poseer una estación de radio en la historia de Colorado. Una vez que se hizo cargo de KDKO, trabajó para asegurarse de que la programación atrajera a todas las comunidades étnicas e incluyera DJ de un grupo diverso que representaba las culturas blanca, negra y latina. A través de su trabajo radial, Walker promovió la unidad en la comunidad y transmite con una voz positiva.