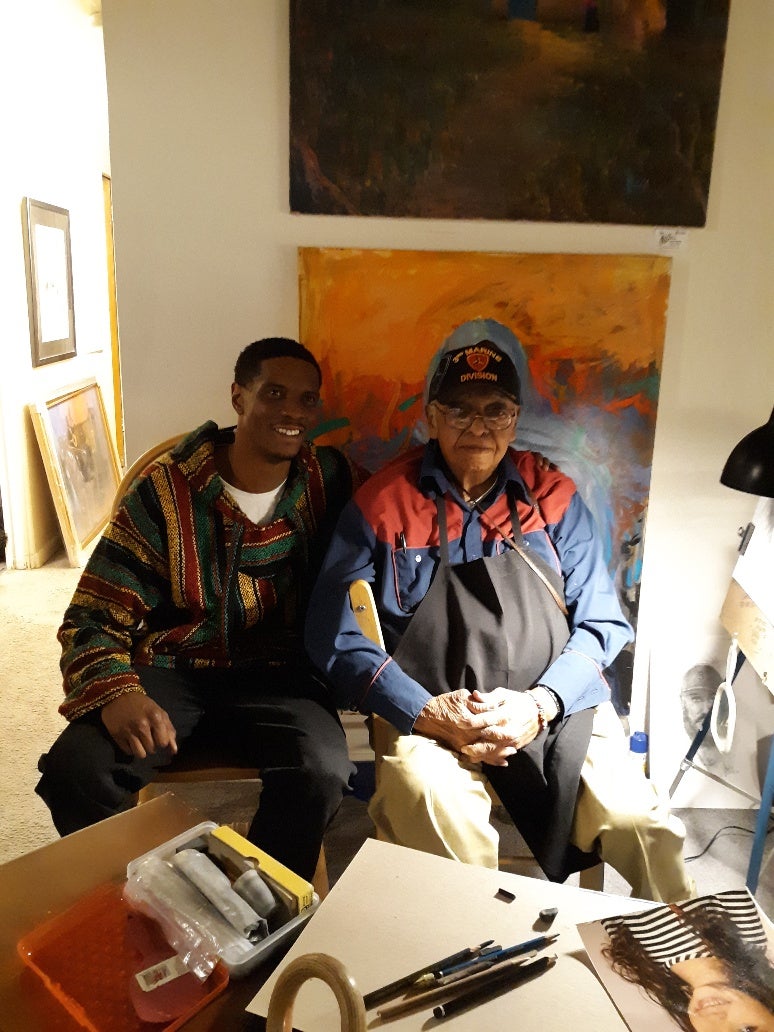 Jess E. DuBois
Jess DuBois is a world-renowned artist who, even at the age of 84, continues to paint in home studio daily. Inspired to paint as a young boy, at the age of 26, he went on to fulfill his lifetime passion and love for art by attending the Art Institute of Denver as a member of the first graduating class in 1957. His studies continued under the tutelage of John Jellico and Daniel Green. He's painted throughout the United States, including New Mexico and California where his work is greatly appreciated.
For more than 20 years, DuBois owned and operated his own private studio and gallery in Estes Park until town's devastating flood of 1982. At that time, he relocated to the Denver area, returning to the Five Points neighborhood in which he grew up to open a studio and gallery at 2823 Welton St. He remained in the Five Points neighborhood until he was forced to close the gallery.
In 1988, Mr. DuBois was presented with the Lifetime Achievement Award at the Denver Black Arts Festival, and was also commissioned by Denver Transportation to create a bronze statue which remains located at 30th and Downing streets adjacent to Denver's light rail station. In 2004, DuBois was honored for his artworks by Denver Mayor's Awards for Excellence in the Arts and was also inducted into the Art Institute of Colorado Hall of Fame. Mr. Jess DuBois also proudly served in the United States Marine Corps in Korea. Jess DuBois continues to paint daily and has a deep desire to pass on his lifelong experience and skills as an artist to anyone who may be interested in becoming an artist.
---
Jess DuBois es un artista de renombre mundial que, incluso a los 84 años, continúa pintando en el estudio de su casa todos los días. Inspirado para pintar cuando era un niño, en 1957, a los 26 años, comenzó a cumplir con su pasión y su amor de toda la vida por el arte al asistir al Instituto de Arte de Denver como miembro de la primera clase de graduados Sus estudios continuaron luego bajo la tutela de John Jellico y de Daniel Green. DuBois realizó pinturas en todo Estados Unidos, incluido Nuevo México y California, donde su trabajo es muy apreciado.
Durante más de 20 años, DuBois fue propietario y operó su propio estudio y galería privados en Estes Park hasta la devastadora inundación en esa ciudad en 1982. En ese momento, se mudó al área de Denver, regresando al vecindario Five Points, en donde había crecido, para abrir un estudio y galería en 2823 Welton St. Y permaneció en el vecindario de Five Points hasta que se vio obligado a cerrar la galería.
En 1988, DuBois recibió el Premio a la Trayectoria en el Festival de Arte Afroamericano de Denver. Luego, Denver Transportation le encargó que creara una estatua de bronce que se encuentra en las calles 30 y Downing, adyacente a la estación de tren urbano de pasajeros de Denver. En 2004, DuBois fue honrado por sus obras de arte con el Premio a la Excelencia en las Artes del Alcalde de Denver y también fue incluido en el Salón de la Fama del Instituto de Arte de Colorado. Jess DuBois también sirvió con orgullo en el Cuerpo de Infantería de Marina (Marines) de Estados Unidos en Corea. DuBois continúa pintando a diario y tiene un profundo deseo de transmitir su experiencia y habilidades como artista a toda persona que esté interesada en convertirse en artista.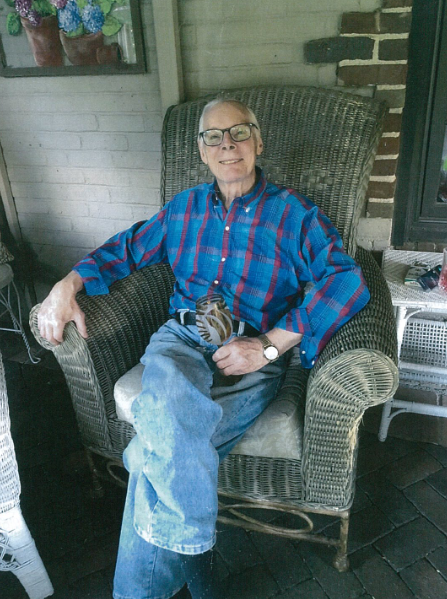 Fred Hess
Fred Hess was one of Denver's most important educators and was a beloved musician held in the highest esteem by his colleagues, peers and students. He shaped the career of dozens of jazz musicians. He was admired not only as a man with amazing talent and keen ability to share it, but also as a bon vivant, a man who always was in a cheerful mood. He is thoroughly missed; however, his legacy will live on through his recorded music and with the many musicians he inspired.
Fred Hess was born on September 3, 1944 in the northern Philadelphia suburb of Abington, PA but was raised across the Delaware River in New Jersey. Fred graduated Trenton State College in 1981 and relocated to Boulder where he graduated from the University of Colorado-Boulder with a doctorate in music composition in 1991. His early professional credits include stints with Phil Woods and Fred Waring. Mr. Hess also composed the music for a Sam Shepard play. Although Fred was at first influenced by the swing era saxophonists of his youth, by the early 1960s he had embraced the exploration of the boundaries of notated and improvised music as well as the avant-garde movement of the free jazz players like Anthony Braxton and the renowned AACM. Shortly after moving to Colorado, he founded the Boulder Creative Music Ensemble and soon after started the Fred Hess Group.
Over the decades, Hess performed and recorded with Charlie Haden, Ginger Baker, Wynton Marsalis, Ray Brown, Hugh Ragin and numerous others. Fred received the Colorado Council of the Arts Composition Fellowship in 1986 and again in 1994. He also was the winner of the inaugural Hennessey Jazz Search and won the Julius Hemphill Award for Jazz Competition in 2000. Fred Hess was the Director of Composition Studies at Metropolitan State University of Denver for more than 20 years. When not teaching or performing, Fred loved gardening and being with his children, grandchildren and friends. Hess was a firm supporter of the Salvation Army and was a member of St. John's Lutheran Church. He enjoyed watching football and boxing when not tending to his vegetable garden. On October 27 of 2018, Fred Hess made his final transition, leaving the world a better place with his magnificent contributions.
---
Fred Hess fue uno de los educadores más importantes de Denver y fue un músico amado y muy apreciado por sus colegas, compañeros y estudiantes. Hess impulsó las carreras de decenas de músicos de jazz y fue admirado no solo como un hombre con un talento increíble y una gran capacidad para compartirlo, sino también como un hombre de bien que siempre estaba de buen humor. Aunque se lo extraña profundamente, su legado vivirá a través de su música grabada y en los muchos músicos que él inspiró.
Fred Hess nació el 3 de septiembre de 1944 en el suburbio de Abington, Pensilvania, en el norte de Filadelfia, pero creció en Nueva Jersey, al otro lado del río Delaware en Nueva Jersey. Hess se graduó de Trenton State College en 1981 y se mudó a Boulder, donde se graduó de la Universidad de Colorado en Boulder, recibiendo doctorado en composición musical en 1991. Sus primeros créditos profesionales incluyen trabajos con Phil Woods y Fred Waring. Hess también compuso música para una obra de Sam Shepard. Aunque al principio Fred fue influenciado por los saxofonistas de la era del swing, a principios de la década de 1960 ya había abrazado la exploración de los límites de la música notada e improvisada, así como el movimiento de vanguardia de los músicos del jazz libre como Anthony Braxton y el renombrado AACM. Poco después de mudarse a Colorado, fundó el Boulder Creative Music Ensemble y poco después comenzó el Grupo Fred Hess.
A través de las décadas, Hess actuó y grabó con Charlie Haden, Ginger Baker, Wynton Marsalis, Ray Brown, Hugh Ragin y numerosos otros músicos. Fred recibió la Beca de Composición del Consejo de las Artes de Colorado en 1986 y nuevamente en 1994. También fue el ganador de la primera Búsqueda de Jazz "Hennessey" y ganó el Premio Julius Hemphill para la Competencia de Jazz en 2000. Hess fue el Director de Estudios de Composición en Universidad Metropolitana Estatal de Denver por más de 20 años. Cuando no estaba enseñando o actuando, le encantaba la jardinería y estar con sus hijos, nietos y amigos. Hess realizó numerosas contribuciones al Ejército de Salvación y era miembro de la Iglesia Luterana San Juan. Además, disfrutaba viendo fútbol americano y boxeo, cuando no estaba ocupado en su huerto. El 27 de octubre de 2018, Fred Hess hizo su transición final. El mundo es un lugar mejor gracias a sus magníficas contribuciones.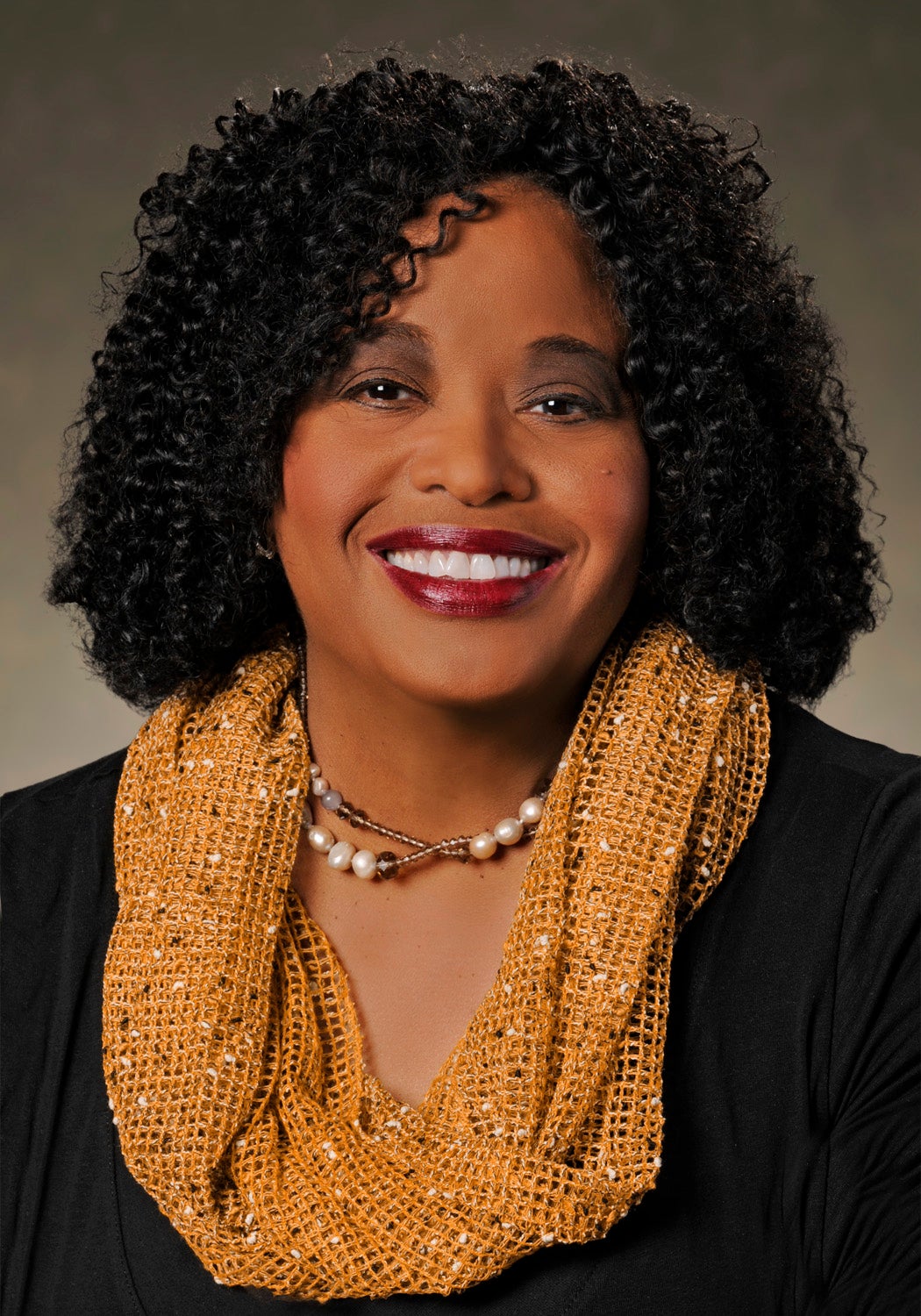 Elbra Wedgeworth

The Hon. Elbra Wedgeworth began her career in public service as a City Council Senior Analyst. From 1994 through 1996, she was the Clerk and Recorder for the City and County of Denver and served also as a member of the Denver Election Commission and the Board of County Commissioners. The Hon. Elbra Wedgeworth later served as the Director of Community Relations and Philanthropic Affairs at Denver Health and Hospital Authority, but later resigned that position to pursue election to Denver City Council, where she served two and a half terms and eventually became Council President. In 2007, she joined Denver Health as their Chief Government and Community Relations Officer—where she currently serves today. Wedgeworth was also the President of the Convention Host Committee and a key driver in securing Denver as the location of the 2008 Democratic National Convention.
---
Elbra Wedgeworth comenzó su carrera en el servicio público como analista en jefe del Concejo Municipal de Denver. Desde 1994 hasta 1996, fue Secretaria de Registros de la Ciudad y Condado de Denver. También se desempeñó como miembro de la Comisión de Elecciones de Denver y de la junta de comisionados del condado. Wedgeworth fue directora de Relaciones Comunitarias y Asuntos Filantrópicos de Denver Health and Hospital Authority. Ella renunció a esa posición cuando fue elegida para el Concejo Municipal de Denver. En 2007, renunció al Concejo Municipal para unirse a Denver Health como Directora de Relaciones Gubernamentales y Comunitarias. Wedgeworth fue presidente del Comité Anfitrión de la Convención que trajo la Convención Nacional Demócrata a Denver en 2008.