Create Denver Expo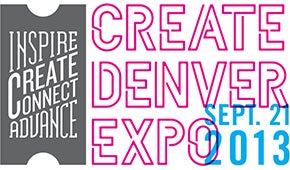 2013 CREATE DENVER EXPO
INSPIRE + CREATE + CONNECT + ADVANCE
Create Denver Expo
Creative ideas are better with action. The Create Denver initiative recognizes the role our talented and dynamic creative community has in making Denver vibrant and economically sound. The annual Create Denver Expo, Sept. 21, in association with Denver Startup Week, was a full day event catalyzing the creative sector by bringing together innovative thinkers, doers and leading business experts to share insights, tools and resources to help bring creative ideas to life.
Keynote Speaker Bios
Colleen Keegan, Strategic Planning Team Leader, Creative Capital (NYC), Keynote Address - Artists in Changing Times
Colleen Keegan developed the Strategic Planning Program at Creative Capital where she currently serves as Co-Chair of the Endowment Committee, and has worked with over 1400 artists. Colleen Keegan is a partner in Keegan Fowler Companies, an equity investment and consulting firm specialized in providing strategic planning and business affairs services to companies in the communications and entertainment industries. Previously, Keegan was a principal in The Strategic Planning Partnership. Her client list includes American Express, Bandai, Citi Group, ESPN, FM Japan, Hanna-Barbera, Paramount Pictures, Sprint, Sony New Technologies and Sony Pictures Entertainment. Keegan served as the president of Pacific Arts Video Production and Washington Video Services prior to establishing Keegan Fowler Companies. She also worked as a producer for MTV Networks, WETA and ShowtimeShe has served on numerous Boards of Directors including the American Refugee Committee, the MS Foundation, Texas Film Commission, Emily's List, the NOW Legal Defense Fund and Senator Dianne Feinstein's Advisory Council.

Jung Park, MetroBoom, Closing Address - Bridging the Gap
Jung completed his MBA at the University of Colorado Denver, writing a business plan for a unique men's personal branding center as part of his graduate studies. The business plan was awarded with the 1st place honor at the 3rd Annual Business Plan Competition hosted by Bard Center for Entrepreneurship at University of Colorado Denver. From that business plan, MetroBoom, was born in 2005. MetroBoom is a unique business model in Denver providing personal brand consultation, grooming and hair care services and custom clothing for professional men. When he's not traveling and speaking, he's helping a successful clientele develop their personal brands.
Jason Regier, Closing Address - Bridging the Gap
Jason has over 15 years of business experience in training, marketing, speaking, nonprofit development and owns his own company, Spellbynder. He has earned a dual masters degree with an MBA and MS in Marketing from the University of Colorado. As a national speaker, Jason has worked with CAMPUSPEAK, a professional speaker agency providing keynote speakers to Universities across the country. He has represented Team USA in Wheelchair Rugby for the past 8 years.

For more information, please reach: [email protected].