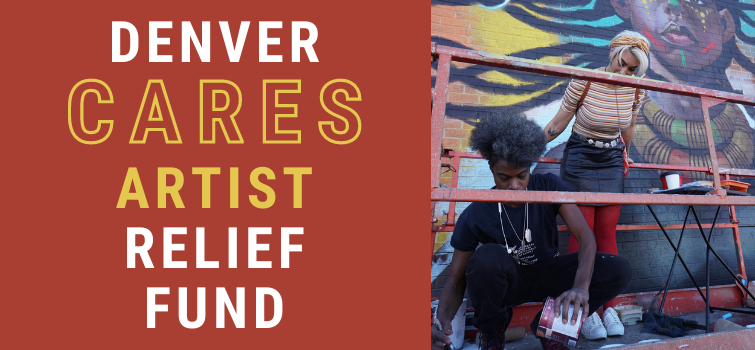 Denver CARES Artist Relief Fund
Denver Arts & Venues is directing up to $300,000 of Coronavirus Aid, Relief, and Economic Security (CARES) Act federal funding to assist independent artists residing in the City of Denver and who are suffering as a direct result of the COVID-19 pandemic.
Denver's creative industries lost an estimated 29,840 jobs and $1.4 billion in sales revenue between April and July 2020 due to the COVID-19 crisis (2020 Creative Economy Report.) Arts & Venues is committed to the well-being of artists in our community and recognizes the serious financial impact the current health pandemic is having on their livelihoods.
Awardee Responsibility
Funding MUST BE SPENT by Awardee no later than December 30, 2020
As an awardee, you are required to send Arts & Venues an easy-to-fill final spending report form (download DENVER CARES EXPENSE TRACKER below) on or before January 31, 2021 that documents that you have spent all grant monies in a manner compliant with CARES Act requirements. Should you be unable or unwilling to do so, CARES Act funds must be repaid to Arts & Venues no later than January 31, 2021.
DOWNLOAD DENVER CARES EXPENSE TRACKER
Please complete and return the spending report to Brooke Dilling at [email protected] no later than January 31, 2021.
Application Prep Worksheets - English & Spanish

Fillable W-9 Forms - English & Spanish

About the Fund


Denver's creative industries support 96,358 jobs and there are 88,217 people employed in creative occupations across multiple industries within the region. Creative industries in the Denver metropolitan region produced $16.2 billion in sales revenue in 2019. The Denver metropolitan region's creative industries lost an estimated 29,840 jobs and $1.4 billion in sales revenue between April and July 2020 due to the COVID-19 crisis. Arts & Venues is committed to the well-being of artists in our community and recognizes the serious financial impact the current health pandemic is having on artists' livelihoods.

The time for action to support this creative sector in Denver is now.

Eligible Applicants

Grants are open to all self-identifying artists working in one or multiple disciplines whose income has been severely impacted or who have experienced additional costs directly due to COVID-19 and who need immediate assistance with expenses.

Practicing artists:

Should be able to demonstrate a sustained commitment to their creative work and career
Must be able to verify their art as an income-generating activity
Must provide proof of loss of income or increased costs directly due to COVID-19
Must list intended use of funds
Must be 18 years of age or older to apply
Must be a resident in the City and County of Denver since January 1, 2020
Must retain all grant and expenditure-related documents for 5 years (if funded)

Qualified applications not selected for funding in the initial application period will be carried over to subsequent similar funding opportunities-you do not need to re-apply if not selected. However, additional information may be required for future opportunities.

Selection Review Criteria

Arts & Venues is committed to an inclusive and equitable review and selection process. The review panel consists of members of the Denver Commission on Cultural Affairs. The role of the review panel is to recommend a roster of grantees to Denver Arts & Venues, which has the final responsibility to approve all grants.

All applications will be evaluated on each of the following criteria:

Severity of loss or increased expenses, and showing an immediate need based on current financial strain directly due to COVID-19. Before applying, we ask that applicants take a moment to self-reflect and self-evaluate whether they are experiencing dire financial emergencies during this time to make space for those most urgently in need.
Whether applicant has other sources of income
Responsibility for others in the household (children, partner, spouse, etc.)
Diversity background, including applicants that have been historically marginalized and remain financially vulnerable

Equity, Diversity & Inclusion Survey

In the email notification of your application status, you will receive a survey link that will help us understand the demographics of all that applied and how COVID-19 has impacted the sector. It will also help us demonstrate the need for additional financial support. Only aggregated information will be utilized.

We urge you and thank you for participating in the survey.

2020 City of Denver Creative Economy Report