Application support for the Denver Arts & Venues Cultural Partner Activation Program
The DAV Cultural Partner Activation Program will combat the financial impacts of COVID-19 by subsidizing cultural events at DAV-operated venues. America Rescue Plan Act (ARPA) funding will be applied directly against costs typically billed back to the event or program organizer. Additionally, DAV may reduce some rent costs for these events and programs.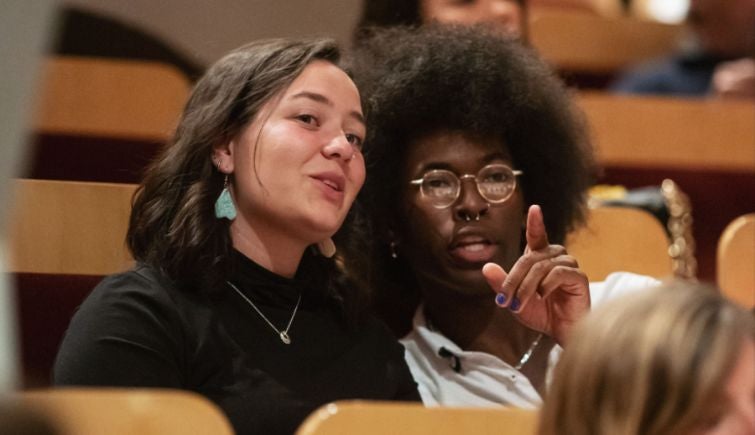 DENVER ARTS & VENUES CULTURAL PARTNER ACTIVATION PROGRAM PROPOSAL REQUIREMENTS
In 2023-2024, Denver Arts & Venues will invest $800,000 in funding. Funding of up to $75,000 is available to individuals, non-profit, and for-profit businesses for public cultural events, programs and performances presented at DAV-operated venues.
Programs must:
• Be held at a venue operated by DAV (Denver Coliseum, Red Rocks Amphitheatre, Denver Performing Arts Complex, McNichols Civic Center Building) between June 1, 2023 and December 31, 2024
• Be open to the public, free or ticketed.
• Be a performance, program or event of a cultural or artistic nature such as, but not limited to, performing arts, dance, music, theatre, literary, comedy, visual and fine arts, education, health and wellness, or film.
What do I need to prepare before I apply?
Use this checklist to ensure that you are ready to start your application.
• Applicant contact information
• Proof of IRS nonprofit status (if applicable)
• Evidence of adverse impact of COVID-19 on organization or individual – submit information from 2019, 2020, 2021 (required) and 2022 (optional) (may include IRS Form 990, profit and loss statements, published financials, audited statement or other documents as appropriate)
• Detailed event budget, including a breakdown of costs and revenues, including how this funding will be applied to your estimated costs, other outside funding such as sponsorships or grants.
• Listing of any previous funding, grant or financial support received from DAV in the past four years (including current funding)
• Certificate of Good Standing with the Colorado Secretary of State
- Search for your existing certificate here.
- File your business for the first time here.
• Completed IRS W9 Form
- Blank W9 Form
• Event or program details (including dates, location requests, description, purpose, event needs, anticipated audience, marketing plan, budget, etc.)
• Completed Anticipated Event/Program Schedule
- Blank Anticipated Event/Program Schedule
• Proof of insurance required for all events or programs
- Sample Certificate of Insurance
Please direct questions to Shanna.Shelby@denvergov.org.
Helpful information
Event Requirements

• The event must be held at a venue operated by DAV between June 1, 2023 and December 31, 2024.
- Denver Coliseum
- Red Rocks
- Denver Performing Arts Complex
- McNichols Civic Center Building
• The event must be open to the public, free or ticketed. If ticketed, AXS must be utilized as the ticketing platform.
• The event must be a performance, program or event of a cultural or artistic nature such as, but not limited to, performing arts (dance, music, theatre), literary, comedy, visual and fine arts, education, health and wellness, and film.
• The organization or individual must enter into and fulfill all requirements and conditions of a booking agreement with the City and County of Denver.
• Priority will be given to organizations with businesses physically located in the City and County of Denver or frequently producing events and programs within the City and County of Denver.
• Priority will be given to projects, programs and activities that are not already offered at DAV venues.
• Denver Arts & Venues reserves the right to contact the applicant for additional clarification regarding the application materials and event proposal.

Eligibility

• Eligible organizations or individuals must have been fully operational on or before January 1, 2020.
• Eligible organizations or individuals must have FY 2020 revenues that did not exceed $45,000,000.
• Eligible organizations or individuals must be able to show loss of income and/or increased costs directly due to COVID-19.
• The organization or individual must have experience producing live programming or events such as music, dance, theatre, comedy, film screenings, fashion, cultural advocacy, fine arts, education activities, or material of a similar nature.
• The organization or individual cannot be suspended, debarred or prohibited from doing business with the US government.

Ineligible Events

The following event types are ineligible for assistance:
• Graduations
• Private events
• Government or governmental operations
• Fundraising events or galas
• Events of a political nature, e.g. political rallies, political fundraisers, events promoting a specific candidate or endorsing a specific bill
• Any show or event meant to promote substances, use of substances, or activities considered illegal under Federal Law including, but not limited to, marijuana/cannabis and psilocybin.

Review Process and Criteria

All requests for DAV Cultural Partner Activation Program funding will be reviewed and evaluated by a committee based on the following criteria:
• The program or event complements and enhances Denver's cultural programming.
• The program or event supports Denver Arts & Venues' mission to enrich and advance Denver's quality of life and economic vitality through the advancement of arts, cultural, and entertainment opportunities for all.
• The program or event is of an artistic or cultural nature.
• DAV venues are available for the proposed date(s).
• A clear budget is provided, including sources and uses of funds (cash and in-kind) along with what funding is being requested.
• Expected audience and attendance (including numbers and demographics) are provided.
• There is a potential for financial return to DAV such as food and beverage sales, parking fees, etc.
• The event fits into DAV's balance of venue utilization and resources across the agency's portfolio.
• The event or program enhances the balance of artistic disciplines presented by DAV or at DAV venues.
• The event or program fills a programming or cultural gap at DAV venues and/or within the community.
• A clear outreach plan to market the program or event is provided.
• The organization or individual has a proven track record of producing or presenting events or programs and examples of past event successes are provided.
• The program reaches a historically underrepresented community such as Women, Youth, LGBTIAQ2S+ community, Hispanic or Latino/x/e community, American Indian/Alaska Native community, Asian community, Black or African American community, Native Hawaiian or Other Pacific Islander community, People with Disabilities, Aging population, Immigrant and Refugee community or Other historically under-served group by advancing positive change and addressing social inequities.
• The program or event identifies an opportunity or addresses a specific need through inclusive and culturally relevant programming.
• How the organization has been or is being funded through other DAV grants and programs
• Statement or demonstration of adverse impact due to COVID-19 pandemic. Possibilities include:
- Written statement of need
- Financial evidence

Ticketing, Insurance, Business Information and Taxes

• The event must be open to the public, free or ticketed. If ticketed, AXS must be utilized as the ticketing platform.
• Denver imposes a ten percent (10%) facilities development admissions (FDA) tax upon the purchase price of each admission to any entertainment, amusement, or athletic event or other production or assembly staged, produced, convened or held in or on any City-owned property. This tax is commonly referred to as the "seat tax." Learn more. An FDA exemption form can be submitted for review.
• The individual or organization must procure a certificate of insurance prior to the event or program.
• Businesses and organization applicants must have a current Certificate of Good Standing with the Secretary of State.

Types of arts and cultural programming

Arts and cultural programming may include (but is not exclusive to):  
• Music
• Visual Arts
• Dance
• Film
• Class/Workshop
• Design
• Theatre
• Exhibitions
• Seminar/Lecture
• Educational Activities
• Health and Wellness
• Fashion

Eligible Expenses through ARPA funds

Eligible expenses through ARPA funds include, but are not necessarily limited to, COVID-19 safety protocols, security, ushering, box office expenses, janitorial services, third party equipment rentals procured by DAV, and similar costs normally billed back to clients as a production expense.

Beneficiaries will be considered beneficiaries under the final U.S. Treasury Rule section "Distinguishing Subrecipients versus Beneficiaries" (Final Rule, page 208, section C (DISTINGUISHING SUBRECIPIENTS VERSUS BENEFICIARIES) and Coronavirus State and Local Fiscal Recovery Funds Final Rule (Frequently Asked Questions, question 1.8).

Ineligible Expenses

Ineligible expenses include house equipment rentals and safety personnel (police and fire.) The total amount of assistance made available to an individual or organization will not exceed $75,000 for the period from June 1, 2023 – December 31, 2024. Rent expenses are ineligible for cost reduction via ARPA funding. However, DAV may reduce rent through other means. Please see "Eligible Expenses" section for a list of eligible expenses.

Award in Excess of Eligible Expenses

If the amount of assistance awarded exceeds the total amount of costs typically billed back to the tenant, DAV will retain the excess award for future program purposes. The beneficiary shall under no circumstances be eligible to receive a cash distribution for an unapplied balance.

Multiple Applications and Shows

Entities that hold multiple performances at venues operated by DAV may submit multiple applications for assistance if necessary. Total assistance will be limited to a maximum of $75,000 per entity through December 31, 2024, and may be applied across multiple productions.

Currently Booked Events

Entities that have booked events falling within the active grant window may apply for assistance and amend any booking agreement with DAV (if necessary). DAV will prioritize funding to new programs or partners.

Notification

The applicant will be notified of award status in a reasonable and timely manner as determined by DAV.

Reporting

Beneficiaries will be obligated to provide reporting information that may include, but is not limited to event dates, total ticket sales and total attendance per show. See final report form.

Reserved Rights

• DAV reserves the right to decline submissions and all decisions are final.
• DAV reserves the right to prioritize first time applicants ahead of making secondary awards to groups which have already received funding.
• DAV reserves the right to adjust the award amount to cover only estimated eligible expenses for each beneficiary. Any excess amounts shall be returned to the fund and made available to other beneficiaries.
• DAV reserves the right to revise awards through special administrative review.
• Neither the City and County of Denver nor DAV will be bound to payment by any contractual change or amendment between beneficiaries and another third party that results in increased expenses to DAV.
• DAV reserves the right to bill back eligible expenses to tenants that are in excess of and exceed projected likely award amounts.

Useful links and information