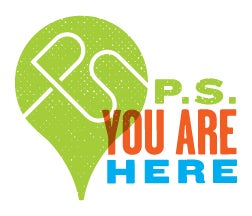 PD Tu Estas Aquí: Guias - en español
Be sure to also visit our Toolkit page for additional support for how to apply, including a video from our Oct. 28 P.S. You Are Here Application Workshop.
PROJECT CRITERIA & OVERVIEW
ELIGIBLE EXPENSES
P.S. You Are Here funding may be used to cover expenses directly related to the project, such as:
Planning & Personnel
Project management, volunteer coordinator, community organizer
Professional Services
Permits (parks, construction, etc.)
Professional consultants (designer, engineer, artist, etc.)
Insurance (see Insurance & Liability Coverage below)
Material, Supplies & Maintenance
Art supplies (paint, printing, etc.)
Building materials
Equipment rental (audio/visual, tents, tables, etc.)
Landscaping (soil, shrubs, plants, mulch, rocks, logs, etc.)
Installation / De-installation
Maintenance needs
INELIGIBLE PROJECTS & EXPENSES
Project funds may not be used for:
Projects on private property (unless combined with public spaces project)
Projects that have restricted participation and public access on the basis of race, gender, creed, origin, age, disability
Neighborhood entrance signage or wayfinding
Purchase of facilities
Maintenance, operation or retroactive funding of existing projects
Activities that are not tied directly to program objectives
Re-granting
Fundraising activities
General operating expenses and activities
Festivals or general events
Surveys or studies
Financial awards
Cash reserves and endowments
Alcohol
SELECTION REVIEW CRITERIA
Submissions will be reviewed by designated representatives of the City and County of Denver including Arts & Venues, Department of Transportation and Infrastructure, Denver Economic Development & Opportunity, and Parks & Recreation. This group will work with and offer guidance to all grantee partners in how to navigate City processes throughout the implementation of the selected projects. The following factors and criteria will be used to evaluate proposals:
• Neighborhood Participation & Community Partnerships (25 Points): Clearly define how the project will enhance the neighborhood. Demonstrate community support and collaboration, and how the project will create strong partnerships in the neighborhood.
• Creativity, Artistic Scope & Cultural Merit (25 Points): Proposals should be innovative, well-defined, goal-oriented, original and visually compelling, and draw on community resources and talent.
• Planning, Feasibility & Maintenance (25 Points): Proposals should demonstrate how feasible the project is in terms of timeline, budget and available resources. Explain how the project will be safely installed, maintained and removed.
• Community Benefit & Social Impact (25 Points): Proposals should demonstrate how the project represents and boasts community identity, heritage, engagement and sense of place.
PROJECT IMPLEMENTATION
The Arts & Venues team will work with grant partners through the multiple phases of the project, including providing guidance on City processes related to permitting, construction, etc. The team will also provide marketing and promotional support to elevate the grant partners' efforts and will collect project-related photographs, video, text and press to document the project.
APPLICATION CHECKLIST
Proposals for the P.S. You Are Here grant should include:
• Project Budget
• Up to two images, examples or sketches of your proposed project
• If not a place-based applicant, a minimum of one letter of endorsement (formal letter or email) from area council person, registered neighborhood association, business association or other place-based community organization as listed on the guidelines
• OPTIONAL: We encourage anyone who would like to include a 2-minute video about themselves and their program/project, goals and impact, to do so in the uploads section of the application. This is an optional opportunity for you share more about yourself and your project. Videos are not required for this application.
GRANTING STAFF & REVIEW COMMITTEE
The grant program is administered by Denver Arts & Venues with the support of a review and selection committee consisting of representatives from Denver Arts & Venues, City Attorney's Office, Community Planning and Development, the Department of Finance, Denver Economic Development & Opportunity, Parks & Recreation, and Department of Transportation and Infrastructure.
CONTACT
Brendan Picker, Denver Arts & Venues
brendan.picker@denvergov.org
720-865-5563
CONTRACTING & PAYMENTS
All projects require a funding agreement between the grantee and the City & County of Denver.
POTENTIAL INSURANCE & LIABILITY COVERAGE REQUIREMENTS
The following insurance MAY be required, depending on the scope of work. Our team will help you navigate this process:
Workers' Compensation - State mandated coverage for employees injured on the job. Colorado Workers' Compensation law requires any business with one or more employees to carry this type of insurance. Sole Proprietors (those with no employees) are not required to carry Workers' Compensation. It is important to notify the City if this rule applies to you.
Business Auto Liability - Coverage for liability (negligence) claims by a third party related to the operation of an automobile. Auto insurance is required of all contractors who will be operating a vehicle as part of their contractual duties for the City. The standard limit required $1,000,000. Contractors who use their personal vehicles can substitute their personal auto insurance for the business auto requirement. It is important to notify the City if this rule applies to you.
General Liability - Coverage for liability (negligence) claims by a third party related to bodily injury (injury to another person) or property damage (damage to another person's property). Limits will vary depending on the scope of work. Minimum limit is generally $1,000,000.
Professional Liability - Coverage for claims related to a "professional's" error in judgment, planning or design. Examples of work requiring professional liability are architectural designs and engineering studies. NOTE: if a third party is hired to do such work, that third party is allowed to carry the insurance.
In order to determine what type of insurance is required, final grantees will need to provide details on:
• What is the work? (medium, materials, weight, size)
• How many people are part of the process from inception to completion?
• Are these people employees or all sole proprietors?
• Is specialized/certified knowledge required of the project such as engineering studies or architectural rendering?
• How will it be installed; where will it be installed; who will be installing it?
• Will the public have access to the space during the installation?
• What, if any, special equipment is necessary to install and who will be handling the equipment?
IMPORTANT! Your contract with the City includes indemnification. You are responsible for any claims that arise out of your work with the City. Even if insurance is waived, it is in your best interest to determine any exposures and potentially purchase insurance to cover that exposure.
ACCESSIBILITY
Applicants should consider how their programs and services are accessible to individuals with disabilities. This includes access accommodations for both the project and programs. These design standards shall be based on the Americans with Disability Act (ADA) and can be found at ada.gov. Assistance can also be found by contacting the Denver Office of Disability Rights: 720-913-8485.