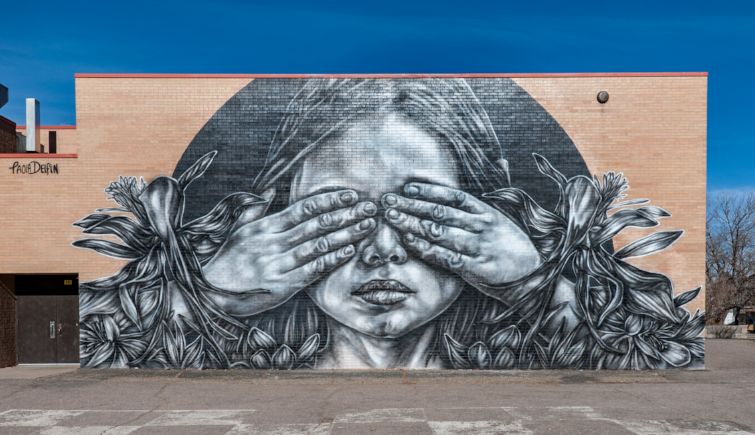 - Mural by Paola Delfin
2018 APPLICATION PROCESS OPENS ON MONDAY, FEBRUARY 19, 2018!
Call for Applications: February 19 – March 19, 2018
Application Submission Deadline: 5 p.m. on March 19, 2018
Award Notification: April 2018
UAF Funding Range: $1,000-8,000
EL PROCESO DE SOLICITUDES 2018 SE ABRE EL LUNES 19 DE FEBRERO DE 2018!
Fechas de envío de solicitudes: Del 19 de febrero al 19 de marzo de 2018
Fecha límite de envío de solicitudes: 5 p.m. del 19 de marzo de 2018
Notificación de adjudicación: Abril de 2018
Los fondos UAF varían de $1000 a $8000
Denver's Urban Arts Fund is calling for any artist or team of artists demonstrating the ability to execute a successful mural project. We encourage emerging artists, and artists representing marginalized communities including people of color, people with disabilities, and people identifying as LGBTQ+, to apply.
Preference will be given to:
- Projects with a well-planned youth development and community engagement component
- First time applicants (artists and organizations who have not received funding in previous years)
- Projects in neighborhoods and districts which do not currently have UAF mural projects or have few mural projects. Please refer to Map of Urban Art Projects.
APPLICATION INSTRUCTIONS
Please read carefully. Incomplete applications will not be accepted.
- Fill out the online application.
- Application requires an uploaded concept sketch or rendering of your designed mural to include location, requested budget and timeline.
- Application requires an uploaded Budget Worksheet. You can refer to the Sample Budget Worksheet as a guide.
- Applicants will be required to upload four (4) images of past works that include: location, dimension of mural and commissioned amount. If you wish, you can also include a website or social media link that shows past and current projects.
- If you wish, you may also include a website or social media link that shows past and current projects.
- Complete the Denver Arts & Venues Grant Application Questionnaire
- Colorado Artists: Your application will require a photo of designated site that clearly shows evidence of a "graffiti hot spot" wall.
- Out of State Applicants: Please indicate on your application that you will need assistance in identifying a wall for your mural.
- For Murals on Private Property: Application requires a signed copy of the Property Owner Approval Letter
Projects on Private Property
Projects on private property will require permission from the property owner. You may use the Property Owner Approval Letter as an introduction to the property owner. This letter describes the UAF Program, its benefits and the responsibilities of the City and Property Owner.
Projects in Public Spaces
For projects in public spaces (example: in a city park), once approved, Arts & Venues will work with City Council representatives to garner their support of the project in their district.
APPLICATION GUIDELINES
- All projects are selected by the UAF Steering Committee
- Award notification: April 2018
- Application review can take 2-4 weeks, and if approved, the City may require an additional 4-6 weeks to conduct background checks on participants, draft contract agreements and process invoices. Please make allowances for this review and processing period when planning your project.
- Applications may be recommended for funding at a level lower than requested.
- The UAF Steering Committee may give conditional approval for some projects pending additional information. Applicants receiving conditional approval may be required to engage surrounding community in an input and public comment phase before approval is finalized.
- UAF awardees will be required to document their project through photographs and/or video, and interviews with participants. Awardees may also be required to present their project in person at a public event celebrating the year's projects.
URBAN ART FUND POLICY
POLÍTICAS PÚBLICAS DE UAF (en inglés)
For any questions, please contact Mary Valdez at [email protected] or 720-865-5564.
---
DENVER URBAN ARTS FUND EXPANDS TO INCLUDE DIVERSITY, EQUITY AND INCLUSIVENESS INITIATIVES
Denver's Urban Arts Fund (UAF) was initiated as a graffiti prevention program. In 2017, the UAF was expanded to develop programming partnerships that focus on community building and social change, addressing diversity, equity, and inclusiveness values.
El Fondo de Arte Urbano de Denver (UAF) comenzó como un programa de prevención de grafiti. En 2017, UAF se expandió para incorporar programas de cooperación enfocados en desarrollo comunitario y en cambio social, basados en los valores de diversidad, equidad e inclusividad.
UAF AND DENVER HEALTH OUTPATIENT BEHAVIORAL HEALTH SERVICES PARTNERSHIP
UAF AND RE-IMAGINING ARTS WORLDWIDE (RAW) PARTNERSHIP