2015 Grant Recipients
Denver Arts & Venues is pleased to announce that in its second year, PSYAH provided $66,000 in funding to the following 2015 grantees:
ART STUDENTS LEAGUE OF DENVER
Art Students League of Denver provides an inclusive art community where professional artists guide individuals of all abilities to reach their highest potential. ASLD's core values include community, inclusiveness, learning and artistic self-expression.​
Project: Turn It Around by artist Deborah Jang
Neighborhood: This project encompasses three neighborhoods including: La Alma/Lincoln Park, Morrison Road and Five Points.
Sites: TBA
Grant: $5,000
Description: At three sites around Denver, artist Deborah Jang will install kinetic sculptures inspired by Tibetan prayer wheels. Traditionally, prayer wheels are artful cylindrical containers mounted on spindles, placed in public spaces, and rotated by passers-by to propagate compassion and well-being via repeated mantras written inside and outside the wheel. For this project, instead of mantras, contents come from community members -- their written and visual aspirations for a better world, specifically to promote attitudes and practices furthering racial equity and social justice. Each unique wheel is a repository for these expressions, honoring best intentions for community positivity, inviting passers-by to help "turn it around."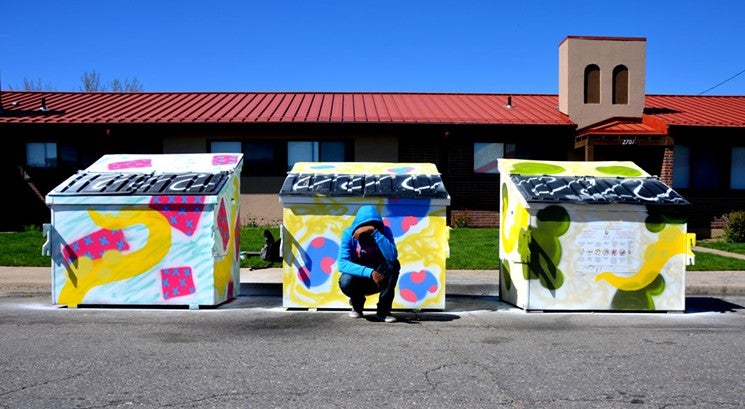 BIRDSEED COLLECTIVE
Birdseed Collective is made up of artists of all mediums: screen printing, music, painting and writing. Birdseed supports the ideas of locals first but sees a greater community involved with the process of creative outlets. Birdseed's goals include sharing their talents with others, creating new ideas and platforms for artists to collaborate with and within, expanding efforts into positive community programs and projects serving the Denver community and serving the Denver metro community with civic projects which include basic human needs, community information and art programs.
Project: Sun Valley Dumpster Beautification Project​
Neighborhood: Sun Valley
Site: Sun Valley housing project area – 9th to 12th avenues along Bryant, Clay and Decatur streets
Grant: $9,000
Description: Birdseed enlisted more than 20 artists to design and hand-paint unique creative artwork on 53 solid waste dumpsters in the Sun Valley housing area and collaborated with the neighborhood association and center to make this part of their "spring cleanup" beautification project. Community participants were encourage to make these pieces of art their own. These newly beautified dumpsters are situated on the local streets and can be seen from the streets and homes of the neighborhood.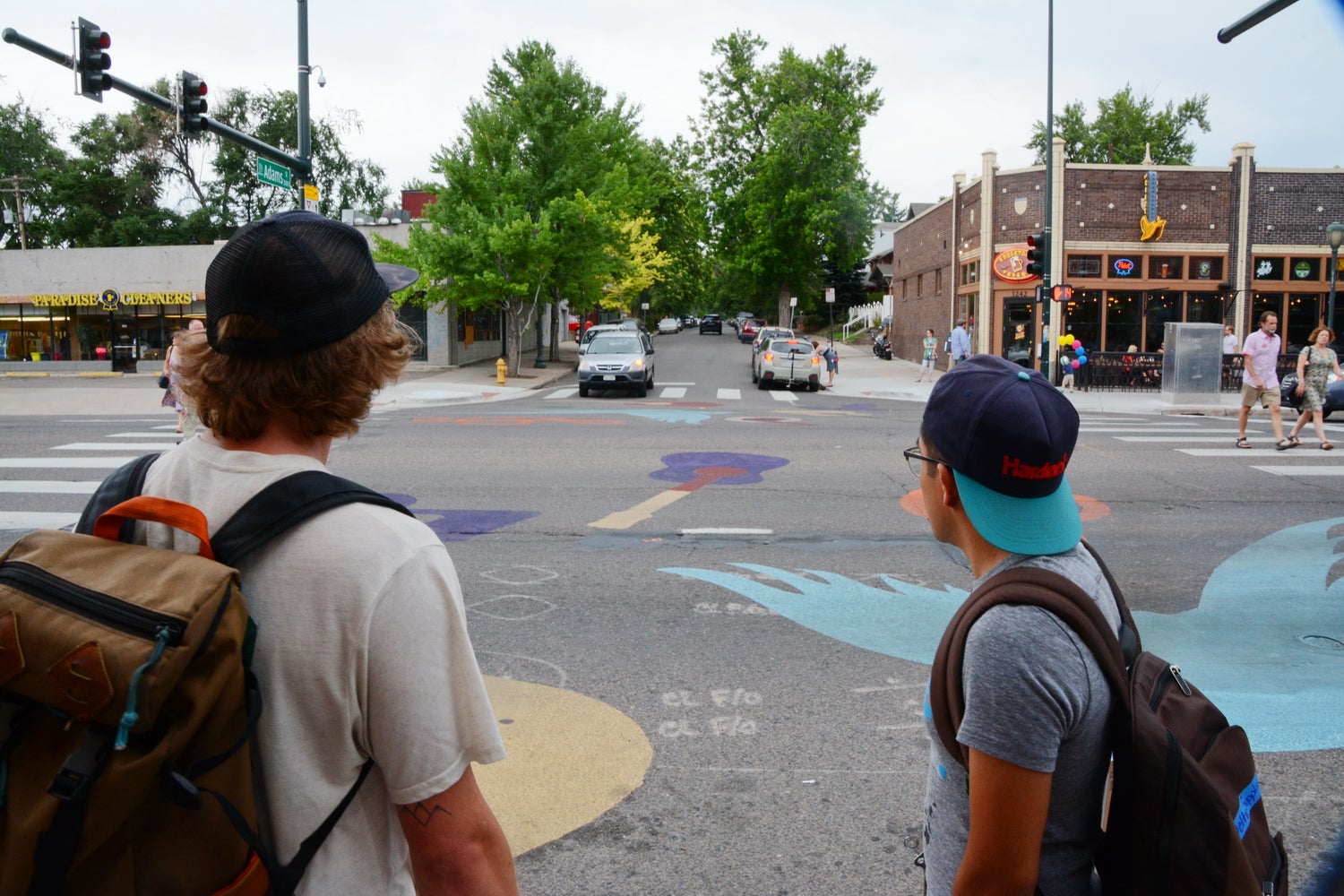 BLUEBIRD, COLFAX AND WEST COLFAX BUSINESS IMPROVEMENT DISTRICTS
Collaboration between the Bluebird, Colfax and West Colfax Business Improvement Districts (BIDs) unites neighborhoods on one of Denver's main thoroughfares around a shared interest to use art as a tool to address area safety as Colfax Avenue transitions back to a more walkable and bikeable destination. The BIDs share missions to enhance district appearance and attractiveness, provide a safe and clean shopping environment, attract new business owners and retain existing businesses, and promote the districts through marketing. Artistically highlighting the feel of the Colfax districts showcases area characteristics with the additional goal of highlighting multimodal users at street intersections.
Project: Iconic Colfax: Where People Meet the Street
Neighborhood: Multiple neighborhoods along the Colfax Avenue corridor
Sites: Bluebird BID (Adams and Steele streets), Colfax BID (Race and Williams streets), West Colfax BID (Raleigh and Perry streets)
Grant: $10,000
Description: Artistic crosswalks highlighting the unique characteristics of each district with creative and colorful installed at east to west crossings along Colfax Avenue. Crosswalks will draw attention to complex interactions between pedestrians, cyclists and vehicles happening along Denver's mobility spine. Each BID will gather video and survey data on how pedestrians, cyclists and motorists navigate intersections, both before and after crosswalks are installed. The project goal is to learn how travelers communicate, behave and perceive Colfax intersections, how they interpret being "here" based on their mode of transportation as well as other factors. Crosswalk designs were based on community input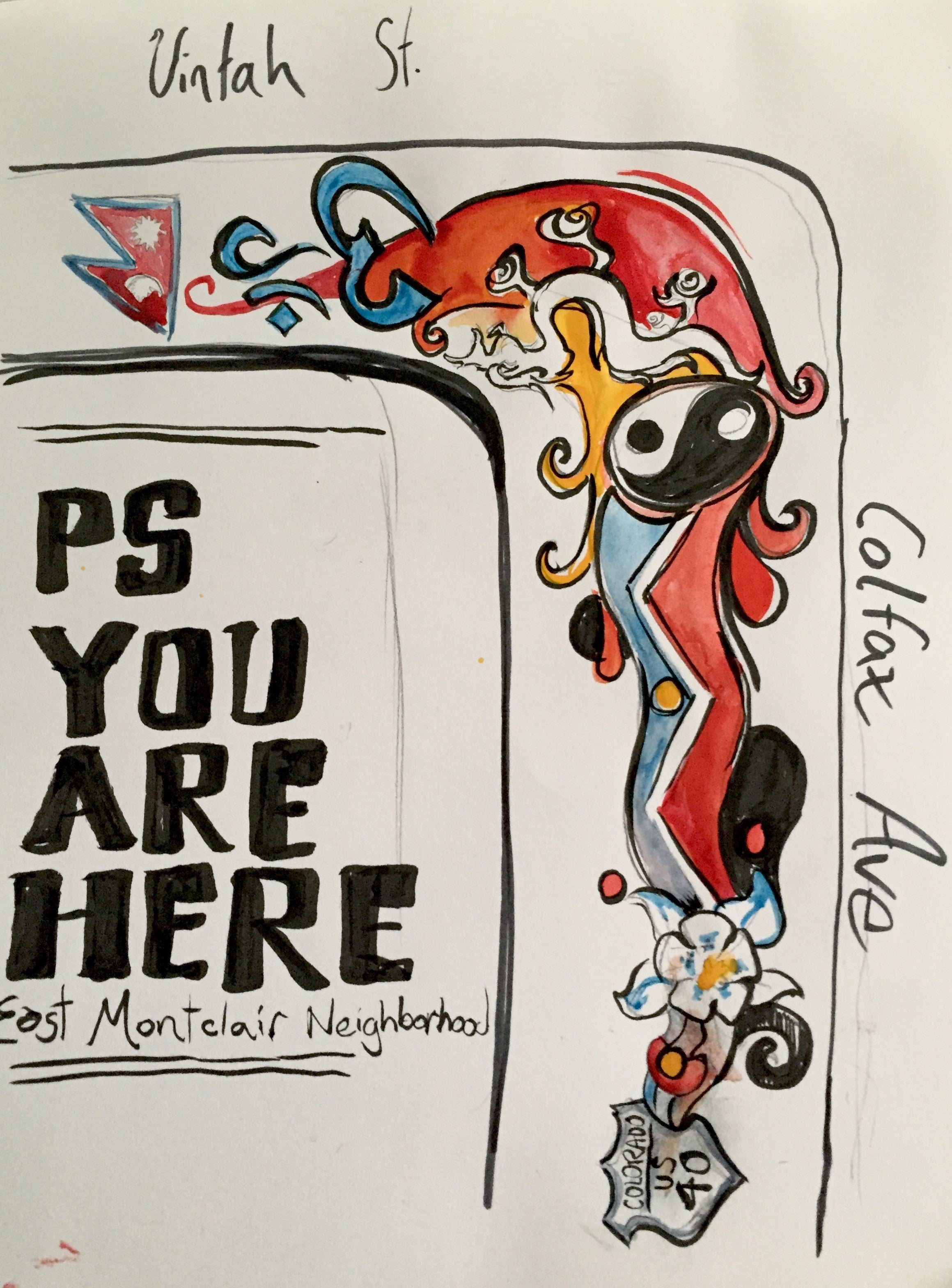 EAST MONTCLAIR NEIGHBORHOOD ASSOCIATION
East Montclair Neighborhood Association monitors and advocates community positions on land use, zoning, infrastructure, public safety, housing and beautification efforts. The East Montclair Neighborhood Association provides residents, business and property owners: a forum to find out what is happening in the neighborhood, a means to make the East Montclair neighborhood a cleaner and safer place, a mechanism to connect with city government and other agencies, a gateway to connect with neighbors, an opportunity to help protect property values and a way to make the neighborhood a more interesting and fun place to live.
Project: Colfax - Connecting The Community Through Art
Neighborhood: East Montclair
Site: 7400 block of East Colfax Avenue
Grant: $2,000
Description: Develop and install a public sidewalk art installation at East Colfax and Uinta Street. The sidewalk project will be placed on the south side of East Colfax in front of the businesses located on the 7400 block of Colfax at Quince Street. By creating an artistic design, the businesses will be activated and made more visible, safe and prominent. The art design will reflect the cultural diversity of the neighborhood and will be completed by community members.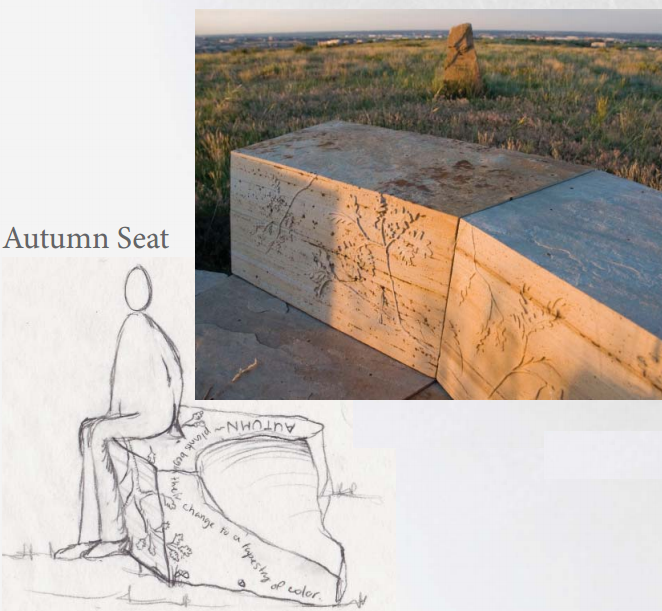 ENVIRONMENTAL LEARNING FOR KIDS
Environmental Learning for Kids (ELK), in its 19th year, is an inclusive non-profit organization that develops inspired and responsible leaders through science education, outdoor experiences and career exploration for underserved, urban youth ages 5-25. ELK's mission is to cultivate a passion for science, leadership and service in a diverse community of learners. ELK envisions a world in which all people are caretakers of themselves, each other and the natural world.
Project: Discovery Nodes at the Montbello Open Space
Neighborhood: Montbello
Sites: Montbello Open Space and Park (opening 2017)
Grant: $7,500
Description: The Discovery Nodes project proposes to integrate artfully crafted discovery and learning elements into the natural features of a native shortgrass prairie landscape to be developed by Environmental Learning for Kids, in partnership with The Trust for Public Land and Denver Parks and Recreation. Discovery nodes will include boulders, logs, stumps, gardens and other interactive features, sculpted and carved to spark curiosity, imagination, learning and reflection for youth, families and the community. The reclaimed open space will provide a respite from the highly developed urban surroundings and offers benefits to the community's health, education, recreation and quality of life.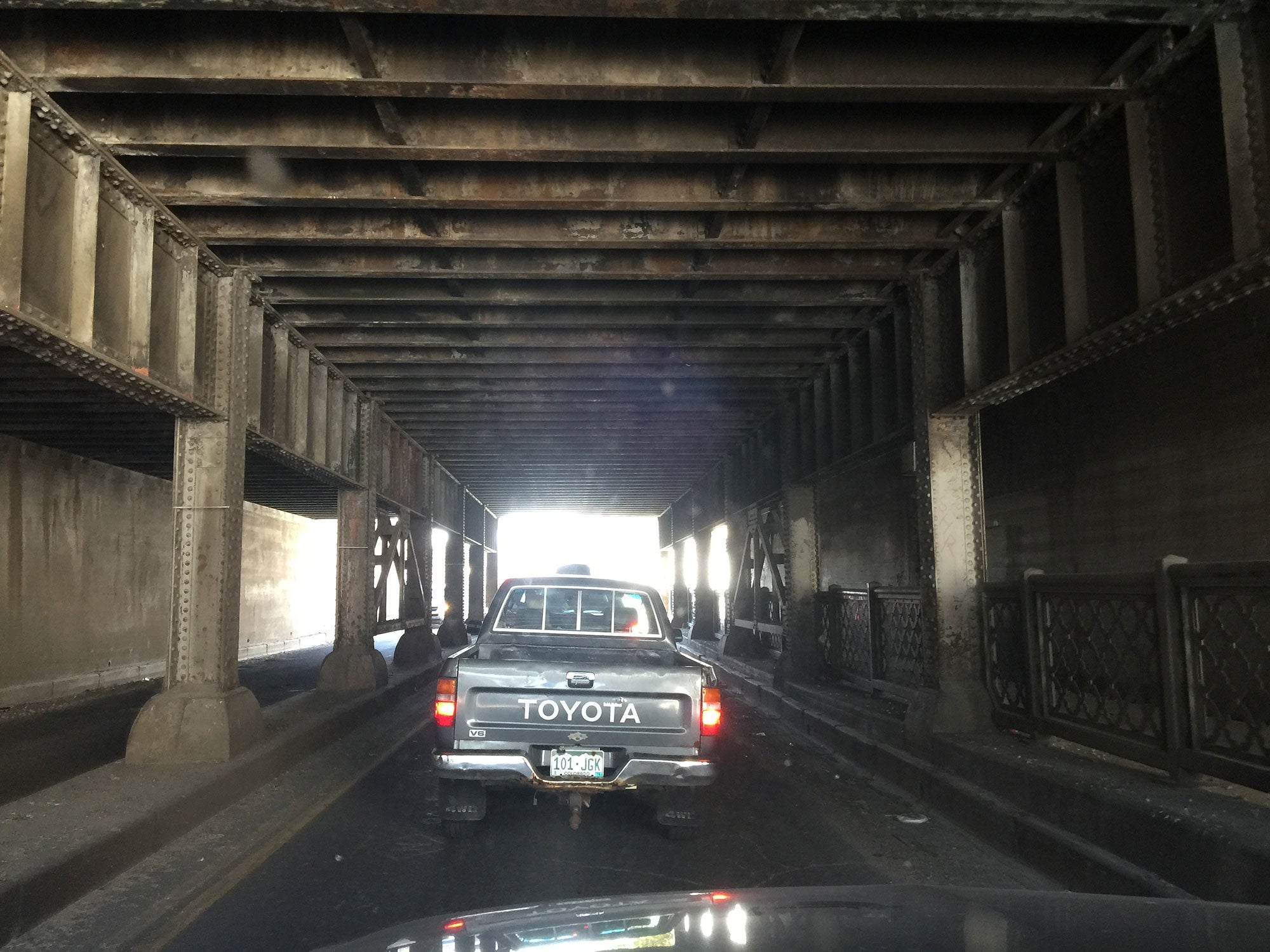 RIVER NORTH ART DISTRICT
The River North Art District (RiNo) is a state-certified creative district. RiNo is 'where art is made' and home to active studios, galleries and creative spaces featuring disciplines ranging from traditional to modern. RiNo celebrates creativity and innovation, with emerging and established artists creating art, architecture and design in a district brought to life through the repurposing of a former industrial hub.
Project: 38th Street Underpass Creative Lighting Intervention
Neighborhood: River North Art District
Site: 38th Street Underpass at Brighton Boulevard
Grant: $10,000
Description: RiNo, though cohesively entrepreneurial and innovative, is geographically divided by railroad tracks. Currently, the two sides of RiNo rely on only two connectors: Broadway and the 38th Street underpass. The underpass – though used by cars, bicyclists, and pedestrians – is dangerous: it is unlit and suffers from a lack of maintenance. Bicycle accidents have become commonplace; pedestrians hesitate to make the perceived dangerous trek. This project proposes a creative lighting solution to make the underpass safe for all users, while enhancing the connectivity of the neighborhood and adding an artistic element to a drab, hazardous thoroughfare.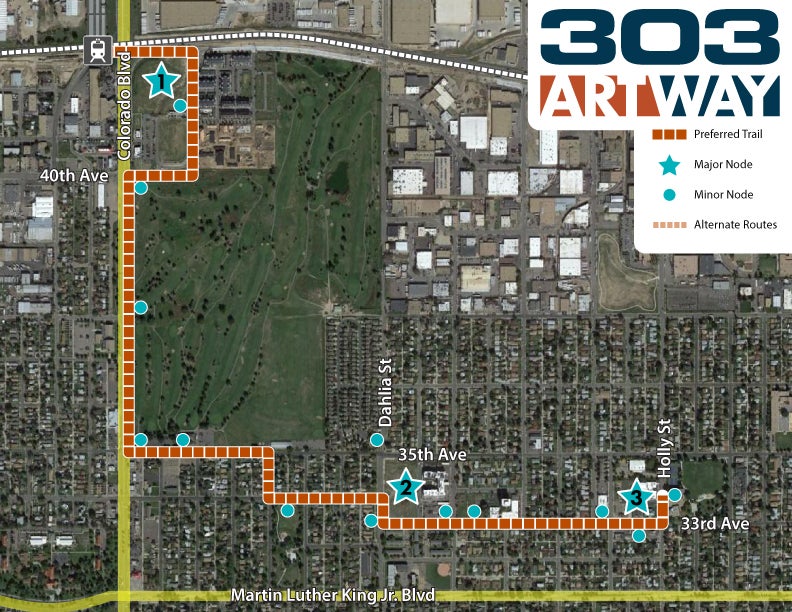 URBAN LAND CONSERVANCY
Urban Land Conservancy (ULC) acquires, develops, and preserves community real estate assets in urban areas for a variety of community needs such as schools, affordable housing, community centers and office space for nonprofits. The ULC is a nonprofit organization that invests in real estate for the long-term benefit of Colorado communities. ULC preserves land and buildings in urban areas to enrich neighborhoods and preserve community assets for future generations. ULC forms long-term partnerships with nonprofit, for-profit, and governmental organizations and collaborating on land banking and community-inspired development strategies.
Project: 303 ArtWay - 40th Street and Colorado Boulevard Station Gateway
Neighborhood: North East Park Hill
Site: 40th Street and Colorado Boulevard Light Rail StationGrant: $10,000
Description: A unique and culturally relevant public art installation on land at 4050 E. Smith Rd. under the Colorado Boulevard overpass at its intersection with the former location of Smith Road. A highly visible area from the A Line East commuter light rail trains beginning in 2016. The installation will mark the new gateway to Northeast Park Hill as part of the ArtPlace America funded 303 ArtWay with art and cultural events along a new 1.6 mile public promenade, celebrating Denver's only remaining predominantly African American neighborhood.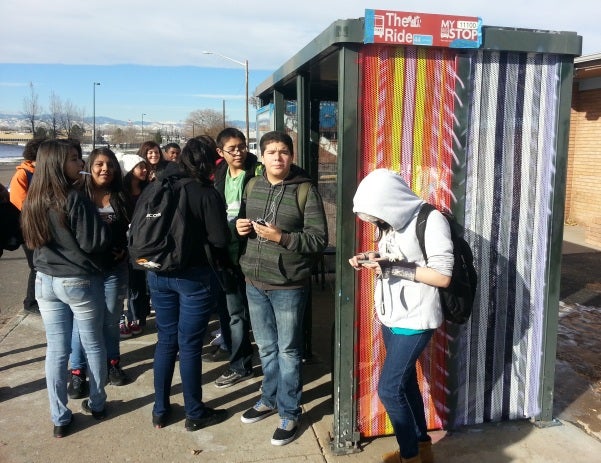 URBAN VENTURES/ BIRDSEED COLLECTIVE
Urban Ventures, LLC is a Denver-based real estate development company that focuses its efforts on creating strong communities in or near the urban core. Urban Ventures has developed a variety of projects that feature adaptive reuse, affordable housing, student housing, modular housing and unique mixed-use buildings. Urban Ventures will be partnering with Birdseed Collective, a group of Denver local artists of all mediums, screen-printing, music, art, painting and community work on this project. Birdseed has a proven track record of leading community-based art initiatives.
Project: Art in Motion
Neighborhood: Chaffee Park and Regis neighborhoods
Site: Bus Stop
Locations: Federal Boulevard south of 52nd Avenue, Federal Boulevard north of 50th Avenue, 50th Avenue west of Federal Boulevard
Grant: $7,500
Description: The purpose of the project is to support place-making activities in the Chaffee Park/Regis neighborhood, and to encourage residents within a mile of the project area to use transit. The project supports the Sustainable Neighborhoods pilot program, Cultivate Health program and Denver Moves. The scope of work consists of the procurement and installation of four trash receptacles and one bus shelter; painting six trash receptacles, three bus shelters, and other bus stop furnishings at six bus stops; maintenance of artwork; and the creation of a bus stop adoption program supported by local businesses and residents.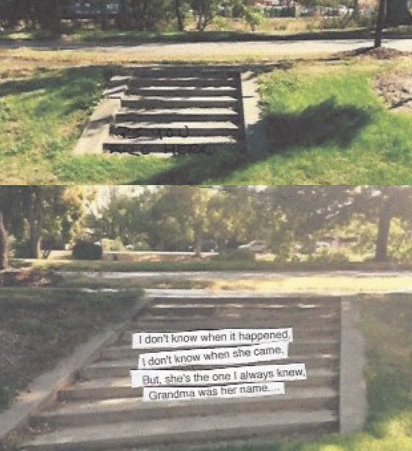 VSA COLORADO / ACCESS GALLERY
VSA Colorado/Access Gallery is an organization dedicated to increasing access to the arts for people with disabilities. We operate a gallery at 9th Avenue and Santa Fe Drive whose mission is to increase economic opportunity for young people with disabilities. Through ongoing community-based education programs VSA creates, mounts and sells most of the work in the gallery and returns the funds to the artists with disabilities who created the work. VSA has been in business for 35 years and at their current location in the heart of the Art District on Santa Fe for 10 years.
Project: Poetry in the Park
Neighborhood: Lincoln Park/Art District on Santa Fe
Site: Sunken Gardens Park
Grant: $5,000
Description: VSA Colorado/Access Gallery has a long history of working with underserved youth in Denver. This project is designed to give voice to youth with and without disabilities in the form of poetry. VSA will host 3-5 workshops with groups of students from Greenlee Elementary, West High School and VSA. Poetry will be combined with visual arts and displayed on the steps of Sunken Gardens park using removable vinyl labels. The students will work with professional artists to develop the poems that are displayed.