Creative Space Resources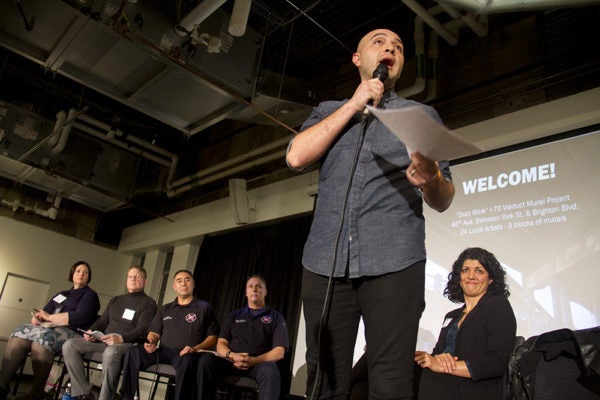 Denver Arts & Venues (A&V), along with Denver Fire Department (DFD) and Community Planning and Development (CPD), are committed to exploring short- and long-term opportunities for safe, creative spaces that support creative production, artistic growth, and better protect these critical contributors to our city. We value the creative community and will continue to provide a space for collaborative problem solving.
General Resources
Here are some quick links to find information about the city's fire safety, building codes and zoning requirements.
Denver's Safe Occupancy Program
Denver Community Planning and Development (CPD) and the Denver Fire Department (DFD) launched a new, conditional building occupancy program for unpermitted spaces that will ensure life safety, limit displacement, and allow extended deadlines and collaborative solutions to achieve code compliance. The Safe Occupancy Program was designed with creative spaces in mind but is applicable to many other uses of existing buildings.
The program would make Denver the first city in the country with a law explicitly granting legal occupancy of unpermitted spaces while a building is being brought up to code voluntarily. While first and foremost ensuring public safety, the program offers three key benefits to users:
• Allows people to remain in place
• Offers an extended deadline for compliance
• Encourages collaboration for creative and potentially cheaper solutions
To learn more visit denvergov.org/safeoccupancy
We need volunteers! As a complement to Denver's Safe Occupancy Program, Denver Arts & Venues is looking for additional skilled architects, engineers, or contractors to volunteer their expertise toward preserving the city's creative spaces. We hope to connect the tenants of these spaces with individuals (or firms) who are willing to offer pro bono consultations or discounted rates, and who have a working knowledge of the International Existing Building Code (IEBC).
Please contact [email protected].
Partnerships
Meow Wolf - This year A&V provided Meow Wolf $20,000 towards their $100,000 national DIYfunding program to specifically assist the more immediate compliance and safety needs of the City of Denver's DIY and alternative spaces. In April, Meow Wolf announced that $54,000 in funding would go to 19 Denver DIY and alternative spaces. Read The Denver Post article for more.
Artspace Housing - In partnership with A&V, Artspace conducted a feasibility study on the need for affordable space for the creative sector in Denver. The study surveyed more than 1,000 individuals who identified a growing need for affordable work and/or living space. Those individuals specifically pinpointed the RiNo neighborhoods as an area that needs improvement. Artspace is advancing a mixed-use project on a site at approximately 41st Street and Brighton Boulevard to be open 2019.
Read more about the Artspace, Denver project.
Connect
DIY Arts & Music Community - amplifyartsdenver.org
City Building Codes & Zoning - Community Planning & Development
Pro Bono Support for Creatives - Colorado Attorneys for the Arts
Assistance Programs - Denver Health Services
Event Liquor Licenses - Department of Excise & Licenses
Film and Event Permits - Office of Special Events
Art & Cultural Districts:
Please feel free to leave any questions/comments below or you can contact Lisa Gedgaudas directly at 720-865-5560 or [email protected]envergov.org.