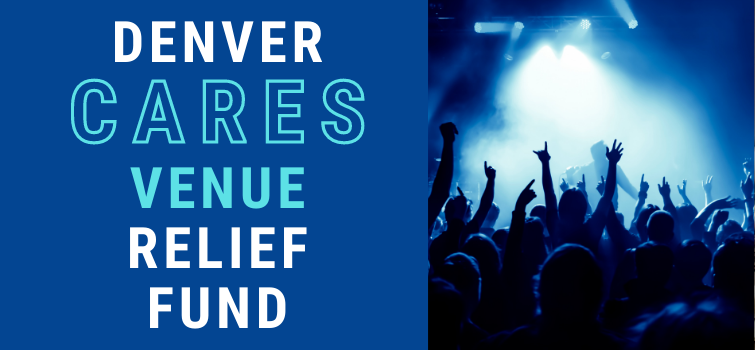 Denver CARES Venue Relief Fund
Denver Arts & Venues is directing up to $700,000 of Coronavirus Aid, Relief, and Economic Security (CARES) Act federal funding to assist operators of independent music and performing arts venues located in the City & County of Denver who are suffering as a direct result of the COVID-19 pandemic.
Between April and July 2020, Denver's music industry lost an estimated 4,525 jobs and $213.7 million in sales revenue. The COVID-19 pandemic is an imminent threat to the viability of Denver's community venues as they were some of the first businesses to close and will be among the last to safely re-open at normal capacity. Arts & Venues is committed to supporting the independent venue ecosystem that provides space for Denver's music, performing arts and communities to thrive.
2020 Denver CARES Venue Relief Fund Recipients
Tennyson's Tap
Su Teatro Cultural and Performing Arts Center
Heal Denver
El Merendero
The Bug Theatre
X Bar/Glow Lounge
Denver Turnverein Dance Center
Rhinoceropolis
Ophelia's Electric Soapbox
Buntport Theater
Daniels Hall, Swallow Hill Music
Robert and Judi Newman Center for the Performing Arts
Aztlan Theatre
Sie FilmCenter
Lincoln's Roadhouse
The Clocktower Cabaret
7th Circle Music Collective
Fort Greene Bar Denver
Levitt Pavilion Denver
The Oriental Theater
Mercury Cafe
Streets of London
Cleo Parker Robinson Dance Theatre
RISE Comedy
Cervantes' Masterpiece Ballroom
Hi-Dive
The Black Box
Roxy on Broadway
Monkey Barrel
Globe Hall
Lost Lake Denver
Awardee Responsibility
Funding MUST BE SPENT by Awardee no later than December 30, 2020
As an awardee, you are required to send Arts & Venues an easy-to-fill final spending report form (download DENVER CARES EXPENSE TRACKER below) on or before January 31, 2021 that documents that you have spent all grant monies in a manner compliant with CARES Act requirements. Should you be unable or unwilling to do so, CARES Act funds must be repaid to Arts & Venues no later than January 31, 2021.
DOWNLOAD DENVER CARES EXPENSE TRACKER
Please complete and return the spending report to Brooke Dilling at [email protected] no later than January 31, 2021.
Application Prep Worksheets - English & Spanish

Fillable W-9 Forms - English & Spanish

Fund FAQ

About the Fund

Live programming is essential for our community.

The COVID-19 pandemic is an imminent threat to the viability of Denver's community venues as they were some of the first businesses to close and will be among the last to safely re-open at normal capacity. Between April and July 2020, Denver's music industry lost an estimated 4,525 jobs and $213.7 million in sales revenue which translates to 53% of employment in the region's music industry and 25% of its annual sales revenue.

These spaces reach diverse audiences and build social ties as the gathering spaces for communities across Denver. They serve as entrepreneurship incubators and are vital to the future of Denver's cultural landscape. The economic recovery process will extend past just reopening, it will require new and creative solutions unique to the industry.

The time for action to support this creative sector in Denver is now.

Eligible Applicants

Funding will be considered for selected organizations or businesses operating physical venues in Denver who facilitate music and/or the performing arts.

Must satisfy one of the following two definitions:

(1) The Venue for which Applicant is applying is a Dedicated Venue which shall mean:

A Venue that advertises live music or other performing arts programming or film screening a minimum of 75 or more times per year prior to 2020.
A Venue that facilitates the performing arts that may also be open for food or drink sales, but for whom music, performance art programming or film screening is a significant part of Applicant's use of the Venue.
A Venue which typically does not open without ticketed live performances such as music, dance, film screening or other performing art or a physical space devoted to education and/or training of performing artists.

(2) The Venue for which Applicant is applying is a Secondary Venue which shall mean:

A venue such as a bar, restaurant, coffee shop, or wine bar that hosts live music, other arts performances, film screening, or promotes live programming a minimum of 50 or more times per year but fewer than 75 times per year prior to 2020.

And must satisfy the following eligibility criteria:

Must have been fully operational prior to Mar. 1, 2020
Can be operated by a for-profit or non-profit entity
Must be physically located in the City and County of Denver. Only one application may be submitted by an applicant per physical location (If multiple applications for a particular Venue are submitted by different applicants, City will consider apportioning grant funds among qualified applicants for that location. However, in no event shall more than $25,000 in grant funds be awarded in connection with a particular Venue).
Must provide proof of loss of income and/or increased costs directly due to the COVID-19 pandemic
Must retain all grant and expenditure-related documents for 5 years (if funded)
Must satisfy at least three of the following criteria:

Have a defined performance and audience space
Provide mixing, sound, and lighting systems
Utilize at least two of (including owner/operators): sound engineer, booker, promoter, stage manager, security personnel, box office manager
Had a paid ticket or cover charge to attend a majority of performances in the Venue from Jan. 1, 2019 – Mar. 1, 2020
Promote performances in the Venue through advertising and listings in printed and/or electronic publications, websites, email blasts and/or social media.

Priority will be given to Applicants which demonstrate:

Severe financial distress and who have no other sources of income or are facing significantly diminished income or increased expenses due to COVID-19 closures;
A high level of need for funding due to COVID-19 venue and performing arts closures;
That had a full-time staff of less than 10 FTEs operating the Venue (contractors not included) prior to Mar. 1, 2020
Those that are operators of venues owned by or supporting historically marginalized communities, including Black, Indigenous, People of Color (BIPOC), LGBTQ+ and people with disabilities, who remain financially vulnerable to impacts of the COVID-19 crisis.

Qualified applications not selected for funding in the initial application period will be carried over to subsequent similar funding opportunities-you do not need to re-apply if not selected. However, additional information may be required for future opportunities.

Ineligible Applicants

While we understand that venues for artists and performers can be defined broadly, due to limited capacity and the volume of applications, we are not reviewing submissions by applicants:

Whose primary operation of a particular Venue is for purposes of sporting events, karaoke, exotic dancing, fitness, studios in private homes, private events (e.g. galas, weddings), chain movie theaters that own and/or operate multiple physical locations, or Venues that offer live music, other performing arts, or film screening fewer than 50 times per year. Venues that exhibit the foregoing activities shall not be eligible for the current grant program.
Properties ineligible for consideration include City of Denver run venues including Red Rocks Amphitheatre, the Denver Coliseum, the Denver Performing Arts Complex in its entirety and McNichols Civic Center Building.

Selection Criteria

Arts & Venues is committed to an inclusive and equitable review and selection process. The review panel consists of members of the Denver Commission on Cultural Affairs. The role of the review panel is to recommend a roster of grantees to Denver Arts & Venues, which has the final responsibility to approve all grants.

All applications will be evaluated on each of the following criteria:

Cultural impact (mission, communities served with a focus on historically marginalized communities, including Black, Indigenous, People of Color (BIPOC), LGBTQ+ and people with disabilities, minority owned or operated, etc.)
Economic impact (years in business, size of venue)
Severity of loss or increased expenses (demonstration of an immediate need based on current financial strain directly due to the COVID-19 pandemic.

Equity, Diversity & Inclusion Survey

In the email notification of your application status, you will receive a survey link that will help us understand the demographics of all that applied and how COVID-19 has impacted the sector. It will also help us demonstrate the need for additional financial support. Only aggregated information will be utilized.

We urge you and thank you for participating in the survey.

2020 Music Industry Report